Create a free account to unlock this article!
Get Started
Already a subscriber? Log In
Fourteen points from the boot of Megan Foster and two tries from the redoubtable Sam Pankey allowed the San Diego Surfers to overcome the Glendale Merlins and win the Women's Premier League final 34-28.
The Surfers pulled off the 2018 sevens-15s double, and did so losing only one game - the WPL league opener against the Berkeley All Blues, barely a week after the club 7s final where San Diego went 6-0.
That understandable loss fueled San Diego from thereafter, with Foster providing one of the more secure kicking boots in the competition, and Pankey leading a ferocious forward effort.
Glendale was tough to shake, and led twice in the first half, including at halftime. That lead at the break came courtesy of No. 8 Joanna Kitlinski, who scored two tries just before the teams changed ends to turn a 21-11 deficit into a 25-21 Glendale lead.
But Pankey scored moments into the second half and while Glendale eventually tied it up at 28-28, Foster slotted two late kicks to secure a six-point lead.
It wasn't over. Glendale had multiple scoring opportunities, and the game ended with the Merlins attacking in the San Diego 22. The Surfers defense was good enough, and San Diego held on to be champions.
---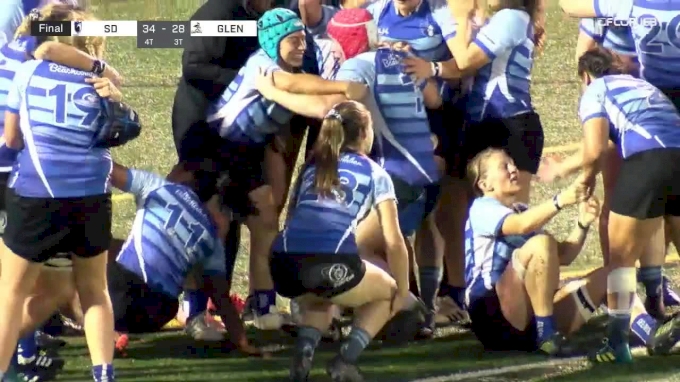 Create a free account to unlock this video!
Get Started
Already a subscriber? Log In
Fullback Samantha Robles scored two tries as New York enjoyed a wide open attack and beat Twin Cities 35-15 to take 3rd. Berkeley torched ORSU 39-5 behind two Serena Liu tries to take 5th.
Atlanta pulled away from Chicago North Shore in the second portion of the first half to take 9th, while Beantown beat DC 55-14 to take 9th.