2018 HSBC Women's 7s Colorado
Eagles Too Close For Comfort In Glendale
Eagles Too Close For Comfort In Glendale
Wrapup for Day One at USA Women's 7s in Glendale.
Oct 21, 2018
by Alex Goff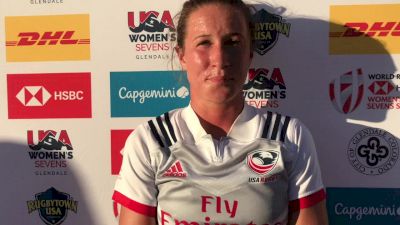 By Jackie Final
The Eagles head into day two of the HSBC USA Women's 7s tournament as the eighth-seeded Cup quarterfinalist. That means a tough first outing against Australia Sunday, but it also means a chance to reset and apply some lessons learned from day one.
The day got off to an inauspicious start, as the USA and England both scored two tries but an English conversion afforded the 12-10 win. Highlights included Ilona Maher, who went from Rugby World Cup Sevens (RWC 7s) breakout to resident and starter, and also led the team with four tries on the day. Newcomer Stephanie Rovetti earned her first 7s cap and traded some high-speed breakaways and chases with England's Ellie Kildunne, who scored the game-winner.
The @USARugby Women's Eagles dropped their first #USAW7s match but bounced back with a big victory over China.

A huge part of that win was Ilona Maher, who notched two tries in the contest. We caught up with her between matches.#WATCH (U.S. only) ? https://t.co/6ZzLP9XmG6 pic.twitter.com/kytT97ulVC

— FloRugby (@FloRugby) October 20, 2018
A very skilled China awaited in round two, and although the USA held the lead throughout the match, the 24-21 victory was a heart-palpitating one. The Eagle defense looked strong this game and was able to push China backward, but China did a great job of retaining possession and not panicking in the retreat. Maher scored two tries, and Abby Gustaitis and Alev Kelter also dotted down, while Nicole Heavirland and Kelter handled the extras. On the final play of the game, China chipped over the defense and sent three chasers with Naya Tapper in pursuit. The ball came up China and the converted try ended the game.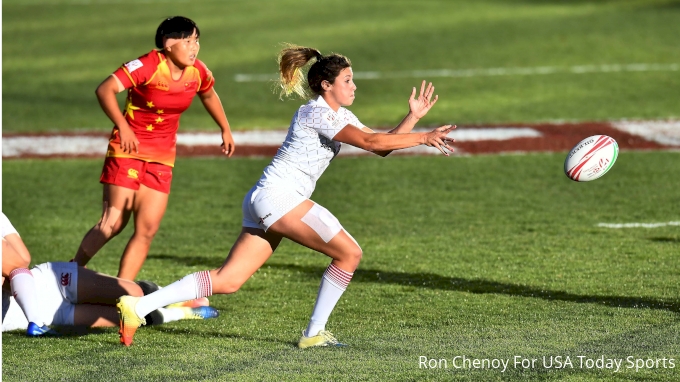 Rugby World Cup 7s champion New Zealand dominated the round-three match against the USA, building a 28-0 halftime lead through Ruby Tui, Kelly Brazier, Shakira Baker and Sarah Goss Brazier and Tyla Nathan Wong kicked conversions. Maher inspired a lift with another power try to kick off the second half, but Michaela Blyde restored control with a fleet-footed score. Tapper did end the game with an individual try, plucking the ball from the tackle and racing the majority of the pitch for the 35-12 ending.
As it worked out, the USA could not have spared a single point. The Eagles were vying for that final Cup quarterfinal berth, and it came down to Spain's performance against Mexico. If Spain beat Mexico by 47 points, then the USA would compete for the Challenge trophy. Spain beat Mexico 46-0.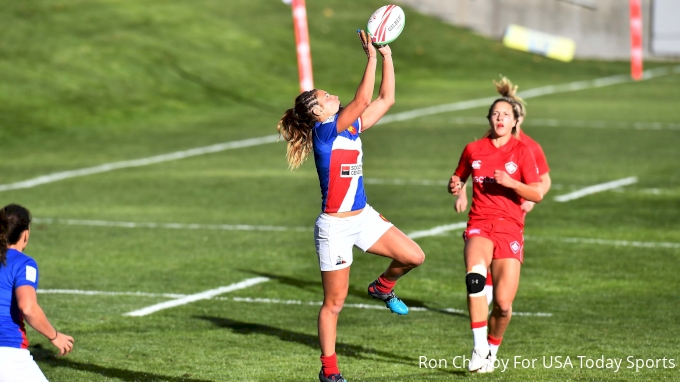 When USA's Lauren Doyle shared thoughts after the New Zealand match, the team's fate hadn't been decided, but the co-captain talked about goals regardless of what place the team is competing for:
The Cup Quarterfinals, all of which will be live-streamed on FloRugby:
10:30 a.m. New Zealand v Ireland
10:52 a.m. Canada v Russia
11:14 a.m. England v France
11:36 a.m. Australia v USA
Challenge semifinals follow:
11:58 a.m. Spain v Mexico
12:20 p.m. China v Fiji