2018 HSBC Women's 7s Colorado
Three Debutants For USA At Women 7s In Glendale
Three Debutants For USA At Women 7s In Glendale
USA has named its squad for the Women's World Series opener, which is live on FloRugby.
Oct 10, 2018
by Alex Goff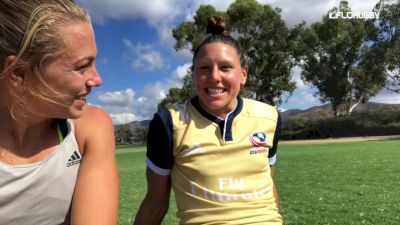 The USA Women's Sevens team has been named to play in the USA Women's Sevens in Glendale, CO, October 20-21.
Watch the USA Women Sevens LIVE from Glendale, CO on FloRugby Oct. 20-21
Interim head coach Chris Brown has named three debutants to the team: Alena Olsen, Lauren Thunen, and Stephanie Rovetti. Rovetti showed herself to be a legitimate finisher at the USA Club 7s Championships, earning an MVP nod, while Olsen has been working her way up through Falcons tours and performing better and better in camp.
Thunen was a 2018 Junior All American and has been a standout at UCSB. She brings a ton of power to her role.
Among the eight Rugby World Cup Sevens athletes are two try-scoring machines in Naya Tapper and Kris Thomas. Alev Kelter jumps back into action, as well, recovered from an injury which left her out of the 2018 Rugby World Cup Sevens. The entire bunch will be guided by a new pair of co-captains in Nicole Heavirland and Lauren Doyle.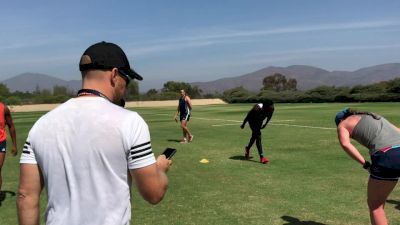 The Competition
USA will open the new season with a matchup against Rugby World Cup Sevens Challenge Trophy winner England on Saturday, Oct. 20. England finished eighth at the last World Series having only faced the Women's Sevens once at Sydney Sevens 2018 for a 24-28 win.
China will be next on the docket, having finished 12th at both the World Cup and World Series 2018.
The Women's Sevens will close out Pool B with a matchup against recent World Cup Champion New Zealand, a similar circumstance they faced in last year's World Series opener at Dubai Sevens. Back then, the U.S. fell to the Black Ferns Sevens in pool play only to come back in the Cup Quarterfinals to launch a match-winning conversion that ultimately punched their ticket to the tournament Final.
Though the New Zealand side will certainly pose a grueling threat, the USA is no stranger to going toe-and-toe with the harshest of competition.
"We are very excited to be back on home soil kicking off the World Series," said USA Rugby women's High Performance manager Emilie Bydwell. "It is always very special for the players to play in front of their friends and family, and to have the opportunity to start the Olympic qualification season with that support is amazing. We know this will be a difficult year."
Difficult in part because it involves Olympic qualification. The top four teams in the 2018-19 World Series will get an automatic bid to the 12-team Tokyo 2020 tournament (as well as hosts Japan). That's a key goal for the USA.
Bydwell added that the addition of some newer players shows that the pathway is working.
"The debutants for this stop speak to the strength of the pathway and competitions this summer," Bydwell said. "Lauren was identified at the National Development Academy tournament and local club competition playing for Santa Barbara Academy and then quickly turned to represent the USA at the age-grade level.
"Alena and Steph excelled at the Club Sevens Nationals Championship, that competition structure supported their journey to this selection by giving valuable minutes and experience in a 'bridge' type competition."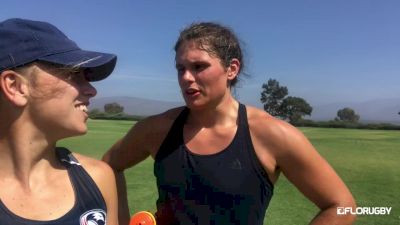 "As a traveling group we are looking forward to the challenge of representing the squad as a whole that has diligently been grafting away this past six weeks," added Brown. "We have been installing new frameworks and philosophies and the progress we've seen is at a level where we are excited to express ourselves with confidence, while fully recognizing we are in a foundation installing period."
Heading into Glendale, Brown said the team's professionalism has been good as he enters his first tournament as a head coach.
"The desire to learn and progress on and off the pitch has been first class which has also had a heavy focus on inclusion while not washing over the non-negotiables around expectations. It excites me personally to be able to lead in Denver for the first time."


Watch the USA Women Sevens LIVE from Glendale, CO on FloRugby Oct. 20-21
Women's Eagles Sevens Roster
All players are part of the Women's Sevens residency program.
1. Abby Gustaitis
2. Cheta Emba
3. Jordan Gray
4. Nicole Heavirland (C)
5. Alev Kelter
6. Lauren Doyle (C)
7. Kris Thomas
8. Naya Tapper
9. Alena Olsen*
10. Lauren Thunen*
11. Stephanie Rovetti*
12. Ilona Maher
Traveling Reserve
13. Kasey McCravey*
*First HSBC World Sevens Series appearance.
Women's Eagles Sevens Staff
Interim Head Coach | Chris Brown
Athletic Trainer | TBA
Team Manager | Liz Strohecker
HSBC USA Women's Sevens Glendale Schedule
Pool B | Streamed LIVE exclusive by FloRugby
vs England Sat, Oct. 20 - 11:14 AM
vs China Sat, Oct. 20 - 1:58 PM
vs New Zealand Sat, Oct. 20 - 5:04 PM
All times local U.S. Mountain Time.