FloRugby's Freshman Of The Week this week is a player you better remember, because she's headed for big things fast.
Emily Henrich helped Dartmouth secure the inside track to the NIRA championship with a three-try performance September 22 against Harvard, and she's not done yet.
Watch The Rugby Weekend LIVE on FloRugby November 3
"She's an excellent attacking player who understands the game, and she has slotted right in as a freshman," said Dartmouth head coach Katie Dowty. "But she's also a really good tackler and takes pride in her defense."
Henrich, who started playing flag rugby at 6 years old and moved to tackle rugby at 12, is herself is pretty thrilled about it all, although she seems equally excited about having secured her Dartmouth College student ski pass so she can hit the slopes this winter. The Orchard Park, NY, high school product seems to be pretty comfortable just about anywhere. She helped Orchard Park get to HS Nationals, and then spent her summer playing over the border in Niagara Falls, Ontario, playing with the Niagara Rugby Club.
Great competition makes us all better! @RadcliffeRugby #herestoRadcliffe🎶 #oneivy🌿 pic.twitter.com/mgx8LtWC4F

— DartmouthWRugby (@DartmouthWRugby) September 22, 2018
It was there that she learned to hone her toughness and aggression in defense.
"The Canadian style of rugby is just a little different," Henrich said. "I was able to play some high-level 15s through the summer and picked up some nuances, a different vision of how to play. They are very strong around the ruck and aggressive in poaching the ball, and learning about that helped me when I was with the U20 All Americans."
That experience has helped her adjust quickly to college life.
"It's been really exciting," Henrich told FloRugby. "Going to the college level, everyone is at such a higher level. You can really trust the people net to you to do their job and that allows you to thrive as a player. Being at Dartmouth is great. We have so many resources. Everyone on the team gets along so well, and the older girls have welcomed the new girls with open arms."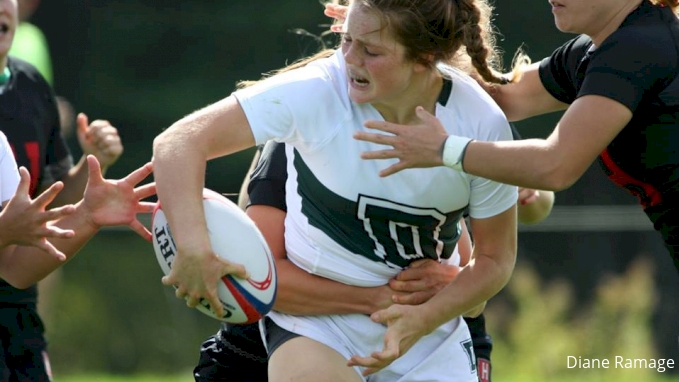 All of that came together against Harvard, with the Big Green defeating the Crimson 55-13. Henrich scored three tries and said she was — and was not — surprised by the margin of victory.
"I was a bit surprised, but I knew that was the kind of score that we were capable of," Henrich explained. "With it being the 40th Anniversary of Dartmouth Women's Rugby, we had all these alumni, including the players from the first ever team, cheering is on. So that whole day is exciting."
Look for bigger things from Henrich, and she relishes them.
"It's exciting to think that we have three more years of this at Dartmouth," she said. "And for me. I just want to be able play rugby as well as possible at the highest level as possible."
That could be pretty high.