USAR College NCS Fall Series 2018
Fast Wings And Power Packs Lead D1 College Standouts
Fast Wings And Power Packs Lead D1 College Standouts
This week's Men's D1 college action produced several standout performances.
Sep 26, 2018
by Alex Goff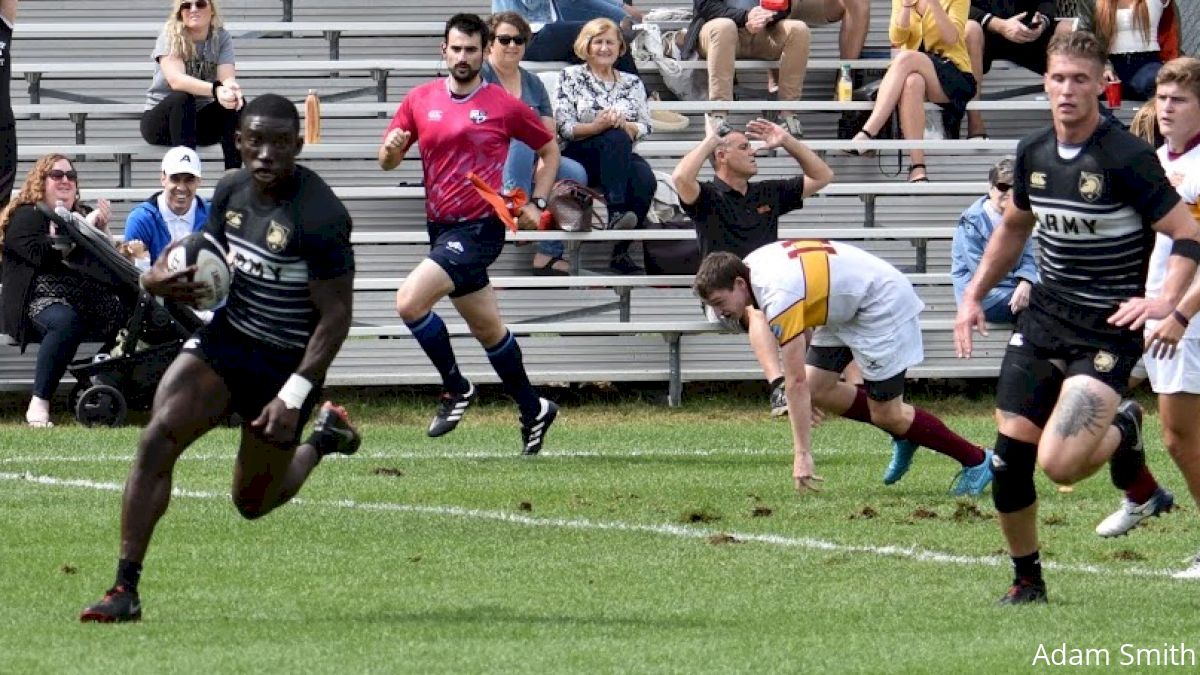 It was a weekend of close games and not a few surprises in men's D1 college rugby, and here are 14 players who put in standout performances.
Terran Meek, Louisville
Wing Meek helped spark a Cardinals offense that edged Cincinnati 23-17 in the Mid Americans Conference.
James MBony, Army
The West Point wing scored two crucial tries in a tight contest with Iona, helping the Black Knights dispatch the Gales 29-19.
Ben Webber, Colin Stiller, and
Nicholas
Auvil, Towson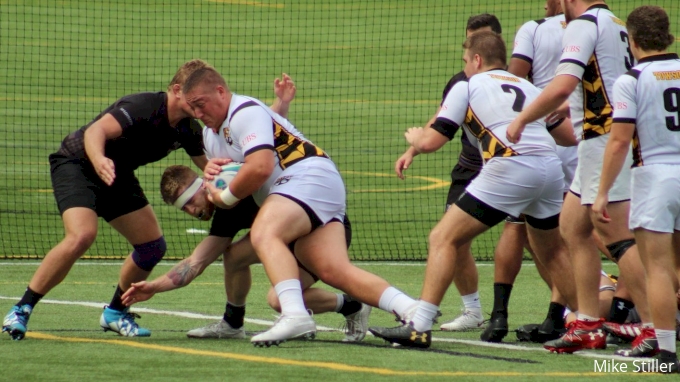 The Towson Tigers edged James Madison 25-24 in what, for many, was a shocker of a result. The game centered around the forwards keeping possession and grinding it out against James Madison. Webber, Stiller, and Auvil were the front row who set the platform.
Mike
Matarazzo, University of Notre Dame
The Irish captain and lock forward was instrumental in keeping his team focused in a 33-28 win over Ohio State.
Dutch Patterson, Texas A&M
Patterson came on as a tactical sub at halftime for Texas A&M, and the front-rower scored three tries in the second half as the Aggies shut out the Texas Longhorns.
Andrew Malick, Navy
Malick scored a try, converted it, was high-tackled for a crucial penalty, and then dusted himself off to kick the game-winning penalty goal in a 15-14 defeat of Mary Washington.
The Birdman is ice cold! Navy takes the lead on Penalty Kick by Andrew Malick 15-14 Navy takes the lead! 12 min left! #NavyRugby pic.twitter.com/n1Bzsw9T98

— Navy Rugby (@USNAMensRugby) September 21, 2018
Soren Heitmann, Colorado
The Buffaloes' 20-17 upset of defending Rocky Mountain Conference champion Colorado State can be chalked up to a sterling defensive effort from the entire team. Leading the way was inside center Heitmann, who was, as his coach said, unstoppable.
Fuller Winton, Dartmouth
the Big Green No. 8 scored all three of Dartmouth's opening three tries to help defeat Harvard 56-7.
Shea O'Hanlon, Kennesaw State
Part of a superb backline effort for KSU against Auburn, O'Hanlon was excellent with his goalkicking and kicking from the hand, and also scored two tries.
Hank Menn, Boston College
Menn scored three tries from the No. 8 position as BC defeated Rhode Island.
Callum Haddock, Notre Dame College
Moved from lock back to his high school position of No. 8, Haddock was a powerful force running in the open field for the Falcons. His defense was also excellent as he helped lead NDC to a defeat of Wheeling Jesuit.
Nick Udovich, West Chester
The junior flyhalf scored two tries and set up another for center Ryan Morley and helped run the offense as WCU defeated Temple.