Create a free account to unlock this article!
Get Started
Already a subscriber? Log In
With the naming of the Americas Pacific Challenge roster for the USA Selects, we're getting an idea of what the Eagles overall depth chart might look like.
The chart has to be big, because the USA often has to field a squad without some of the overseas pros being released. This might be because a game is outside of the official World Rugby test match window, or because players have to hand rest periods, or because a club might be recalcitrant.
And then competitions like the APC aren't full test competitions, so pros don't have to be released.
With all of that in mind, we've got a potential depth chart of over 60 players. It's designed to give you fans an idea of who is out there now. Here's our front row, and our comments:
| | |
| --- | --- |
| Prop | |
| Paul Mullen | Newcastle Falcons (Gallagher Premiership) |
| Eric Fry | Vannes (France Pro D2) |
| Chris Baumann | Unattached |
| Titi Lamositele | Saracens (Gallagher Premiership) |
| Olive Kilifi | Seattle Seawolves (MLR) |
| Chance Wenglewski | Lindenwood University |
| Angus MacLellan | Utah Warriors (MLR) |
| David Ainuu | Toulouse Academy (French Top 14) |
| Dino Waldren | Lond Scottish |
| Kelepi Fifita | Glendale Raptors (MLR) |
| Tony Purpura | Old Blue |
| John Hayden | Seattle Seawolves (MLR) |
| Huluholo Moungaloa | Life West (PRP) |
The prop position needs a few more bodies in there, as it's a position under a ton of physical stress. In addition, notice that five of these players are with overseas pro clubs.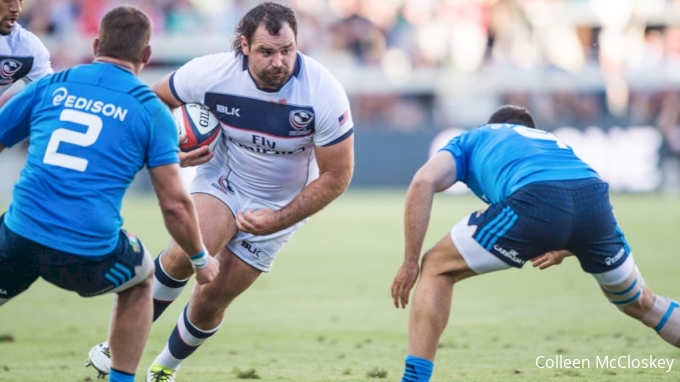 Create a free account to unlock this video!
Get Started
Already a subscriber? Log In
To this list we might look at Patrick Ryan of Austin Elite who was perhaps expected too quickly to perform at a test level. He didn't get a lot of positive press from these pages in 2017, but some time to regroup might make him an Eagle again.
We don't have Alex Maughan here because he was listed for the APC as a hooker, but he certainly can be a prop for the USA.
Of these players, Hayden, Kilifi, Fifita, and Wenglewski (as well as Maughan) are in the APC. Least known might be Hayden, who emerged as a force for Seattle, and played with the Fallbrook HS program 13 years ago and was a HS All American before enrolling at Central Washington.
Fifita is two years younger than the 25-year-old Hayden, and hasn't played as long, but he's a solid athlete and mobile.
It will be interesting to see how Moungaloa battles for a spot as he has not been an MLR player, but the Pacific Rugby Premiership has a lot to offer in terms of high-level player development.
| | |
| --- | --- |
| Hooker | |
| Joe Taufete'e | Worcester Warriors (Gallagher Premiership) |
| Dylan Fawsitt | Glendale Raptors |
| James Hilterbrand | Manly Marlins (Australia) |
| Alex Maughan | Life University (Graduated) |
| Cam Falcon | NOLA Gold (MLR) |
| Pat O'Toole | San Diego Legion (MLR) |
It's an intriguing move for the Eagles brain trust to slot Maughan in here, but when you consider that Hayden, Fifta, Chance Wenglewski are over six feet tall and north of 260 pounds, and that Maughan is smaller than that, it makes sense. Maughan is an excellent leader and scrummager, and it might be that hooker is the place for him.
Maughan, Falcon, and O'Toole are the APC players, and it's clear Gary Gold needs some depth here. He was down to one hooker when the USA played Canada in June, with flanker Hanco Germishuys probably his backup in that game.
Not listed here is Peter Malcolm, who captained the USA Selects in the APC in 2017. Malcolm is recovering from knee surgery and should be able to play in 2019. If he gets back to full fitness, he's definitely high in this list. There's been some thought that players such as Germyshuys, Vili Toluta'u, or Pat Blair should track to a #2 jersey, but that might negate some of the other things those players bring to the table.
If anyone's asking FloRugby, we'd say keep those guys as flankers.