College Freshman Of The Week: Wil Long, Colorado
College Freshman Of The Week: Wil Long, Colorado
Wil Long of Colorado is our College Freshman Of The Week.
Sep 20, 2018
by Alex Goff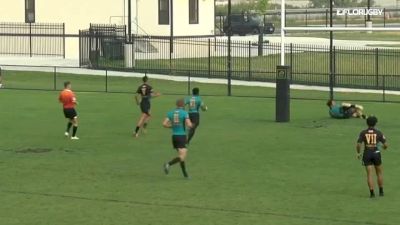 Colorado opened up the season with a 46-29 defeat of New Mexico and is looking for youth to take the Buffaloes back to the upper echelon of the Rocky Mountain Conference.
Among those youngsters is our Freshman Of The Week, Wil Long. The Salesianum High School (Wilmington, DE) product, who played sevens with Atlantis at the NAI 7s, has brought his considerable skill set to Boulder.
A tall, lanky runner, Long started at center for Colorado, scored a try, kicked a conversion, and played strong defense as the Buffaloes opened the season with a victory.
"Wil is normally our fullback but we had to play him at center on Saturday and he did really well," said Colorado head coach Chris Hanson. "He is also our backup flyhalf. He's a very athletic and talented ballplayer."
And versatile. He will fill out physically as he progresses and could be a major factor for CU both in 15s and sevens.