2018 USA Rugby Club 7s Championships
Walker Out As Women's 7s Coach Maybe Shouldn't Be A Surprise?
Walker Out As Women's 7s Coach Maybe Shouldn't Be A Surprise?
Alex Goff looks at some of the issues around Richie Walker leaving the USA Women's Sevens Team.
Aug 20, 2018
by Alex Goff
There seems to be something a little strange about Richie Walker's departure from the USA Women's 7s team.
For one thing, USA Rugby's wording is that he resigned. If you look at USA Rugby's announcements in the past, people "step down," they "move on to other projects." Resign seems so . . . direct. In addition, the news itself kind of came out of the blue.
In an interview Walker did with Mere Baker for FloRugby at the Club 7s Nationals, Walker wasn't exactly a bubbling font of happiness, but he also didn't seem like a coach who wasn't thinking about the future. OK, he actually still seemed pretty happy when unguarded.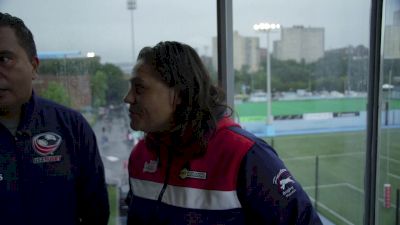 But listen to the interview at the top of this page; Walker is talking about the present and the future (he also does a pretty good job of identifying the top teams in the competition). USA Rugby also filmed an interview with Walker, which kind of speaks to how everyone seemed a bit blindsided by the move.
But should we be surprised? This women's team has been through a number of coaches since the 2009 Rugby World Cup 7s, and every coach has left because of some conflict with oversight or the team. It didn't appear that Walker was in the middle of any such tumult.
But it's also worth pointing out that the team hasn't performed consistently well. To recognize that the Eagles took fifth at the 2018 Sevens World Cup is fair, and it's fair to point out the USA finished second in the Dubai 7s. Overall, the USA women's team took second in Dubai, third in Langford, and fifth in both Paris and at the World Cup in San Francisco.
(Fifth at the World Cup was accomplished without the team's best player, by the way.)
But they also finished eighth in Sydney and ninth in Kitakyushu. The team's 2016 Olympics performance was a bit of a disappointment — a fifth-place finish highlighted by a frustrating inability to score tries.
I am not so sure that Walker was a lock to stay on post-World Cup. I have been on record disagreeing with some of his player picks, and I think in terms of offensive tactics, the Eagles are inflexible and often don't play to their strengths.
Walker left, resigned, stepped down, and there's nothing official saying he was actually pushed out. But there's nothing, really, in Walker's demeanor that tells us he was on the way out, either. What is known is that this is a chance for Chris Brown to perhaps shake things up as interim head coach, expand his scouting net (something Emilie Bydwell spoke about here and something Walker didn't do as much as he could have), and change some approaches.
Is now the good time to do that? Probably, yes. We can appreciate that Walker came in when the USA team had been rocked by two quick coaching changes, and needed to solidify everything for a Rio Olympics run. He did that, and over the two years he served as coach he showed that the USA team can be among the best in the world.
But his Eagles were also maddeningly inconsistent. At a time when we all think the USA has the talent and the resources to be the best, Richie Walker's teams never won a World Series or major (Olympics or RWC) tournament, finished second twice, third once, fourth once, fifth three times, sixth twice, and seventh, eighth, ninth, and 11th once each.
It's not a bad thing to want more than that.