Top 30 At All American Camp Named
Top 30 At All American Camp Named
USA Rugby Men's College All American head coach James Willocks has named his top 30.
Aug 14, 2018
by Alex Goff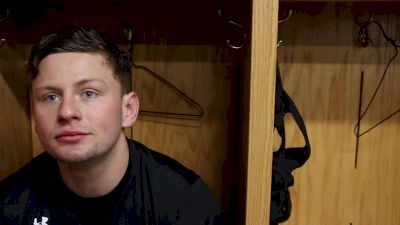 USA Rugby Men's Collegiate All American head Coach James Willocks and his staff have selected 30 student-athletes to continue to the next phase of the All American assembly - as this group will remain in camp to prepare to play the Glendale Raptors.
After a day's rest, camp will resume with seven additional collegiate players joining from Club 7s National Championships, as all athletes prepare for a full match against the Glendale Raptors on Friday, Aug. 17. The game is free to the public with kickoff set for 7 PM MT at Infinity Park.
Following two rigorous days of testing and training, along with two trial games, Coach Willocks and his staff conducted thorough evaluations to arrive at final selections from the original group of candidates.
"The staff and I are very thankful for the effort and attitude from all the players involved over the last few days," said Willocks. "Having to select only 30 from a very talented group was an incredibly difficult task. The standard of play over the course of the weekend bodes very well for the future of the collegiate game and USA Rugby."
Overall, the camp has served as an invaluable opportunity for some of the nation's top men's student-athletes to showcase their talent in an effort to earn All-American honors -- some of whom will likely continue their careers at the national team level.
The 2018 Men's Collegiate All-American Selection Camp will conclude this Friday, Aug. 17 with the match against the Glendale Raptors, free to the public. Following the game, USA Rugby will announce 1st Team All-Americans.
2018 TOP 30 MEN'S COLLEGIATE ALL-AMERICANS
| | | |
| --- | --- | --- |
| PLAYER NAME | POSITION | SCHOOL |
| Berrisford, Jamie | Lock | Life University |
| Dabulas, Mike | Flyhalf | Penn State University |
| Day, Jackson | Prop | Western Michigan University |
| De Waal, Michael | Flanker | Lindenwood University |
| Engelhart, Oliver | Scrumhalf | Dartmouth College |
| Harmon, Matthew | Prop | Life University |
| Hunkin-Clark, Tommy | Lock | American International College |
| Irimescu, Rob | Hooker | Penn State University |
| Koroi, Maciu | No. 8 | Life University |
| Maree, Tabo | Flanker | Arkansas State University |
| Mascolo, Santiago | No. 8 | Iona College |
| Matarazzo, Michael | Lock | University of Notre Dame |
| Maughan, Alex | Prop | Life University |
| May, Malcolm | Lock | Penn State University |
| McNerney, Connor | No 8 | United States Naval Academy |
| Mteto, Anelisa | Center/ Wing | Iowa Central Community College |
| Muntanga, Brian | Hooker | Life University |
| Phelan, George | Fullback | Life University |
| Rees, Ryan | Scrumhalf | Life University |
| Rogers, Kyle | Fullback | University of Arizona |
| Scarcella, Michael | Center | Iona College |
| Sullivan, Kevin | Prop | University of California, Berkeley |
| Trotter, Kevin | Fullback | Penn State University |
| Van Schalkwyk, Duncan | Flyhalf | Life University |
| Wenglewski, Chance | Prop | Lindenwood University |
| White, Wesley | No. 8 | Lindenwood University |
| Wilcox, Tosh | Flanker | Brigham Young University (BYU) |
| Wilson, Mitchell | Center | Life University |
| Yacoubian, Sean | Scrumhalf | Saint Mary's College of California |
| Young, Zachary | Center | Arkansas State University |
MEN'S COLLEGIATE ALL-AMERICANS JOINING CAMP
| | | |
| --- | --- | --- |
| PLAYER NAME | POSITION | SCHOOL |
| Mikesell, Deion | Wing | Lindenwood University |
| Wheeler, Harley | Wing | Life University |
| Feakes, Nicholas | Flyhalf/Fullback | Lindenwood University |
| Matthews, Aaron | Center/ Fullback | Saint Mary's College of California |
| Tupuola, Marcus | Fullback/ Wing | Notre Dame College |
| Rodriguez, Christian | Flyhalf/Fullback | Lindenwood University |
2018 MEN'S COLLEGIATE ALL-AMERICAN STAFF
Head Coach | James Willocks
Assistant Coach | Tui Osborne
Assistant Coach | Paul Emerick
Assistant Coach | Blake Bradford
Strength & Conditioning Coach | Tom Kindley
Performance Analyst | James Harrison
Team Manager | Kevin McCorry