Create a free account to unlock this article!
Get Started
Already a subscriber? Log In
The North American Invitational 7s has kind of broken the mold when it comes to high school-level sevens tournaments, expanding to an older bracket with a U20 competition this year.
What good does that do? On the elite level, it helps players bridge the gap between high school and college or club. Players who were all-stars in high school might run into a period where elite playing opportunities are rarer, and this fills the gap.
This year, the inaugural NAI 7s U20 Men's bracket includes six teams, who will play a round-robin of sevens games — five for each — and then the top two will play for the championship (with the third and fourth playing for third, and the fifth and sixth teams playing for fifth).
So, who will win? Here's our take as we count down to who we think is the favorite:
Rhino Rugby Academy
Perhaps the team that most exemplifies the purpose of this bracket, the Rhino squad is young and still learning how to compete at the most elite level. Right now, the major value for this group is showcasing players' abilities, and getting that experience. They could take third, but top two will be very difficult.
Arizona Bobcats
Watch out for a couple of young players on this squad, especially the speedy Malachi Knox and the hard-working Adriaan van Niekerk. But depth may be an issue for this team, as many of the others can spell their biggest, fittest, and fastest with players who are still quite big, fit, and fast.
Upright Rugby
The Ontario-based Upright Rugby Rogues won the U18 Elite bracket in 2016 but had a couple of missteps in 2017. No worries, Upright has talent and usually brings a big, aggressive style to the game. What will benefit Upright is the format — playing everyone means you won't be out of it just because you lose one game.
Stars
Watch out for this group. Coached by St. Bonaventure head coach Tui Osborne, and with a couple of Bonnies standouts plus some snappy high school talent — Alex Chura helped Celtic win the Midwest RCT and he's in this team — the Stars team has the talent to win it all.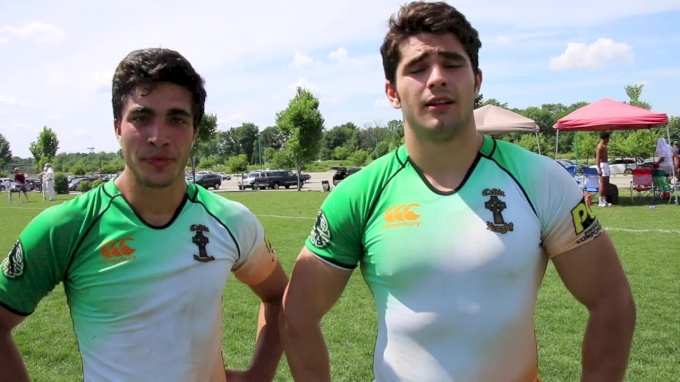 Create a free account to unlock this video!
Get Started
Already a subscriber? Log In
Eagle Impact Rugby Academy
This team has to be among the heavy favorites simply because it's most of the squad that won the U18 Elite bracket in 2017. Big, athletic, difficult-to-contain players such as Jack Bradfield, Joe Rusert-Cuddy, and Joe Kamara are back with Salty Thompson at the helm. This will be a fun team to watch.
Favorite To Win: Canadian Misfits
The Misfits remember just missing out on a place in the 2017 U18 final thanks to a dramatic late try. That loss fueled the team to win three major tournaments in the fall, including the New York 7s.
Back, with Canada national sevens team player Josiah Morra and with James Hammond reading the field superbly, the Misfits might be the favorites here.