With Mason Hering Now Director Of Rugby, Baylor Looking For New Coach
With Mason Hering Now Director Of Rugby, Baylor Looking For New Coach
Jul 25, 2018
by Alex Goff
Baylor men's rugby head coach Mason Hering has announced that he will relinquish his head coaching role to focus solely on his duties as Director of Rugby.
Baylor will start the search for Hering's replacement immediately. Interested candidates should email their expression of interest to mason@baylorrugby.org. The head coaching position is on a volunteer basis with a potential travel stipend for commuting to/from trainings and games.
Taking over a one-win team in 2015, Hering amassed a 27-7 record overall over three seasons at the helm, including the 2016-17 Red River Rugby Championship and No. 16 ranking nationally, Baylor's best-ever finish in D1A. Last season, the Bears returned to the championship as back-to-back North division champs but fell to Texas A&M 29-7 in the final. Under Hering, 21 players were named to the Red River All-Conference team.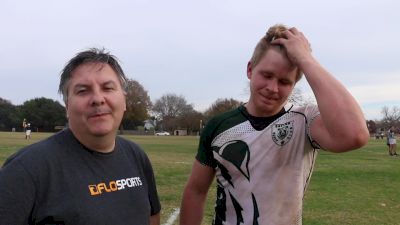 In addition, Hering led a fundamental change in the club's culture, returning the former D2 national champions to their winning ways and building the club's foundation through support from the alumni and university.
"I'm very proud of the work we all accomplished during my tenure as head coach," Hering said. "It was my vision from the start to increase the engagement and commitment of the entire Baylor Rugby family be it the players, the coaching staff, alumni, and university. The next coach will be in a great position to succeed and that's what we expect."
In his role of Director of Rugby, Hering will focus on mentoring coaches and players, executing the administrative duties for the club, as well as working with key figures at the university and alumni leadership to further advance the sport of rugby on campus at Baylor.
One of Hering's goals is to create a women's rugby program at Baylor in the near future.
"Baylor has so much potential to become one of the marquee destinations for collegiate rugby in the United States and I'm excited to work with all stakeholders to put a plan in place to grow exponentially in the next few years," Hering said.