Rugby World Cup 7s
An Open Letter to Game Developers: Make a 7s Rugby Video Game
An Open Letter to Game Developers: Make a 7s Rugby Video Game
Attention game developers: It's time. Make a 7s rugby video game. Need a few tips? Well, that's where we come in.
Aug 6, 2018
by Austin Willis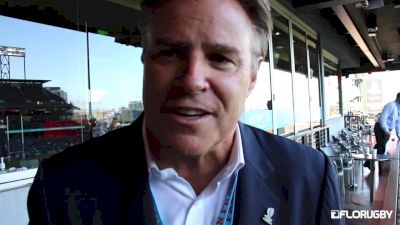 In the past, rugby video games have been utter garbage. But let's give game developers a break. Recreating 15 players running different creative lines at one time is no easy task.
No major gaming company has attempted rugby, but with the recent growth of the sport, it is time for EA Sports, 2K or Sony to give it a shot. Cut the number of players involved in half and the processing capability would be a lot more manageable.
Sevens rugby is the fastest growing team sport in the United States. With the Rugby World Cup 7s in San Francisco behind us, why not talk about a 7s video game?
Developing a 7s rugby video game could grab a solid market of young sports gamers and even make some new rugby fanatics. Oh, and let's put Perry Baker on the cover.
Mechanics
The biggest difficulty a game creator would face is trying to recreate the constantly flowing and spontaneous nature of the sport. The egg-shaped ball has a funny bounce to it and past games have missed the mark.
Rugby Challenge 3 is the most recent attempt and it actually did resemble rugby if you only look at the back of the box. The uniforms, stadiums, and player likeness was sufficient, but the mechanics were clunky.
Positioning Problem
Where rugby differs from football is the lack of stop and start. In Madden each play has a formation of players that move very quickly at the snap of the ball. The processing speed for Madden is fast and for those 7 seconds it is a lot faster than a rugby game would ever need.
But 7s rugby is non-stop and a game wouldn't have the chance to reset players into a formation as often. What happens in Rugby Challenge is that players are almost always out of position. When a kick goes up sometimes a prop will be back deep to take the high ball.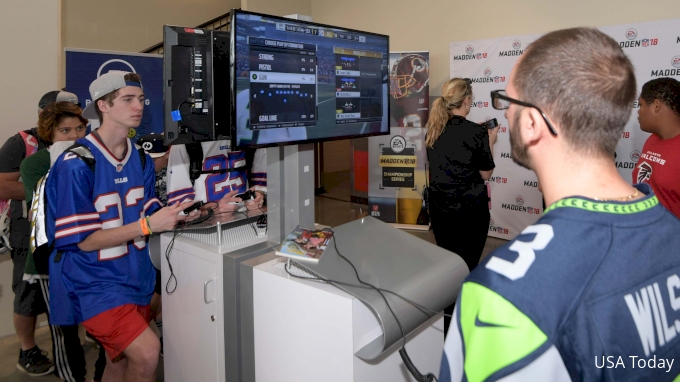 A sevens video game would not be affected by these positioning flaws, because in the flow of 7s it is not uncommon for players to get mixed around the field. In 7s, players are expected to be able to do everything well except at the set piece, where the game would have a chance to reset.
Rucking Resolved
A herd of players swarm the ball the second it hits the ground. The rucking was slow and often resembled a scrum.
Sevens would fix both these issues by cutting down the player count. It would be unlikely that five or six players would join a ruck if there are only seven players a side. If a ball hit the turf it would be more like real 7s where only one or two guys would be close enough to get to it.
The counter ruck option needs be fixed. In the Rugby Challenge game series, it seemed the higher the difficulty setting, the more counter rucks the computer would attempt. The counter ruck could be made much more realistic, and similar game mechanics already exist.
To win a counter ruck or poach, a split-second button press decision would have to be made. Think of the Madden interception mechanism called 'Ball Hawk' where pressing triangle or Y while the ball is at its peak would lead to an interception or catch.
Licensing
Wicked Witch Games nailed the licensing aspects in Rugby Challenge. Fans were able to use the international and professional player likeness. With the budget of a small game developing company like Wicked Witch, it would be hard to imagine the rugby organizations asked for much.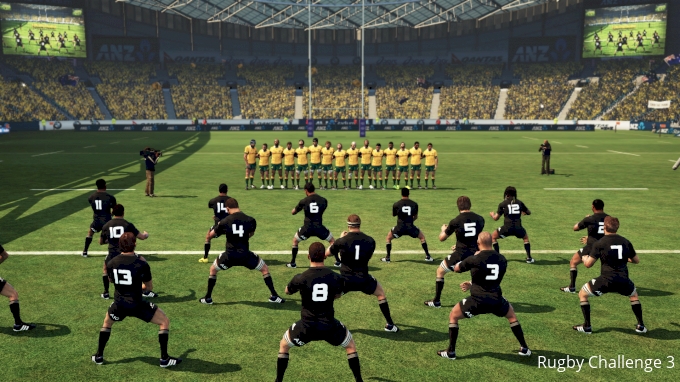 The Rugby World Cup 7s is hosted by the San Francisco at AT&T Park, which may be the most expensive buy in the licensing process. Imagine playing a full HSBC Men's and Women's 7s Series—after making it through the qualification and relegation process, of course.
Can you take Papa New Guinea to the top of the standings? Or will you get New Zealand relegated?
You can already watch Premiership 7s live on FloRugby, why not bring the Premiership to your fingertips? Slap the Gallagher Insurance sponsorship on the pitch and it's on. Play as Christian Wade for the London Wasps with more space than he normally gets. What about creating yourself and winning Premiership MVP?
Be A Pro
The creation stage was fine in Rugby Challenge 3, but the gameplay was the exact same as the rest of the game.
The 'Be A Pro' Mode has to be different.
The camera angle has to be tighter and there have to be more decisions available for the third-person-limited gamer to make. Maybe in this version, game-makers could allow for a slow-mo option, like the popular NCAA college football "Road to Glory" mode.
The better you perform, the more time you can slow down at a given time. Win Premiership MVP and you could be slowing down time for five full seconds from set piece while you dummy through half of Fiji.
Ultimate Team
Madden and FIFA make nearly a billion dollars yearly off there game sales and hundreds of millions more on their extra content. According to IGN, FIFA made $800 million off their Ultimate Team. A sevens game developer would have fans dreaming of pairing Perry Baker and Danny Barrett with Seabelo Senatla and Osea Kolinisau. How about putting Portia Woodman next to Charlotte Caslick?
Rugby Challenge 3 allowed gamers to make their own professional team, logo, and roster. A sevens video game should keep the best players locked in Ultimate Team mode. If you want to play with Dan Norton online you've got to earn it.