Create a free account to unlock this article!
Get Started
Already a subscriber? Log In
The Rugby World Cup Sevens is less than two weeks away, and the USA men's team is thinking about winning it all.
San Francisco's AT&T Park will host the three-day tournament, which will have no pool play and just be in a bracket format. That means there is no margin for error when the competition kicks off July 20. Danny Barrett says the team knows that.
Watch Our Summer Of Elite 7s On FloRugby
English Premiership 7s July 27-28
Can-Am Futures Games
NAI 7s from Salt Lake City
USA Rugby Club 7s Championships
"It's a new format, everything's a little bit different," Barrett told FloRugby. "It's in a different stadium, and we kind of don't know what to expect. I think it is sneaking up on a few of us."
But the Eagles have been hard at work and are coming off a fifth-place World Series season during which they won the USA 7s in Las Vegas.
"It's going well; the boys have really done well the last few weeks and trying to get the job done," Barrett said. "It's been pretty strictly planned out—what days of training will be like, what travel will be like, and what we're going to do the morning of the 20th when we're going to eat. It's all dialed into the minute. The last thing we're going to find out is, who's going to be there."
Along with @IntRugbyPlayers, I'm supporting the Kenya 7s players who are not being paid what's been owed to them for months, as well as existing on temporary contracts. Players have families and bills to pay. Not good enough. #SupportingShujaa READ MORE: https://t.co/ywce9x26k2 pic.twitter.com/YnRQadBdxh

— Danny Barrett (@bookemshaaarkie) June 28, 2018
The announcement of the squad for the World Cup is a big one. You'd expect certain players to be there without any doubt: captain Madison Hughes, 2016-17 World Sevens Player of the Year Perry Baker, 2017-18 top try-scorer Carlin Isles, and Barrett himself.
Folau Niua quietly goes about his business making everyone else look good, and in the forwards, Ben Pinkelman is like that, also. But in every World Cup, there's a surprise pick and we're all just waiting for head coach Mike Friday to name his roster.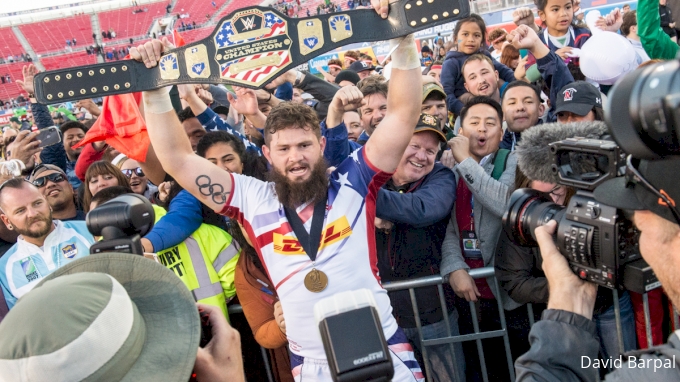 "You're always constantly fighting for a spot; there's nothing at all guaranteed on this team," Barrett said. "There's the constant pressure to be good enough. For me there's always somebody new, somebody better—maybe not better looking—and I know for me personally I am on edge quite a bit and I want to get another chance to put on that jersey."
The hunger of the new young players coming into camp is a good reminder for all of the players that there's always someone else chasing after your place.
"I remember when I got my first 15s cap a few years ago, and my first sevens coach, Jone Naqica, told me, 'Don't let anyone take the jersey from you,' and that's been something that has stuck with me for a long time," Barrett said. "And then (Cal) coach Tom Billups told me it's not about the jersey, it's about the responsibility of wearing that jersey; it's about maintaining that legacy and making it that 1 percent better. That's what I am striving to do."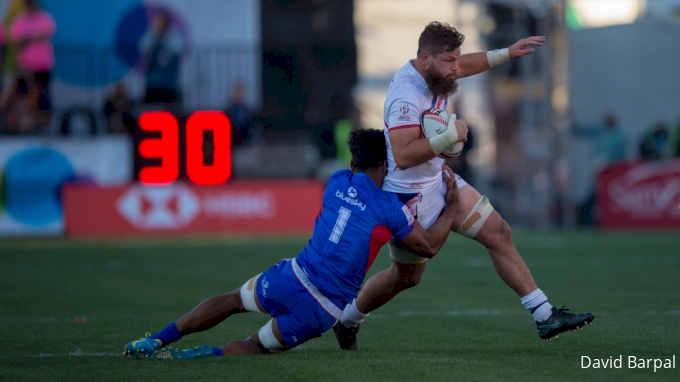 The Eagles do have the ability to win it all, but it's a tough road. The ball can bounce a weird way, and what worked to win a tournament in Las Vegas could result in a very different outcome in San Francisco.
Right now, the Eagles, as one of the top eight teams in the tournament, get a bye to the second round. That means they wait for the winner of Wales vs. Zimbabwe. While those are teams the USA would be favored to beat, Barrett said underestimating any team is a bad idea.
"We kind of underestimated Ireland in London this year, I think, and we paid for it," he said. "You look at these teams, and these are all players who made their national teams; they are the best rugby athletes in their country, and they're there for a reason. We've beaten some really good teams and lost to some teams we probably should have beaten.
"What we know is we have to win that game, and Wales and Zimbabwe are our number one focus right now, and we're just going to hope that our systems and our athletes are going to be a little bit better."