NY And LA Expansion Confirmed: Atlanta Next?
NY And LA Expansion Confirmed: Atlanta Next?
Atlanta a possible MLR Expansion? Life University and Old White are teeming with talent and Kennesaw State has the stadium.
Jul 16, 2018
by Austin Willis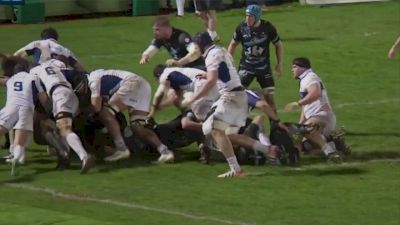 New York, Los Angeles, and Washington D.C. are painting the picture for the MLR expansion landscape. Could the South get the next team? How about Atlanta?
With the resources pooling in Atlanta, it is not crazy to expect another southern MLR franchise. Investors and coaching inquiries are quietly surfacing.
Developing an MLR team in Atlanta would look very similar to what took place in Austin, Texas. Austin Elite had two powerhouse men's clubs in the Austin Huns and Austin Blacks to draw personnel from, and Atlanta similarly has Old White and the Atlanta Renegades. Both have performed well nationally in sevens and 15s. Old White has already qualified for the 2018 Club 7s National Championships with a roster featuring several Life University players.
Local Gems
The biggest asset an Atlanta franchise would have is Life University. Located in nearby Marietta, GA, Life has bragging rights as the top collegiate rugby program after putting a 60-5 beating on Cal in the D1A national championship. The perennial powerhouse reloads with overseas and domestic talent on a seasonal basis and has a history of developing both Eagles and professional players, including Shaun Davies (Eagles and Glendale Raptors), Cam Dolan (Eagles and San Diego Legion), Harley Davidson (Glendale Raptors) and AJ MacGinty (Eagles and Sale Sharks).
More professionals could easily come out of the program, including Scholz Award nominee Duncan Van Schalkwyk, Collegiate All-American Harley Wheeler, and Collegiate All-American Alex Maughan.
Your daily dose of chills brought to you by an epic @USMLR Championship highlight video. ? #TogetherWeHunted #MLRChampionship pic.twitter.com/VMwPR4lyVW

— Seattle Seawolves (@SeawolvesRFC) July 16, 2018
LA lacks an ideal venue; D.C. might be able to use the new Audi Field just opened, but Atlanta has an obvious option at Kennesaw State University. KSU lies just north of Atlanta and has a demonstrated commitment to growing rugby. Over the last few years, KSU has hosted the Women's International 7s and multiple USA national team test matches. A partnership between a rugby-specific venue such as Fifth Third Bank Stadium is an alley-oop for possible Atlanta investors.
Major League Recipe
In the last two years, Atlanta saw its Major League Soccer franchise perform better than any expansion team in the history of sport. Atlanta United set not just MLS but also professional soccer attendance records while battling for the league's best record. United made its debut in the smaller Georgia Tech stadium before making the leap to the brand new Mercedes-Benz stadium, which turned out to be a genius move. The MLS franchise and its fans had the opportunity to grow their culture, rituals, and chants in a more intimate environment before moving to a loud and luxurious sporting temple.
Ontario Announces Plans To Join MLR
Atlanta has the 10th-largest television market, according to Nielsen, and is home to Turner Broadcasting. An Atlanta expansion would introduce a new market and television competitors—commercial opportunities the MLR administrators would be forced to consider.