I've been doing this too long to be schmoopy about it... maybe. Having said that, it was pretty special to see the USA beat Scotland 30-29 on Saturday night in Houston.
Yes, yes, it was a young Scotland team, but it was comprised of all professionals—all deemed good enough to put that thistle on their chests. I have seen young players face the United States (or Canada) before.
Players such as Ollie Barkley, Tommy Bowe, Jamie Heaslip, and Colin Charvis have all been supposed nobodies who played the USA when they were young and went on to stardom.
A night to remember. Thanks to all for the messages of support. The team was so brave last night. Honored to be a part of this special group. Will definitely cherish that one. To those before & to those who contribute to our game, one for us all to share. Next Job. #usastrong🇺🇸

— Blaine Scully (@BlaineScully1) June 17, 2018
So, I am not going to get too caught up in the caps count of the Scotland team. Instead, I am going to get caught up in the fact that this USA squad put everything it had into this performance, despite still being up against the difficulties of time together and consistency of assembly.
The Eagles produced some excellent rugby, and despite being down 24-13 at halftime, came back for the second half and owned it.
And then, there's this. No time left. Scotland has scored. The American players are spent. They line up on the tryline.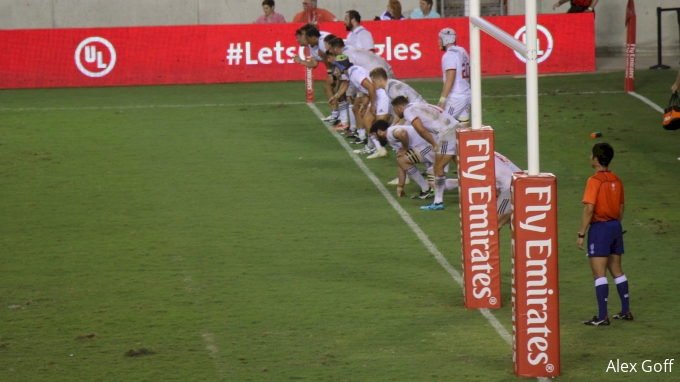 ... not to watch Blair Kinghorn's conversion attempt—but to stop it.
They dug deep for one more play, because anything, any charge, might be enough to dodge Kinghorn's concentration.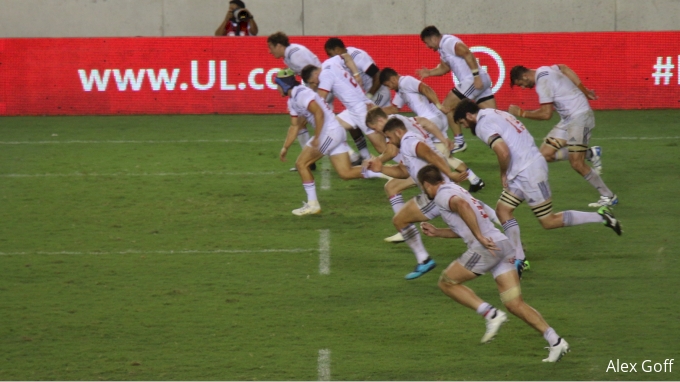 Just in case you missed the ending... it worked. Kinghorn missed the conversion, and the USA won by one point. Lost among the many great plays was this final surge. See Blaine Scully leading his team, and see Greg Peterson and Nick Civetta at the back, with their heads down, trying to get there, too.
So, yeah, maybe a little schmoopy. I have watched the Eagles lose by tiny amounts to Wales, Ireland, France, Fiji (remember 2003?), Italy, and Argentina and knew each time that a win by the USA would take a little thing here, a little thing there, a good goalkicker, and a referee not afraid to hold the whistle during an upset. But it also took the effort you see in those photos.