McKenzie Hawkins and Connor McNerney officially received their awards as the top college rugby players in the country at a gala event at the Washington Athletic Club in Seattle on Saturday.
This is the third year of the MA Sorensen Award for the top women's collegiate player and the Rudy Scholz Award for the top men's collegiate player.
Hawkins led Lindenwood to national championships this year in women's college 15s and sevens this year. She was present at the event Saturday along with her parents and her coach, Billy Nicholas. McNerney, who captained the U.S. Naval Academy and played No. 8, led the Midshipmen to one of their most successful seasons, including a D1A Quarterfinals appearance in which Navy almost beat Cal.
McNerney was unable to attend, as he was at a wedding for his closest friend, but his parents flew all the way from London, England (where they work), to be a part of it all. Connor's dad, John, gave a short speech on his behalf.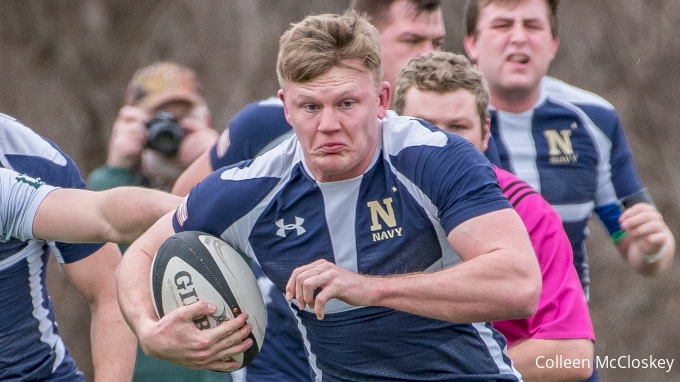 Hawkins is not only a superb flyhalf/center for Lindenwood but also an excellent student. She carried a 4.0 grade-point average while studying chemistry in the school's Honors College. McNerney has graduated from the Naval Academy and in January will join the Navy's Special Warfare section in Coronado, CA, to train to be a Navy Seal. While he awaits the next chapter in his naval career, he will be training with the San Diego Legion and will serve as an assistant coach for the Midshipmen this fall.
The awards ceremony was attended by several hundred rugby players, coaches, and dignitaries, as well as leading members and board members of the Washington Athletic Club. Wayne Milner, the WAC's senior vice president for athletics, special projects, and community partners, received a well-deserved standing ovation for his work in making this award happen and in involving and supporting the rugby community.
McKenzie with 1991 @USARugby World Cup Legends MA Sorensen and Tara Flanagan! pic.twitter.com/YQtmATmsBB

— LU Womens Rugby (@LUWomensRugby) June 10, 2018
The keynote speaker was Judge Tara Flanagan, who won the 1991 Women's Rugby World Cup as a U.S. national team member with MA Sorensen. Flanagan spoke on how rugby continues to advance the ideals of sportsmanship, respect, and integrity.
Framed jerseys of all of the Scholz and Sorensen winners are on display permanently at the WAC.
Not only did Captain Connor McNerney win the Rudy Scholz award for Best Collegiate Player, he also just won the men's Navy Club Sports Athlete of the Year! Congrats Connor! #GoNavy #NavyRugby pic.twitter.com/8huRruFaeq

— Navy Rugby (@USNAMensRugby) May 24, 2018
The MA Sorensen Award is named after longtime USA prop forward MA Sorensen, who was a trailblazer at the College of William & Mary, an accomplished coach, and a hugely successful anesthesiologist. She and her husband, another longtime rugby coach, Joe Kelly, attended.
The Rudy Scholz Award is named after two-time Olympic gold medal-winning scrumhalf Rudy Scholz, who played rugby at Santa Clara, served in the U.S. Army at the end of World War I and also in World War II, and was decorated for bravery. He was a successful attorney and rugby coach and played rugby into his 80s. His son, Dave, and grandson, Douglas, were in attendance.
MA Sorensen Award Winners:
2016: Hope Rogers, Penn State
2017: Ilona Maher, Quinnipiac
2018: McKenzie Hawkins, Lindenwood
Rudy Scholz Award Winners:
2016: Dylan Audsley, Saint Mary's
2017: Bryce Campbell, Indiana
2018: Connor McNerney, Navy