By Austin Willis
---
Austin Willis is a junior on the Furman University men's rugby team and a former standout for the Alpharetta Rugby Club. In 2015, the three-time Georgia All-Star helped lead his club squad to an appearance in the Boys High School National Championships.
Here are a few things Willis wished he knew before the tournament, which returns for its 2018 edition today and continues through Saturday at Swope Soccer Village in Kansas City, MO.
Join PRO to watch the 2018 Boys HS Nationals live and on demand.
Beware the Hype
For the young ruggers competing in this tournament, the combination of the two words "national" and "championship" carries major weight. For these under-19 athletes, this will likely be the biggest stage of their athletic careers, and with a big stage and unknown opponents comes jitters. In the last few years, media coverage has grown adding to the hype—which, of course, is good for our game but if left unchecked can overwhelm.
The week of the tournament I surfed through each team's national ranking, team websites, schedule, and results. The thought of my family traveling from out of state to see the occasion weighed on me. When we reached Charlotte, NC, my daydreaming was lost in the fields, the lights, and the three-story viewing facility my parents would watch from. Over three days each team had the chance to size each other up multiple times. The first time the teams would see each other was at team check-ins or passing through the hotel lobby. Eyes would wander warming up around other opponents on the practice fields.
"That's them," we'd mumble. "No, wait, those guys are single-school. OK, yeah, that's them."
Without strong leadership from experienced head coaches and players, who knows where my mind might have been. Coach Clinton Criddick of Alpharetta said it best, "All the preparation is done, take in the moment, live only for the first kickoff."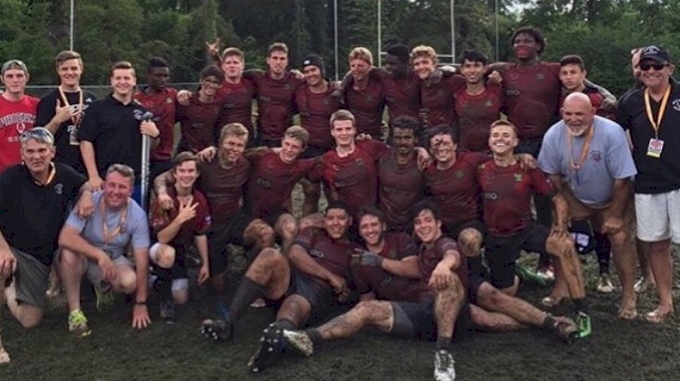 Care for the Body
Weather and field conditions always have an effect in some way or another. In 2015 it was the draining heat of Saturday that sapped our energy—which would have to be recovered by the Sunday matches. In 2016 it was muddy fields that hindered the competitors ball-handling.
Phoenix Rugby alum Chris Bagby said of those games: "[They were] some of the most difficult matches I've ever played in. It was hard to hang on to the ball, tackles were slippery, and rucking without footing was a joke. They were low scoring games decided by kicks."
In the clearest weather, there is always the inevitability that two strong teams will give all they have to beat each other over the course of 80 minutes. Then they will have to rest, refuel, and twice more go head-to-head with another elite club.
In 2015, we used a hotel pool and ice baths to get our legs back. On Sunday we guzzled Pedialyte and let athletic tape and adrenaline do the rest.
Depth is Paramount
Even the most resourceful and disciplined teams will face injuries and fatigue. Elite teams in the tournament will be stacked with all-star players that will have collegiate careers down the road, but the teams that can bring in fresh legs both days will have a major advantage.
In 2015, the No. 1 seed and eventual champion Royal Irish had studs across the field. We planned to run their big players around the field and tire them out. For the first half that is exactly what we did. They would strike and we would counter right back. We would hit them hard, find long breaking runs, and when one defeated opponent would exit, another fresh 6-footer would fill right in. After our halftime speeches, we felt a surge of momentum. We made our runs and sucked wind all the way back to the kickoff, while the Irish would switch out their entire pack with a second line of ammunition.
There are many factors that play into a successful run at the national championship tournament. Keep in mind what you can and what you cannot control. Don't be consumed by the hype. Take care of your body, and live for that first kickoff.