Lindenwood University flyhalf/center McKenzie Hawkins has been named the recipient of the MA Sorensen Award as the top women's college rugby player in the country.
Hawkins, who has been a strong candidate for this award in previous season, led the Lions to a USA Rugby D1 Elite National Championship with a 35-7 defeat of BYU in the semis, and a 34-8 defeat of Life in the final this past weekend. Hawkins, who is the team's field general and goalkicker, logged 29 points over the two games.
The smooth-running flyhalf can play almost anywhere in the backline, and has also been a massive part of Lindenwood's sevens success on the national level.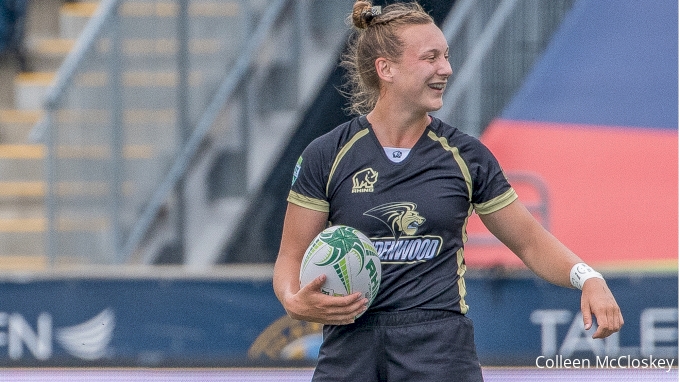 "McKenzie is one of the hardest working individuals I know," said Lindenwood head coach Billy Nicholas. "Her commitment embodies a student athlete she has earned a 4.0 GPA every semester of school here. She is constantly working outside of practice on her rugby skills and it shows in the way she trains and plays. She has been one of our team leaders since she started her career at Lindenwood and I have no doubt she will continue to go on and be very successful in her professional, personal and athletic careers."
The MA Sorensen Award was named for MaryAnne Sorensen, a trailblazing collegiate star at William and Mary, MA went on to start at prop for the USA when the Eagles won the 1991 Women's Rugby World Cup. She was a longtime Eagle, a pioneer for the sport, a coach, and in professional life, as she has been a practicing anesthesiologist for over 20 years.
The award is sponsored by the Washington Athletic Club of Seattle. FloRugby Editor Alex Goff organizes the voting and works in conjunction with the WAC. A panel of coaches, administrators, and media produced a list of nominees, and then the public and coaches around the country voted to pare that list down to five finalists.
Those finalists were:
McKenzie Hawkins, Lindenwood
Grace Taito, BYU
Sui A'au, Central Washington
Maya Learned, Harvard
Ilona Maher, Quinnipiac
The panel was then reconvened to vote for the winner, by ranking the top three 1st to 3rd. Points were awarded for each selection. This year's voting was especially close, but Hawkins garnered the most points, and the most first-place votes.
The award itself is presented to the winner at a gala event every June. MA has attended both of the previous events, personally presenting Penn State's Hope Rogers (2016), and Quinnipiac's Ilona Maher (2017) with their awards.
This year's awards dinner will be held at the Washington Athletic Club in Seattle on June 9.