Cal Tames Lions In D1A Semi
Cal Tames Lions In D1A Semi
Cal gets the victory over Lindenwood in the D1A semis.
Apr 28, 2018
by Alex Goff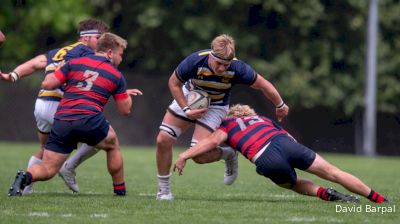 Cal is in to its first D1A final since 2011, upending Lindenwood 43-22 Saturday in Moraga, CA in what was a relatively imperfect game by both teams.
Lindenwood struggled to win its own lineout, and combined some poor decisions with some excellent cover defense by Cal to make it a difficult day for the Lions. Conversely, Cal showed a superb quick-strike ability, and enjoyed an outstanding day from its 8-9-10 combination of Thomas Robles, Keanu Andrade, and Troy Lockyear.
(All photos by David Barpal)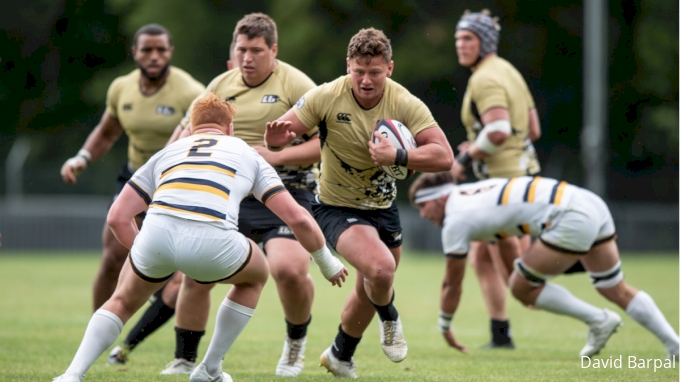 Cal wings Sam Cusano and Justin Dunn enjoyed plenty of space to run in as Cal successfully challenged Lindenwood out wide.
Lindenwood led 7-0 early thanks to an Alex Augspurg try, and in fact held the lead well into the second half of the first period. But a superb long run from Dunn put Cal ahead 10-7. It was a run set up nicely by outside center Aidan Flynn, but Dunn still had a lot of work to do.
Cal extended the lead when Andrade twisted and fought his way over in traffic. By then, Lindenwood was starting to lose its composure. Players started to work as individuals, and a very ill-advised chip kick with no chasers landed in the hands of Cusano, who took off for an 82-meter run for a try.
With time winding down in the first half, Dunn was yellow carded for hitting a player in the air, and Lindenwood scored thanks to a dropped pass and a missed kick to make it 24-14 at halftime.
It was like neither team could get out of its own way, but in the second half, that started to change.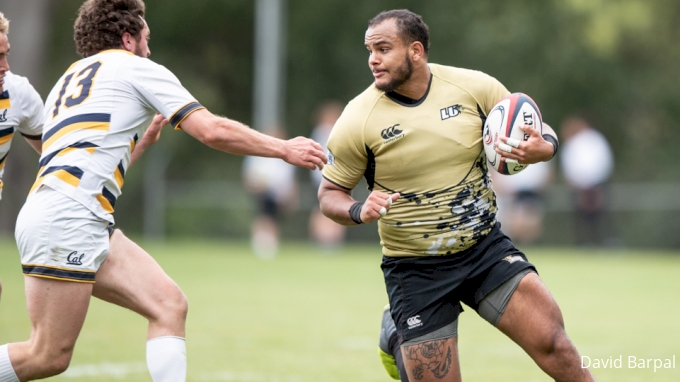 "I think it was our effort," said Robles. "We took control the game by handling the ball and keeping possession into thesecond half."
And that was it. While Lindenwood was thinking about forcing turnovers and putting in that big counter-ruck, Cal was quick to the breakdown, and kept moving when the Lions were too high in the tackle.
Nick Feakes kicked a penalty and then prop Kevin Sullivan went over. And Sullivan was involved again after some brilliant work from Christan Dyer (who also had a big day), set up Sullivan to put Dunn away with an excellent pass. That made it 38-17.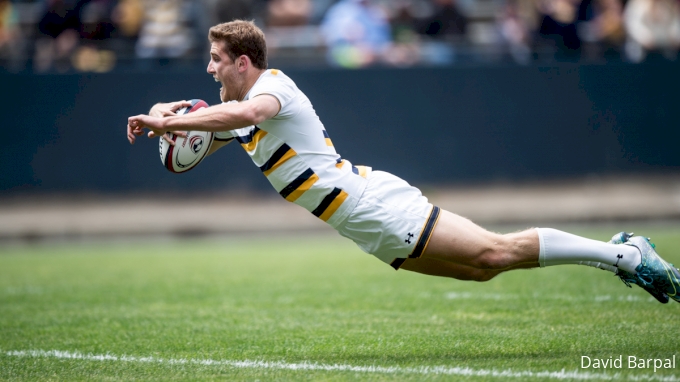 Lindenwood wing scored an excellent try from wing Deion Mikesell to inch closer. But in answer, Andrade scampered weak side on a scrum and offloaded to Cusano, who raced in for his second.
It was a game of pressure and composure, and Cal brought both more than Lindenwood. In addition, several times Lindenwood broke through only to have a Cal player cut off the passing lanes and get an interception or just help stymie the run.
So Cal now looks to face Life Saturday in Santa Clara, CA. This may not be the final everyone was expecting, but it could be the one everyone wants.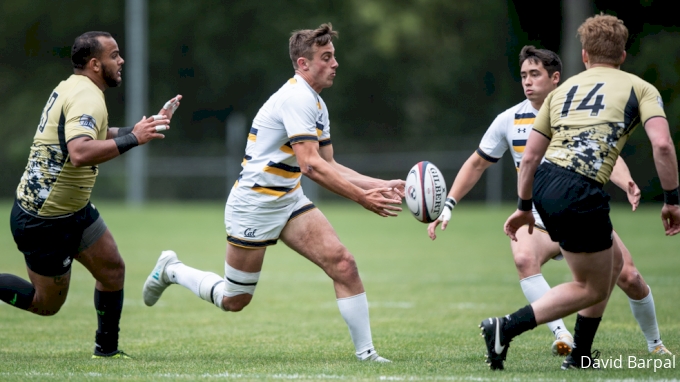 Cal won the first D1A championship in 2011 before leaving D1A and participating in the Varsity Cup competition from 2013-2017, which the Bears won twice. This is Cal's first season back in D1A. Prior to 2011, USA Rugby had a single Division 1 championship, which from 1980 to 2010 Cal won 25 times out of 31.
Cal 43
Tries: Dunn 2, Cusano 2, Andrade, Sullivan,
Convs: Webb 5
Pens: Webb
Lindenwood 22
Tries: Augspurg, Livadaras, Mikesell
Convs: Feakes 2
Pens: Feakes