Massive Drama As Penn State Beats BYU
Massive Drama As Penn State Beats BYU
Massive Drama As Penn State Beats BYU in the D1A Quarterfinals.
Apr 22, 2018
by Alex Goff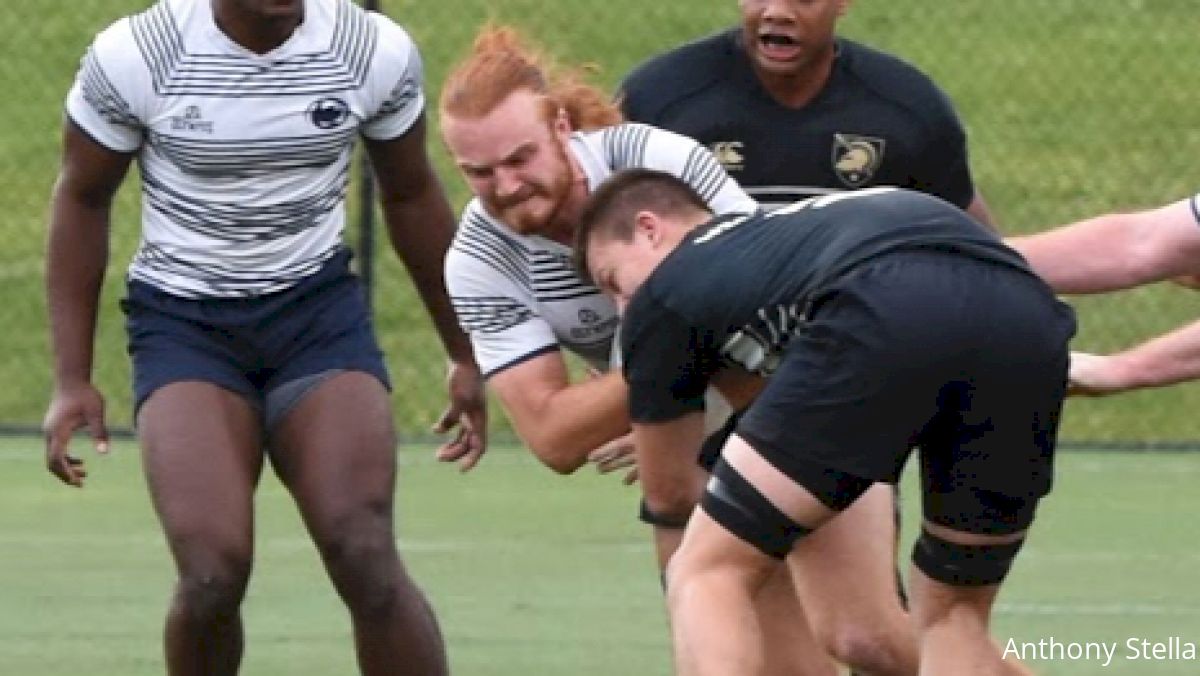 Penn State defeated BYU in a dramatic finish in the D1A quarterfinal at BYU's South Field in Provo, UT.
The Nittany Lions fell behind early, regained the lead, fell behind again, tied it up, and then fell behind again, but still had enough to win at on the final play of the game.
Brigham Young looked to put it stamp on the game early and hoped to win the point of contact. It worked early, as tries from lock Jonathan Layne and flanker Tosh Wilcox, with one Calvin Whiting conversion, staked the Cougars to a 12-0 lead. But Penn State unleashed the free-wheeling attacking style that worked last week against Arizona, and put BYU on the back foot.
Center Tyler May scored a try that scurmhalf Jimmy Ronan converted. And then Ryan McNulty went to work. The athletic, speedy lock got involved all over the field and scored three tries in the space of 11 minutes. BYU had no answer, and Penn State led 24-12.
Penn State Try!!! Ryan McNulty has a half trick in the first half as he puts it down near the posts! Jimmy Ronan hits the conversion! Penn State leads 24-12 after 30 minutes

— Penn State Rugby (@PennStateMRugby) April 21, 2018
Back came BYU, and the Cougars seemed to take control of the game. Four unanswered tries and some useful kicking from Whiting made it 43-24 for BYU with 20 minutes to go.
Somehow, Penn State got the momentum back. Mike Eife's try made the score 43-29, and then Ronan sniped over and converted to put his side within a try at 43-36.
Penn State scored to tie the game at 43-43 only for Whiting to nudge . BYU ahead with a penalty. That set the stage for the final play.
Penn State worked its way back into BYU territory and went wide, but the Cougar defense forced a forward pass, and a scrum for BYU with about 90 seconds to go. But a huge shove from the Penn State pack ruined the BYU possession and forced a knock-on. So, with only a few seconds to go, Penn State had a scrum. Once more, the Nittany Lions drove forward, and this time earned a penalty as BYU lost their binding.
This, then, was the crucial moment. In previous years, the laws would have meant Penn State would have had to kick for the posts to tie the game, or tap and run, because a kick to touch would have ended the game. But now, the new laws allow a kick to touch on a penalty to lead to a lineout, and Penn State chose that option.
An expert throw to the back, and a perfectly set maul saw No. 8 Rob Irimescu grab the ball a the back and trundle right over the tryline. It was an unstoppable maul, and with the try, Penn State led 48-46. The kick was no good, but it didn't matter - Penn State had won.
BYU falls to Penn State 48-46 to end the season. Thank you to all our fans for your love and support! #BYURugby pic.twitter.com/6h9Xugdk84

— BYU Rugby (@byurugby) April 22, 2018
This was a startling result. Very few go to Provo and win. Penn State, while a strong team for some years, just hasn't been able to get to that level. This result was monumental, and coupled with Lindenwood's defeat of Saint Mary's, and the fact that Cal almost lost to Navy, signaled perhaps an indication that the college game is becoming more competitive.
Penn State will face Lindenwood next week in the semis.
Penn State 48
Tries: McNulty 3, T. May, Eife, Ronan, Le Galludec, Irimescu
Convs: Ronan 4
BYU 43
Tries: Layne, Wilcox, Mocke, Matua, Schofield, Roberts
Convs: Whiting 5
Pens: Whiting 2