PRP Roundup: SFGG Triumphs In Must-Win Game
PRP Roundup: SFGG Triumphs In Must-Win Game
SFGG beat OMBAC, and now it's a three-team chase for 1st.
Apr 15, 2018
by Alex Goff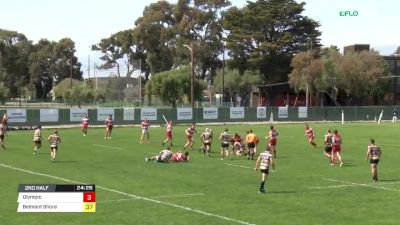 Just when you thought it was all getting figured out, SFGG threw a monkey wrench into the machine of the Pacific Rugby Premiership.
Faced with likely elimination from qualifying for the final, SFGG pulled out its best performance of the season, defeating OMBAC 41-22 on Saturday at home.
When: Saturday, May 5 | Where: Little Q, San Diego
"It was our best performance of the season," SFGG head coach Neil Foote said. "We just looked after the ball a bit better on attack. We didn't force as much as we usually do. A lot of times we try to force offloads when we've lost the collision, and we didn't do that in this game."
Foote also praised his team's cover defense, saying that a lot of time had been spent in training working on getting back and reforming a defensive line when the opposition had broken through.
"It's about running hard both ways," Foote said. "But I also think defensively we put really good pressure on OMBAC and took a bit of the sting out of them."
The usual suspects continue to play well for SFGG, with lock Brendan Daly a force all over the field and prop Nathan Sylvia continuing to put in strong performances. The player of the game for SFGG was No. 8 Akuila Uaisele, who has been successful imposing his will physically but perhaps at the expense of showing his speed. Foote admonished Uaisele to find space and use his pace more—and he did.
For OMBAC, the crucial moment came after it was clear the San Diego team was going to lose. Facing a second straight loss after a seven-game winning streak, the OMBAC players girded their loins and worked hard to get a four-try bonus point.
Getting that fourth try showed some determination in the OMBAC team but also could play a huge role in getting the San Diegans into the championship game.
O-Club Shocks Life West
Also this weekend, Olympic Club pulled off a bit of a shocker with a 38-29 defeat of Life West. Life West still had some starters playing with Tiger Rugby at the Melrose 7s. O-Club took control with two key periods, one in each half.
Down 10-7 after 15 minutes, Olympic Club got tries from Michael Haley and Bubba Jones, both converted by Josh Tucker (who added a penalty) to make it a 24-10 Olympic Club lead at halftime.
Life West inched closer early in the second half, but another Jones try and one from Marguise Garcia essentially put it away.
Tucker, who scored the first Olympic Club try, scored 18 points on the day.
Belmont Shore Holds Off Dolphins
Belmont Shore just got by Santa Monica with a 40-35 victory. Santa Monica led as late as the 77th minute, but a Keni Nasoqeqe score in the closing moments pulled out a win for Shore. Santa Monica came back from a 15-0 deficit early in the game to grab the lead just before halftime. Belmont Shore regained the lead on the final play of the first half, and the teams traded the lead back and forth all day.
Belmont Shore spent almost half the game shorthanded with three yellow cards.
Along with Nasoqeqe, Robert Newcomb also scored a try and Viliame Iongo scored three, making it 11 in his last three games. Scrumhalf Daniel Thomas scored 15 points with the boot. For Santa Monica, flanker Conor Clancy and Iain Herriott both scored two, while Quinn Perry and Zak Hang Chan added tries. Of the six Santa Monica tries, only one was converted.
Seeds Set... Almost
The upshot of this is that Santa Monica and Olympic Club both have two victories and the race for a spot in the final is tightening up. SFGG has two games left, against Life West on April 21 (the only PRP game that weekend) and then vs. Olympic Club on April 28. Belmont Shore has one game left, against Life West, and OMBAC has just a game against Santa Monica left to play.
"This league is great competition," Foote said. "To have three teams in with a chance for the final with just one or two games to go is exactly what you want."
Life West earned a bonus point for four tries and needed it, as that ensured the Gladiators will be in the third/fourth-place playoff on May 5 LIVE on FloRugby. Santa Monica and Olympic Club, despite much-improved results of late, are set for the fifth/sixth-place game.
So the big question is, who will be in the final? It will all come down to the final weekend. If SFGG beats Life West on April 21, then three teams will be tied with 34 points. Bonus points will be crucial.