Unleashing their special combination of powerful defense and free-flowing attack, the Saint Mary's Gaels defeated Cal Poly 58-22 to advance to the D1A quarterfinals Saturday.
Cal Poly had given Saint Mary's difficulties in their previous meeting (a 36-17 Gael win), and while the Mustangs weren't walkovers, this was very much a Saint Mary's game. The Gaels scored four tries before Cal Poly got on the scoreboard, and led 32-3 at halftime.
Aaron Matthews was hugely influential and scored two tries, as did Joe Yacoubian, while Ronan Murphy, Peyton Telea-Ilalio, and Tommy Wallace also touched down.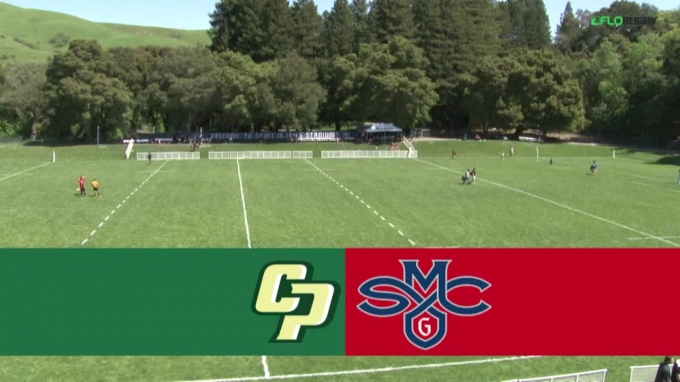 Unlock this video, live events, and more with a subscription

! Get Started

Already a subscriber? Log In
Once again, outside center Liam Cotter had an active and effective game, while the Saint Mary's forwards just won ball and played strong defense. Cal Poly was under constant pressure. The Mustangs were stuck in their own 22 for most of the first half, and made their share of mistakes to hand the ball to the Gaels, who more often than not was able to score.
In the second half, down 39-3m Cal Poly got its first try when the ball came quickly out of a Saint Mary's scrum, and scrumhalf Grant Beadle toed the ball ahead and out-hustled everyone to dive in for a superb try.
Flyhalf Patrick Madden sidestep his way over for the next try from Cal Poly, but Saint Mary's replied with a nice frun from Yacoubian (the younger brother of starting scrumhalf Sean). Wallace set up Mike McCarthy for a superb try for the Gaels to make it 53-17, and Cal Poly finished it off with a diving try from wing David Bartolomucci.
The good news for Saint Mary's is the team will host next week. More good news is that Vili Helu returned to the lineup after injury. But the bad news is that the Gaels will host a very tough Lindenwood team next week in the quarterfinals.
Saint Mary's 58
Tries: Matthews 2, J. Yacoubian 2, Murphy, Tela-Ilalio, Wallace, McCarthy, Pieterse
Convs: S. Yacoubian 4, J. Yacoubian
Pens: S. Yacoubian

Cal Poly 22
Tries: Beadle, Madden, Bartolomucci
Convs: Wormer 2
Pens: Wormer