Belmont Shore Takes Down OMBAC In PRP Shocker
Belmont Shore Takes Down OMBAC In PRP Shocker
Pacific Rugby Premiership action as Belmont Shore defeats OMBAC
Apr 9, 2018
by Alex Goff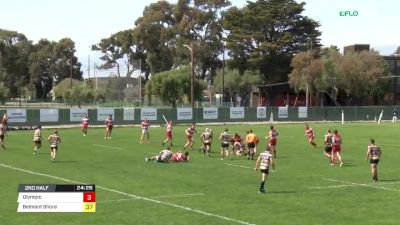 Belmont Shore pulled off the upset of the season Saturday in San Diego by beating previously undefeated OMABC 39-20 in the eighth round of the Pacific Rugby Premiership.
With the victory, Belmont Shore improved to 5-2-1, while league leader OMBAC slipped to 7-1. Shore gets a little bit of distance in second place between itself and SFGG (4-2-1), which holds steady in third after its game against Life West was rescheduled to April 21.
The result is even more intriguing because Belmont Shore needed to come back to win.
OMBAC took an early 5-0 lead when Tim Stanfill scored on a nicely taken chip-and-chase. Four minutes later, OMBAC flyhalf Garret Brewer snagged a no-look pass by a Belmont Shore player and was off under the posts. Michael Dillon converted both and added a penalty at 25 minutes for a 17-0 OMBAC lead.
For a moment, it seemed like the league leaders were ready to roll. However, that didn't happen.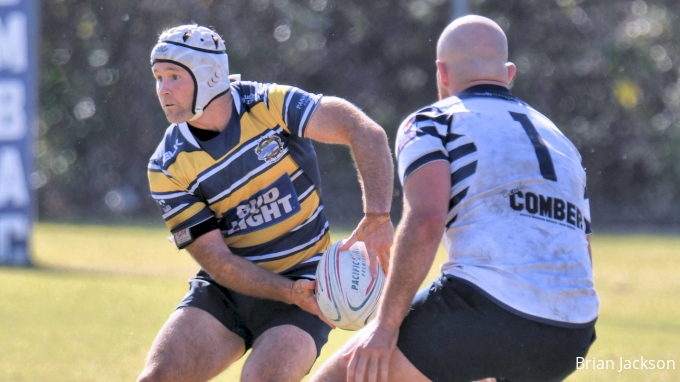 (Photos by Brian Jackson)
"We actually felt we were playing OK," Belmont Shore head coach Ray Egan said. "We got a bit of confident once we got a bit of field position and some possession. We started to build our attack and we were really happy with our set piece. So as the game went on we felt more and more confident."
Confidence is even more useful when you score tries, and those started to come for Shore. Village Iongi showed why he played 21 times for Tonga. The Belmont Shore fullback blazed through for a try at 29 minutes, and while OMBAC replied with a penalty, another Shore try (prop Mafi Sean) made it a slim 20-14 lead for OMBAC at the break.
Iongi then made it a one-point game with a try right at the beginning of the second half, and then prop Travis Whitlock thundered over to give Belmont Shore a 24-20 lead at 49 minutes. Two minutes later, it was 29-20 as Iongi torched OMBAC again.
"He was living off scraps for us, but now he's getting the ball in space and he's doing what you'd expect," Egan said. "But it wasn't just that. Defensively, we dominated the point of contact and we got to the gain line quickly, which helped shut down their big ball carriers."
Now ahead by nine points and with the wind, Belmont Shore just put the pressure on. Daniel Thomas, who has had better days goalkicking, slotted an important penalty, and Iongi finished it all off with a try in the final minutes.
"We did have the wind, but we'd also done a lot of damage physically in the early going," Egan said. "When you consider we missed three conversions and three penalties, it could have been even more."
As it is, a 39-20 victory is pretty impressive, and it's even more so to shut down the OMBAC attack for the final 40 minutes.
"We felt this was a must-win for us," Egan said. "If we're going to compete and get into the final, we have to play well against OMBAC. This was good. It puts our noses in front."
---
BELMONT SHORE 39
Tries: Whitlock, Seanoa, Iongi 4
Convs: Thomas 3
Pens: Thomas
OMBAC 20
Tries: Stanfill, Brewer
Convs: Dillon 2
Pens: Dillon 2