College rugby observers had every reason to think Cal could upend Saint Mary's in the regular-season finale for both teams on Saturday in Moraga, CA.
After all, SMC has gone into this annual rivalry game on a roll before only to be sunk by Cal's virtually unique combination of skill, determination, and discipline.
In addition, superb Gaels No. 8 and Scholz Award nominee Vili Helu was out injured and Anthony Rodriguez, their nonstop second row, was also not in the lineup. You had to wonder if the No. 3-ranked Bears might get the job done against the No. 1 team in the country.
It almost happened, but not quite. Saint Mary's held a slim four-point lead before scoring a try right at the end of the game to cap off its 21-12 victory. That try came after Cal was within inches of the try line.
So what happened?
It's Just The Way Things Are
From 2001-10 Cal and Saint Mary's played somewhere in the neighborhood of 12 times. Only one of those, a 41-31 Cal victory in a national semifinal, could be called really close. The average score (all Cal wins) was 50-12.
Since then, however, the teams have split eight games, with Saint Mary's going 3-2 in Moraga and Cal going 2-1 in Berkeley (they played twice in a row at SMC because the Bears' home field was being rebuilt in 2011). The average score in those games is 26.8-26 (in Cal's favor).
So, basically, a close game that either team could have won has been the state of affairs for a while now.
Full Match Replay: Saint Mary's vs. Cal
Errors And Penalties
"Saint Mary's is far too good of a team to give them 20 turnovers," Cal head coach Jack Clark said after the game. "In truth, our turnovers aren't just an issue today. Skill breakdowns have been an issue most of the season for us. Today, they resulted in us being second best."
Cal captain and No. 8 Thomas Robles added, "There were a lot of handling issues compounded by the fact we were up against a good opponent."
Both say essentially the same thing: Even good teams make mistakes and a good opponent will force you into those errors and will make you pay.
For Saint Mary's, opponent errors often result in seven points. That wasn't really the issue this time around. Cal's errors just killed the Bears' momentum and often killed real try-scoring opportunities.
The Gaels, on the other hand, made slightly fewer errors and turnovers and, perhaps most interestingly, did not commit a penalty the entire second half.
Saint Mary's also gave up a 95-meter try. As the Gaels attacked the Bears' line, they let the ball roll out of the ruck and Cal's Keanu Andrade started and finished a brilliant movement.
"We're taught that the ball sometimes doesn't bounce your way in rugby," said Alec Barton, who has excelled at lock and flanker for Saint Mary's. "That kind of play tests your resolve. You just need to stay composed. The great thing about this game is how it tests your composure under pressure."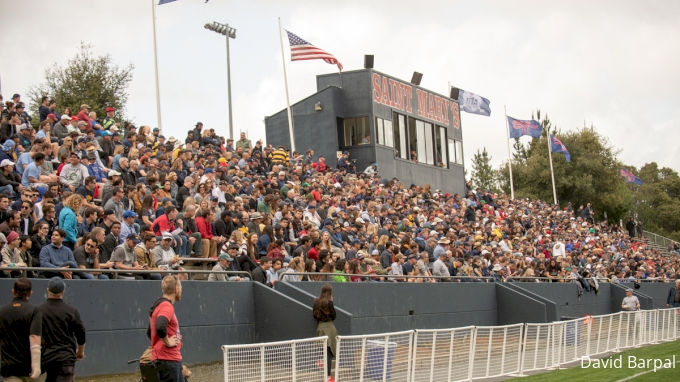 Depth
Cal and Saint Mary's have had player replacement issues (injuries, graduation), and both have gotten some pleasant surprises in the guise of players who stepped into key roles and performed well. But for the Gaels to win this game without Rodriguez or Helu is noteworthy. To scrum as well as they did is a testament to the work of Johnny Everett and that pack.
"It's just next guy up," Barton added. "We just expect it to be that way. Our scrum is something we all take pride in. We work hard on our scrums and we chose to use the scrum on a penalty because it was the right moment."
This Is Nothing New
With Clark and Robles making it plain that Cal has some work to do, Saint Mary's head coach Tim O'Brien felt the same way.
"There's nothing like playing Cal to open you up to your own weaknesses," he said. "This was a game we needed."
Well, no argument there, but the message really is this is what should be expected. Saint Mary's beating Cal? Not a big deal anymore. Cal beating Saint Mary's? Same thing. And that's good news because fans can be treated to a classic every year. We got one this year, for sure.