Santa Monica Comes Back To Defeat Olympic Club
Santa Monica Comes Back To Defeat Olympic Club
Pacific Rugby Premiership action as Santa Monica defeats Olympic Club.
Apr 8, 2018
by Alex Goff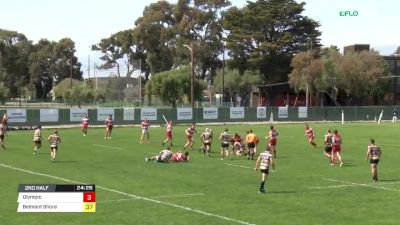 Santa Monica logged its second victory in three weeks in the Pacific Rugby Premiership with a 36-25 defeat of The Olympic Club Saturday in Southern California.
The Dolphins fell behind twice in a back-and-forth tussle between the two. O-Club took an early lead thanks to a penalty goal from flyhalf Keegan Engelbrecht, and extended it 25 minutes into the game with a try from wing Marguise Garcia.
Engelbrecht converted that try for a 10-0 O-Club lead. But immediately after that score, Santa Monica bounced back. Center Iain Herriott halved the lead to 10-5 with a try, and as halftime approached, flyhalf Steve Stagg went over to tie the game.
Center Shawn Lee's conversion put Santa Monica ahead 12-10, but the lead was short-lived, as the Olympic Club powered over with prop Stephan Salimi, and Engelbrecht hit the exras for a 17-12 O-Club lead at the break.
In the second half, the Northern California team extended that lead to 22-12 with a try from lock Mark Bowers. But ten minutes into the second half, Santa Monica mounted a comeback. Fullback Quinn Perry's try, with lee's conversion, put the Dolphins within a score at 22-19. Then, with O-Club down a man due to a yellow card to hooker Travis Moscone, Stagg's second try game Santa Monica the lead.
Lee converted to make it 26-22 for the Dolphins. Engelbrecht answered with a penalty goal for a one-point game at 26-25. But with 15 minutes to go, Santa Monica scrumhalf Victor Woo scored to extend his team's lead (with Lee's conversion) to 33-25. Lee added a penalty goal a few minutes later to add to the cushion, and Olympic Club was unable to answer.
As a result, Santa Monica (2-6) moved off the bottom of the standings and past Olympic Club (1-7).