Life West Comes Close But OMBAC Prevails
Life West Comes Close But OMBAC Prevails
Report from OMBAC vs. Life West in the PRP Mid-Season Clash.
Apr 1, 2018
by Alex Goff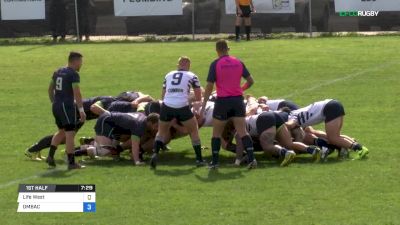 OMBAC remains atop the Pacific Rugby Premiership after defeating Life West 39-33 on Saturday in San Francisco, but that's not the whole story.
The league leaders had all sorts of trouble with Life West and could easily have lost their first game of the season.
See All PRP Mid-Season Clash Games On-Demand
"We didn't play well," OMBAC wing Tim Stanfill said. "We made poor decisions. Our discipline wasn't good. We can do better."
OMBAC player-coach Tai Tuisamoa added: "Life West always brings it and always plays us tough. They are really physical, a great team to play against. I thought we maybe had it, but we had a lull there, and they came right back at us."
OMBAC got an early penalty and then a snappy try from Stanfill set up by a perfect leading pass from flyhalf Garrett Brewer. That 10-0 lead lasted until about 11 minutes into the first half when Life West scrumhalf Devereaux Ferris snapped a long pass out to center Josefa Vuatalevu, who worked his way through a tackle to stretch over.
Full Match Replay: PRP Round 7 OMBAC vs. Life West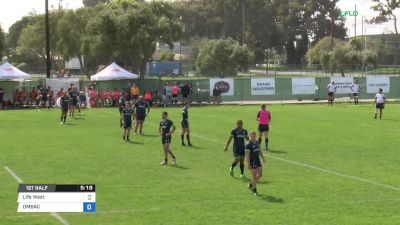 Unlock this video, live events, and more with a subscription!
Get Started
Already a subscriber? Log In
A physical Life West defense and athletic counter-attack continued to frustrate OMBAC, and the score remained 10-7 until Tuisamoa carried two players over the line for an OMBAC try after a long period of pressure in the Gladiators' 22.
Trailing by 10 points, Life West managed to get a try before halftime by bulling one over in the corner, cutting OMBAC's lead to 17-14 following Guillaume Cazenave's conversion. But OMBAC had time before the break to answer, and once again Tuisamoa's power running set things up. This time wing Adam Channel finished it off.
Up 24-14, OMBAC looked in position to put the game away, but Life West just wouldn't fold. With OMBAC committing penalties, the Gladiators scored on a ridiculous behind-the-back pass from Ferris to make it 24-21.
OMBAC replied with a try from Tuisamoa, and OMBAC stayed ahead, if only barely. Ferris scored for Life West on a quick tap when the OMBAC players seemed to just stop paying attention. That put the score at 31-28 for OMBAC, and that try seemed to wake OMBAC up a little bit.
Brewer—who had been pinged with a yellow card and was fortunate not to get another later—began punching line-drive kicks into the corner. Prop Jed Gillespie scored off a maul, and with Michael Dillon getting full value for the tries and adding a penalty with his excellent goalkicking, OMBAC surged to an 11-point lead at 39-28.
Life West stormed back for once more, getting bonus points for four tries and a close loss, but it wasn't quite enough.
"We played well and we gave them a scare, but little mistakes all along the way hurt us," Life West head coach Adriaan Ferris said.
In the end, the game provided little comfort for either team. OMBAC won but felt the performance was, overall, lacking. Life West saw a chance to topple the PRP leader fall through its fingers.
OMBAC now sits 7-0, while Life West slips to 3-4.
OMBAC 39
Tries: Tuisamoa 2, Stanfill, Channel, Gillespie
Convs: Dillon 4
Pens: Dillon 2
Life West 33
Tries: Vuatalevu, Ferris, TBC 3
Convs: Cazenave 4