FloRugby's Midseason PRP All-Star Team
FloRugby's Midseason PRP All-Star Team
FloRugby picks the best 15 players from the first half of the PRP season.
Mar 22, 2018
by Alex Goff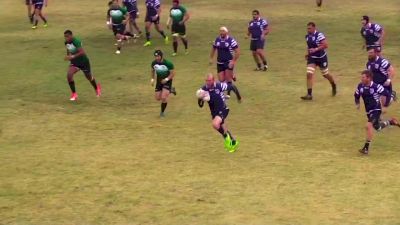 The Pacific Rugby Premiership is halfway through its season, and it's time to pick a midseason all-star team.
We looked for all-star potential from every team and tried not to get bogged down in the fact that OMBAC is 5-0—that doesn't mean every player on the San Diego club's lineup is the best.
Date: March 31 | Time: All day | Site: Treasure Island, San Francisco
We wanted, instead, to recognize players from the entire league. Here are our picks:
Loosehead Prop: Jed Gillespie, OMBAC
Last week's Player of the Week, Gillespie is a smart and aggressive front-rower who has garnered respect throughout the league. Good in tight, a tough scrummager, and able to play well out in the open field, he's got it all.
Hooker: Jacob Finau, Life West
There's a lot of competition for this position, but Finau has been the most consistent PRP hooker and the one who's most consistently been in the lineup. He's a big, bulky hooker who can move around the field.
Tighthead Prop: Nathan Sylvia, SFGG
The rookie from Cal Poly has emerged as a strong scrummager, and he gets a ton of work done around the pack.
PRP Round 1 Plays Of The Week:
Loosehead Lock: Brendan Daly, SFGG
It's a testament to Daly's influence that he gets this nod despite being away for the USA team part of this season. He's a powerful presence in the second row, or as a flanker, for Golden Gate and an excellent leader.
Tighthead Lock: Tai Tuisamoa, OMBAC
Come one, who else? He's leading the league in tries. He's basically unstoppable once he gets running. He is the player-coach of the best team in the league. It's a no-brainer to select Tuisamoa.
OMBAC Shows Patience To Get Tuisamoa His Hat Trick:
Blindside Flanker: Awake Naibuka, Life West
Call him "Books" but don't call him soft. Naibuka is another team captain on this list, and he's a block of granite who rattles teeth when he hits.
Openside Flanker: Sean Gorman, Belmont Shore
A bit of a dark horse, Gorman just gets the work done. He concentrates on defense and winning the ball and lets others score the tries. He's called an unsung hero, but we're singing about him now.
No. 8: Keni Nasoqeqe, Belmont Shore
Not surprisingly, this is a very competitive position, and we'd give a nod to the fact we had to leave Olympic Club's Drew Gaffney off this list to put Nasoqeqe on it. But the Belmont Shore No. 8 has been explosive every single week. He doesn't take a game off, and he can score, or break you, from anywhere.
Scrumhalf: Victor Woo, Santa Monia
This is by far the toughest position to select an all-star. Devereaux Ferris was brilliant this past week but missed time with the USA team. Jonathan Gray was a Player of the Week. Colby Stephens is SFGG's goalkicker and has a beautiful pass. Charlie Purdon has been massive for OMBAC, and Olympic Club has had several good players in the No. 9 jersey, just not one consistently. Woo is skilled, brave, good on defense, quick, and intelligent. It's not his fault Santa Monica is 0-5.
Flyhalf: Michael Dillon, OMBAC
Dillon is one of several players who has played a little flyhalf and somewhere else, as well. But this past week, OMBAC dominated and Dillon was at the controls. He's also leading the league in scoring.
Left Wing: Tim Stanfill, OMBAC
The thing about Stanfill, which is something you don't always see in a wing, is that when he gets the ball—be it from a pass, a kick, or a turnover—he is thinking about pushing ahead at full speed. He has been very well coached because he never attacks a defender's body. Instead, he targets space, puts his head down, and goes forward. He proved his try-scoring acumen for the Eagles, and then they stopped picking him. If it was up to us, we'd keep him in consideration.
Outside Center: Calvin Nell, Life West
Like Haley, Nell has been asked to put on the No. 10 jersey every now and then, but he's here at his better position. Above all, Nell is a distributor and a defender. He can score, sure, but it's his ability to put others in space and his superb defense that makes him an all-star.
Right Wing: Martial Chaput, Santa Monica
Chaput covers a ton of ground, and you might find him on the opposite wing getting work done if he's needed. He can play fullback and often does. We put him on the wing, though. He is quick, has a good boot, and can tackle in the open field.
PRP Round 3 Top Plays:
Fullback: Dustin Muhn, Olympic Club
Every week we trawl through the PRP video footage for great plays, and every week Muhn is making them. He might be blocking a conversion kick in front of the posts, or stopping a sure try, or just running the perfect line. Muhn is all effort, all the time.
That's our list, what's yours?