SFGG Outlasts Olympic Club But Defense Is A Concern
SFGG Outlasts Olympic Club But Defense Is A Concern
SFGG beat Olympic Club 44-31 in PRP action.
Mar 18, 2018
by Alex Goff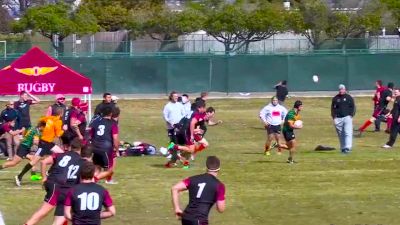 San Francisco Golden Gate joined Belmont Shore and Life West at 3-2 in the Pacific Rugby Premiership with a high-scoring victory against Olympic Club on Saturday at Treasure Island in San Francisco.
SFGG prevailed 44-31, but it wasn't easy.
"The team kept focused and kept grinding away," SFGG head coach Neil Foote said. "It wasn't pretty, but we secured [valuable points] in what is turning into a tight competition."
Date: March 31 | Time: All day | Site: Treasure Island, San Francisco
The standings are especially close in the second through fourth positions. All three teams are 3-2, with SFGG and Belmont Shore tied on competition points, as well.
Foote was pleased with the win but will be looking at those 31 points allowed carefully.
"We are very concerned with the defense," Foote said. "We have been pretty lax at times, but I think it's more mental than physical for us. I don't want to take anything away from Olympic Club because they really came at us yesterday with everything they had. But I just felt we were very passive in contact and it allowed them easy meters."
SFGG was hit with two almost simultaneous yellow cards for high tackles, which didn't help its defensive stats. But Foote praised his impact subs and said the bench shifted the momentum.