The lineup of teams for the Boys High School Rugby National Championships has been finalized.
The tournament will return to Swope Soccer Village in Kansas City, Missouri, on May 17-19 for the second year in a row, featuring 12 single-school teams and 12 high school club squads.
Watch the 2018 Boys High School Nationals LIVE on FloRugby!
As has been the case since the BHSRNC came under the control of a consortium of coaches rather than USA Rugby, the teams are selected well in advance of the tournament to make it easier for everyone to plan.
High school programs need to apply each year, stating their ability to make the trip, showing long-term success, and submitting a deposit.
The selection committee of coaches then picks 12 single-school teams and 12 high school club teams. Those teams are later split into an eight-team single-school bracket and an eight-team high school club bracket. The remaining four teams from each side compete in a Tier II bracket for a third championship.
ARCHIVES: Relive all the action from the 2017 Boys HS Nationals
"The committee is thrilled to accept the following applications, as this year's process and field of applicants was our largest ever," said Bart Bottorff, who serves on the selection committee. "We sadly had to deny some very qualified teams due to the strength and geographic range of the teams that applied."
One of the ongoing desires of the BHSRNC Committee has been to make sure that the teams involved don't all come from one or two regions—hence Bottorff's comment about geographic range.
Top 5 Plays of the Week: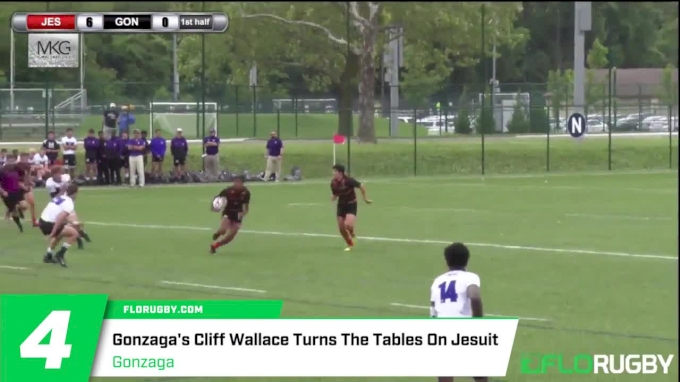 This year's lineup of teams includes every champion since the event went private in 2013: Gonzaga (DC) and Sacramento Jesuit (CA) on the single-school side and United (Utah), Royal Irish (IN), and Granite Bay (CA) on the high school club side.
The Tier II champs from the last two years, West End (VA) and St. Thomas Aquinas (KS), return as well. Among the newer teams are Wando out of South Carolina, the Eastside Lions out of Washington—marking a long overdue return of a Pacific Northwest program—and Media out of Pennsylvania.
In addition, Bottorff said the roster of officials is as impressive as the lineup of teams.
"With the addition of our strongest pool of referees ever, including some national panel, this field of teams is our strongest ever and will make this year's national championship the most competitive to date," Bottorff said.
2018 Boys HS Rugby National Championships Teams

Single-School Teams

HS Club Teams

Brownsburg (IN)

Danville (CA)

Charlotte Catholic (NC)

Eastside (WA)

Fishers (IN)

Fort Hunt (VA)

Gonzaga (DC)

Granite Bay (CA)

Greenwich (CT)

KC Blues (MO)

Herriman (Utah)

Media (PA)

Jesuit (CA)

Phoenix Alpharetta (GA)

Penn (IN)

Rhinos (CA)

St. Edward (Ohio)

Royal Irish (IN)

St. Thomas Aquinas (KS)

South Bay (CA)

Wando (SC)

United (Utah)

Xavier (NY)

West End (VA)