Baylor, Texas, A&M Battle To Wins In Red River
Baylor, Texas, A&M Battle To Wins In Red River
Baylor, Texas, and Texas A&M are looking solid in the Red River Rugby Conference after difficult victories this weekend.
Jan 28, 2018
by Alex Goff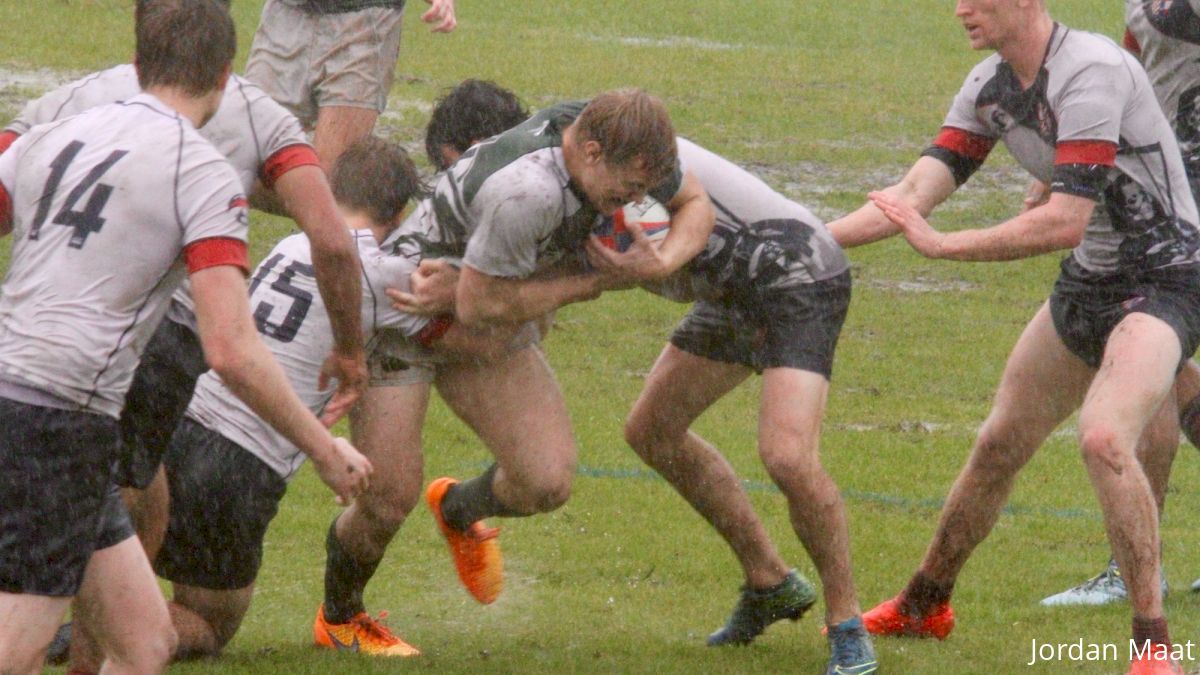 It was a rainy and cold day in Texas on Saturday, and that had a distinct effect on the quality of games in the Red River Collegiate Conference.
As a result, Texas and Baylor, which might have expected to win by large margins, came away with victories but not with a ton of daylight.
Baylor 28, Houston 3
Baylor, which had scored 59 on Texas Tech in dry weather a week before, didn't get its fourth try until the 75th minute against Houston. But it was enough. Fleet-footed lock Andrew Honderich, center Luke Davis (back in the squad after a family commitment), flanker Griffin Maat, and Davis again scored the Bears' four tries in the 28-3 victory.
Flyhalf Parker Vincent kicked all four conversions.
And by the way, was everyone just complaining a bit too much about the weather? Let's see...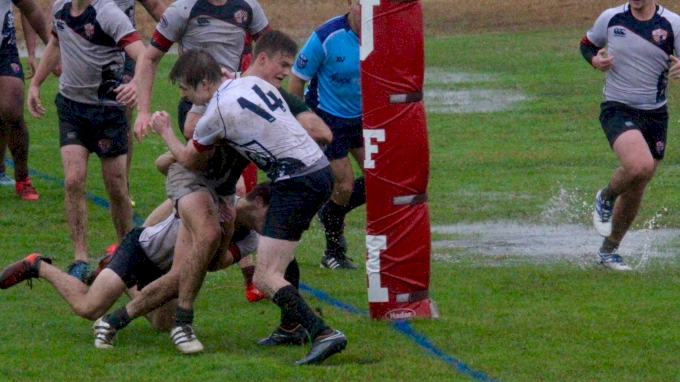 No... no, we don't think they were exaggerating at all.
Texas 25, Texas Tech 7
Texas might have expected a big score against Texas Texas after TTU shipped 59 to Baylor, a team UT beat in preseason. But the conditions and a Red Raiders team that wanted to rebound from a sub-par performance last week halted those plans.
Neither team was able to score in the first half, and they entered the breaks 0-0 in part because it was muddy, slow going. For Texas head coach Zac Mizell, the lack of scoring was in part a function of the fact his team hadn't been able to practice much due to poor weather and a bout with the flu.
"It took us about 20 minutes to really get back into the feel of playing rugby together," Mizell said.
Flyhalf Stavros Ktendis was solid with his kicking, slotting two penalties and two conversions, while center Robert Hughes scored a try. Lock Joseph Jancaus also added a try. Mizell was more excited about his team's defense.
"We have been working hard at fanning out quickly and launching up and this was the first game where the guys committed to making a full wall," Mizell said. "They are making it a priority and making those adjustments themselves on the field."
Hughes remains a force for Texas. He has been moved from No. 8 to center, and his two tries bookended the scoring in the second half. His ferocious running has defenses worried.
Mizell also praised an efficient kicking performance by Ktendis, although the coach had some fun at the expense of his player's practice regimen.
"I think he's one of the best goalkickers who hardly ever practices," Mizell joked. "In the warmup is when he really gets his best look at kicking at goal, and he does really well anyway."
Texas A&M 34, TCU 9
Texas A&M played TCU despite being without head coach James Lawrey, who was accompanying his B side to North Texas. Under assistant Ryan Marshall, A&M got two tries from freshman flanker Will Green, who has provided a nice injection of aggression and poise. Green grew up playing rugby in England, and his experience, despite his youth, has been helpful to the Aggies.
Green's two tries, one when TAMU was down a man due to a yellow card, turned a 3-0 deficit into a 12-3 lead midway through the first half. Reuben Mikeska's try, with Ross Navarro's second conversion, made it a 19-3 game at halftime.
After TCU's Logan Legg notched his second penalty of the day, Navarro replied with one of his own. And then late tries from No. 8 Braeden Hood and Mikeska again, wrapped around Legg's third penalty goal for TCU, finished the scoring.
Conference Standings
| | | | | | | | | | |
| --- | --- | --- | --- | --- | --- | --- | --- | --- | --- |
| Red River North | W | L | T | PF | PA | PD | BT | BL | PTS |
| Baylor | 4 | 0 | 0 | 168 | 21 | 147 | 4 | 0 | 20 |
| Texas Tech | 1 | 3 | 0 | 112 | 124 | -12 | 2 | 1 | 7 |
| Arkansas | 1 | 1 | 0 | 55 | 87 | -32 | 1 | 0 | 5 |
| Oklahoma | 0 | 3 | 0 | 25 | 148 | -123 | 0 | 0 | 0 |
| | | | | | | | | | |
| Red River South | W | L | T | PF | PA | PD | BT | BL | PTS |
| Texas A&M | 3 | 0 | 0 | 143 | 38 | 105 | 3 | 0 | 15 |
| Texas | 3 | 1 | 0 | 177 | 75 | 102 | 2 | 0 | 14 |
| LSU | 2 | 0 | 0 | 127 | 27 | 100 | 2 | 0 | 10 |
| TCU | 1 | 3 | 0 | 48 | 151 | -103 | 1 | 0 | 5 |
| Houston | 0 | 4 | 0 | 27 | 195 | -168 | 0 | 0 | 0 |