The top-ranked men's college teams showed why they are ranked so highly, as all took on well-regarded opponents and won handily this weekend.
A Century For Life
Leading the way was Life University, which had to work for its tries but eventually clawed past LSU to the tune of 103-0 in Marietta, GA, on Saturday. The visiting Tigers worked hard on defense and had opportunities to put sequences together, but mistakes and pressure from the Running Eagles stopped each attack by LSU.
LSU Works The Phases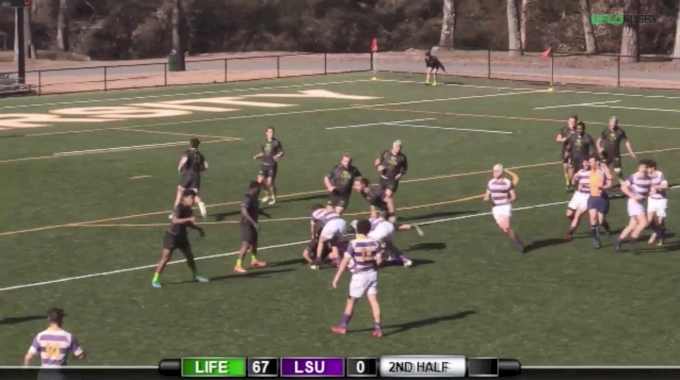 Injuries didn't help Tigers, who saw starters James Hayward, Cody Frye, and Hunter Breit go off in the first 16 minutes.
Life's Harley Wheeler scored three tries, including the first two, while Sean Coughland, Daemon Torres, and Maciu Koroi each scored two. Alex Maughan, Matthew Harmon, Keagan Sparks, Nikey Roberts, Brian Muntanga, Duncan Van Schalkwyk, and Justin Johnson also all scored tries. Van Schalkwyk converted 10 tries for 25 points on his own.
Duncan Van Schalkwyk Fakes Out Everyone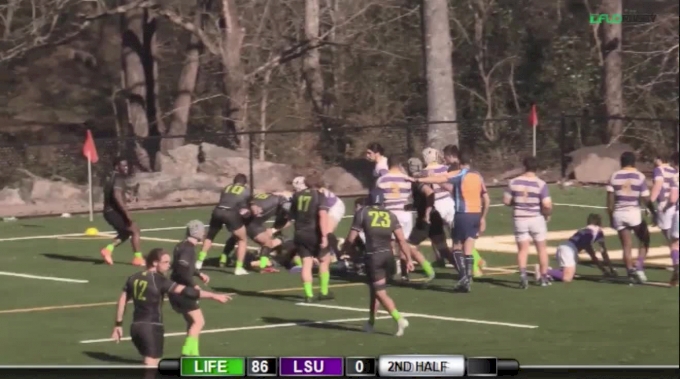 Cal Over Cal Poly
Meanwhile, a very useful Cal Poly side was thumped by Cal 81-6 at home on Saturday.
California got its try scoring from 10 different players, as flankers Thomas Spradling and Nic Mirhashem and scrumhalf Keanu Andrade scored two apiece.

Flyhalf Jamie Howells added a try and finished 7 for 10 on conversions, hitting seven straight after missing his first three attempts, while Elliot Webb also scored a try and went 1 for 3 off the tee. The Bears built a 22-6 halftime lead on tries by four different players, and Mustangs inside center Alex Wormer scored his team's six points on two penalty kicks. Cal then piled nine more tries into the scoring column, as the Bears cut down on errors and penalties and replacements maintained the intensity.

"We did a good job of adjusting at halftime to learn from some early mistakes," Cal match captain Kevin Sullivan said.
Saint Mary's Big Over Gauchos
The Saint Mary's Gaels are now 2-0 in the California Conference, having dispatched UC Santa Barbara 74-7 on the road Saturday. Freshman second row Chase Jones scored three tries in the game, with nine other Gaels scoring one apiece.
With San Diego State losing to Grand Canyon, and Cal Poly getting hit hard by Cal, Saint Mary's looks in excellent shape to win the California Conference once more.
HSAAs Chase Jones & Ethan McVeigh After Big Win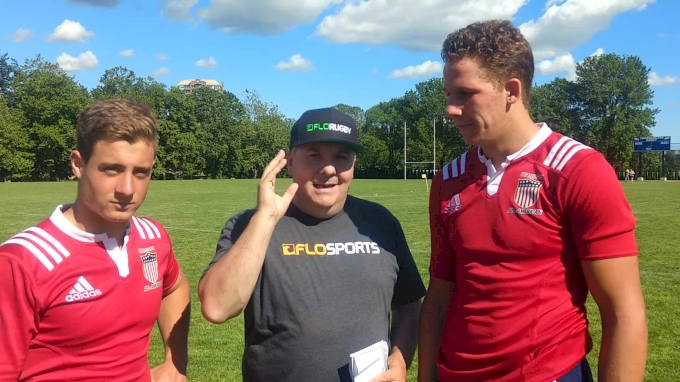 What About BYU?
The BYU Cougars open their season next week against Grand Canyon in St. Georgia, Utah. The other three top-ranked teams all won massively, and it does indeed seem as if there's a large chasm between those top four and everyone else.
Currently, only a handful of programs — Navy, Penn State, Indiana, Lindenwood, and Arkansas State — are in position to challenge that upper echelon, but that remains a sobering prospect following this weekend's results.