Baylor Runs Texas Tech Ragged
Baylor Runs Texas Tech Ragged
Baylor was too quick and mobile, while Texas Tech was too error-prone in this Red River clash.
Jan 21, 2018
by Alex Goff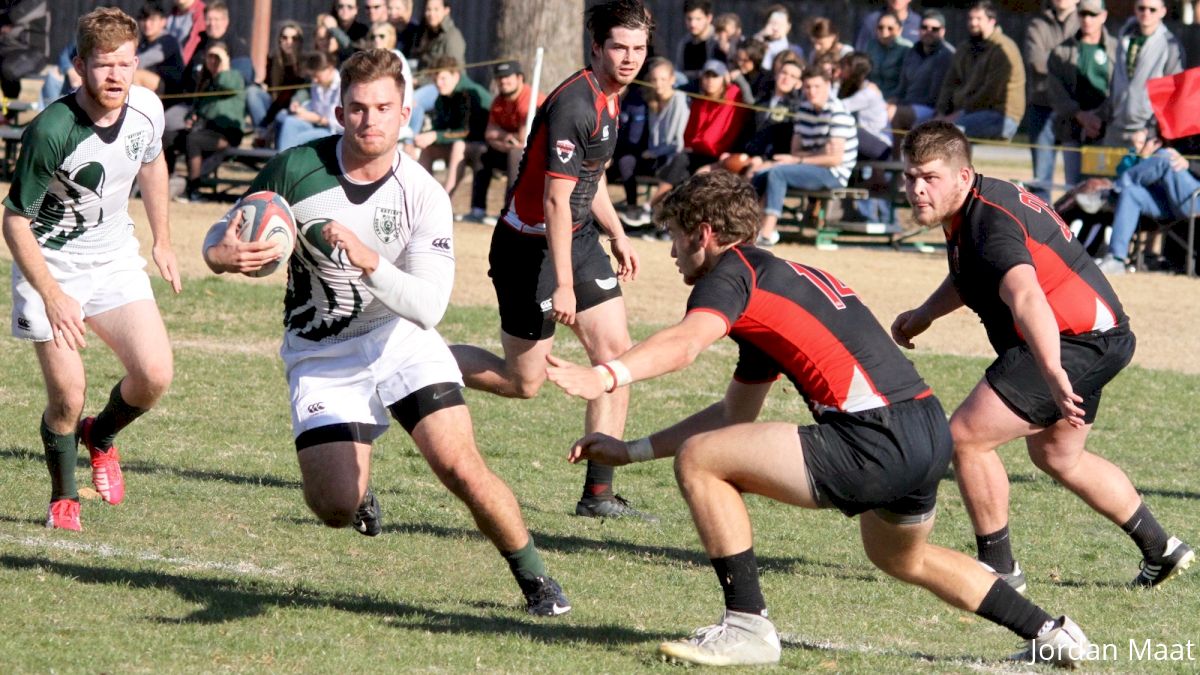 Baylor put down a marker in the Red River Conference with a 59-17 dispatching of league opponent Texas Tech in Waco, Texas, on Saturday.
The visiting Bears brought a much-improved scrum performance, and the team's mobile pack and aggressive backs exploited every TTU mistake — and there were many.
The Red Raiders remain a relatively young team and several freshmen started this game. But even the veterans were making errors, with Texas Tech's first few possessions ending in two knock-ons, a forward pass, a kick, a penalty, and an interception run back for a try under the posts.
For its part, Baylor was (mostly) patient with the ball in hand and opened the scoring just three minutes in after some good interplay between the forwards and backs. Freshman flanker Griffin Maat scored on a pick-and-go, and that was just the start.
Tech hoped to get something going a few minutes later, but a James Overbaugh pass was nabbed by Baylor center Taylor McGeehee for a pick five. After Bears No. 8 Cordon Moog scored on a pick-and-go, center and captain Stewart Morris saw a gap right from the restart and surged through for an 80-meter jaunt.
That try epitomized Texas Tech's issues. The restart kick was a little low and to the left (rather than the high kicks to the right the Red Raiders had been using). Some chasers responded by veering left but not all of them. That left a hole in the middle. Morris saw it, took off, and sold a dummy that sent one defender the wrong way just as the hole looked to be closing.
Meanwhile, Tech has been using fullback Logan Walker for restarts, meaning there was no fullback to halt Morris when he broke through.
Maat nabbed another try for Baylor, which was good work from all the forwards, but then TTU started to play a bit more of a patient game. After trying to spin the ball wide at every opportunity, the Red Raiders began punching it up the gut with their big forwards, led buy prop Nikolas Afuhaamango. Eventually, lock Chris Payne scored on a tap penalty and Tech was in business.
Right after, the Red Raiders went over again — Payne once more powered across the line. That cut the Bears' lead to 33-10, and as halftime approached Baylor No. 8 Cordon Moog was sin-binned for a no-wrap tackle. Tech took a lineout and mauled to the tryline but couldn't control the ball. After the resulting knock-on, referee Wendy Young blew the whistle for halftime.
That was a crucial error, as Tech's disappointment in not scoring was palpable.
"That was a huge play," Morris said. "I think if [the Red Raiders] had scored then they would have felt they were really in the game. Instead, we scored right after halftime."
The Bears opened the second half by marching down the field and scoring on a weaving run from lock Andrew Honderich. Flinn scored for Tech when he ripped the ball out of Brian Ciszewski's hands and took off. But by then the mobile Baylor pack had run the bigger, slower Tech pack into the ground. Morris, McGeehee, and Maat each added tries to finish it off for the Bears.
"Baylor is much improved from last fall," Tech head coach Phil Terrigno said. "They are better in the scrum and just played really well."
For the Bears, Morris was strong, as always, and the halfback combination of Ben Neukomm and Parker Vincent worked very smoothly. And while the back row of Maat, Moog, and the hard-working Ryan MacIntosh had many flashy moments, it was the hard-nosed performance of Ciszewski, Jeff Serfass, and Evan Daugherty that set the tone for Baylor.
The opening kickoff was straight to Daugherty, who leapt nicely in traffic to take it and get the Bears going forward. It was a harbinger for the rest of the day and indicative of a player-of-the-game performance for Daugherty, who was competing in his first-ever rugby match.
Baylor moves to 3-0 in the Red River and Texas Tech drops to 1-2.
Baylor 59
Tries: Maat 3, Moog, McGeehee 2, Morris 2, Honderich
Convs: Vincent 7
Texas Tech 17
Tries: Payne 2, Flinn
Convs: Walker