They're both physical team sports, but Paul Lasike is jumping between rugby and football an awful lot.
The New Zealand-born rugby center was a star for BYU before shifting to the Cougars' football team. He played both sports for a time before football won out, and Lasike followed his college career with a stint as a fullback with the Chicago Bears.
Now, Lasike is back with the sport of his youth, having signed with Major League Rugby's Utah Warriors. Having played for one of the best college rugby programs in the country and then in an elite professional football environment, Lasike might well be seen as a leader, although the idea makes the big man laugh.
"Oh man, my initial reaction is 'I hope not,' but really having had the experience with BYU and with the Bears, I'll do my best to lead however they want me to," Lasike told FloRugby. "The guys who have already signed [with the Warriors] are saying that we've got to lead from the front. We've got to establish a good culture from the start. That's one of the biggest things we've got to do."
Lasike said that despite being away from rugby for four years, he has learned a lot from football.
"That experience was awesome," he said. "Just being around that atmosphere. I haven't played rugby in four years, but it's not like I've been at a desk or working in a factory somewhere. I've been in that atmosphere, and having been around a team like the Bears has been really good for me."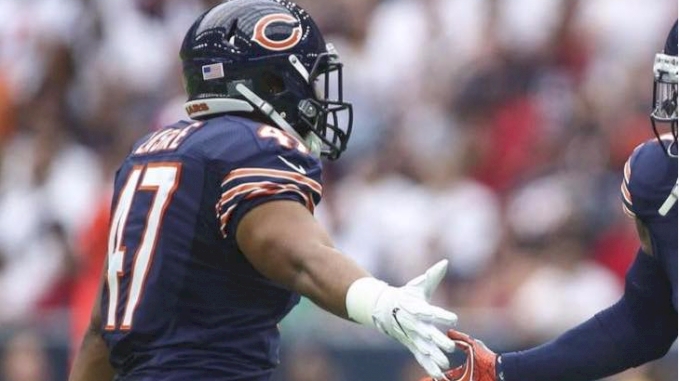 Lasike said the stress and pressure of having to perform every day in the NFL was an education in and of itself and might make it easier for his transition back to rugby — which he calls his "first language."
"I think being in that pressure-cooker will be a huge positive for me in rugby," he said. "The things that I learned in Chicago, especially the meetings and the film breakdowns and all of the nuances I had to learn in football, I can bring to rugby."
Lasike said he's excited to play, but he is also looking forward to seeing the massive talent pool of rugby players coming out of Utah.
"We had a combine and we had over 100 players there," he said. "I think for guys in Utah it's something that we've all been waiting for. There's a lot of good rugby out here, and everyone's been waiting for this next step."