Several Rugby League World Cup teams are facing their final shot to make the coveted knockout rounds as the tournament gears up for its final slate of pool play matches.
Meanwhile, other squads such as Australia, Fiji, New Zealand, and Tonga have blown through the opposition and are comfortably looking ahead to next week's quarterfinals.
Fiji leads the tournament in points, although Aussie fans might say that's because the Fijians didn't have to play England in the opener. New Zealand isn't far behind.
Here is a look at the games — live-streamed by FloRugby in select countries — and the stats behind this week's matchups:
Fiji vs. Italy
Friday, Nov. 10 | Canberra, Australia
At 2-0, Fiji is in command in Group D and will be in the quarterfinals. Fiji ranks third in the RLWC with 3,704 meters run in its two games. But it's the Fijians' bang for their buck that has helped their offload-happy (18 against Wales) team stay undefeated. Fiji leads the tournament with a per-carry average of 10.89 meters.
Italy is 1-1 and has a shot, still, at the QFs. The Italians are third in the tournament with a 92.1 percent tackle rate, better than everyone except Australia and... Fiji.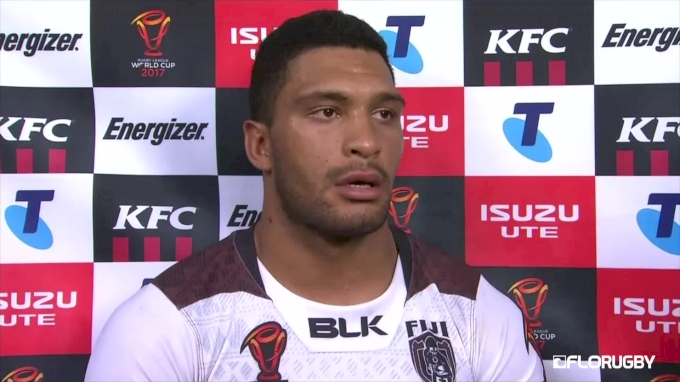 New Zealand vs. Tonga
Friday, Nov. 10 | Hamilton, New Zealand
This is the grudge match of grudge matches, as the players who opted to play for Tonga instead of NZ face off with their other home country. Both teams are undefeated. Both want to win Pool B. Both want to avoid getting hit with injuries.
Our prediction — while either team can win the pool, both will come out of it a bit beat up.
Tonga's offense has sung with a 10.77 meters-per-carry rate that is second in the tournament. But the Tongans' defense has been suspect when the opposition gets the ball, and only three teams, all winless, have a worse tackle percentage than Tonga.
New Zealand's Shaun Johnson leads the tournament in points, and the Kiwis have gained the most meters of anyone in the championships aside from Australia.
Samoa vs. Scotland
Saturday, Nov. 11 | Cairns, Australia
This is a battle of two 0-2 teams that want to make the quarters. The winner will do that, and if Samoa and Scotland tie, then Samoa should go through. Scotland's offense is the second worst in the tournament in most categories, and the team's tackling isn't so great, either. Actually, the Bravehearts have made more tackles than many teams but missed more than any other except Wales.
Samoa is a little more sure in the tackle (almost 90 percent), and its meter-per-carry average is a full meter ahead of Scotland.
Australia vs. Lebanon
Saturday, Nov. 11 | Sydney, Australia
The Australians are the favorites, have the best offense, and almost have the most secure defense. The Kangaroos aren't the most dynamic team, but they are technically proficient.
Lebanon should make the quarters even if the Cedars lose and will need every second of a brave defense that has made more tackles than any team save Ireland (665). Alex Twal leads the tournament in individual tackles.
Papua New Guinea vs. USA
Sunday, Nov. 12 | Port Moresby, Papua New Guinea
PNG is at home, averages 9.3 meters per carry, and showed with a 14-6 win over Ireland that it can battle it out. The USA has perhaps the tournament's most anemic offense, and the team's tackle rate isn't so hot, either. This is an easy pick.
Wales vs. Ireland
Sunday, Nov. 12 | Perth, Australia
Wales has been pretty shocking so far and has the fewest meters gained and the lowest meters-per-carry average in the tournament. Defensively? The Welsh tackle rate of 81.4 percent is the lowest by a mile.
Ireland, then, is poised to do something, especially if PNG somehow falters.
England vs. France
Sunday, Nov. 12 | Perth, Australia
Old enemies, these two are fighting for their Rugby League World Cup lives. Led by the tournament's second-best tackler, Elliott Whitehead, England has the upper hand, but France has shown enough flair to perhaps produce an upset.
England's offense is about grinding it out, as evidenced by the fact it has carried the ball more than any team except Australia but gained far fewer meters. France, in fact, is better per carry, but England's defense is stronger.