Rugby East Champ Penn State Caps Perfect Run, But Army Makes It Tough
Rugby East Champ Penn State Caps Perfect Run, But Army Makes It Tough
Penn State won the Rugby East title after getting a late try from Kiefer Kei-Boguinard to beat Army 22-21 on Saturday in State College, PA.
Oct 28, 2017
by Alex Goff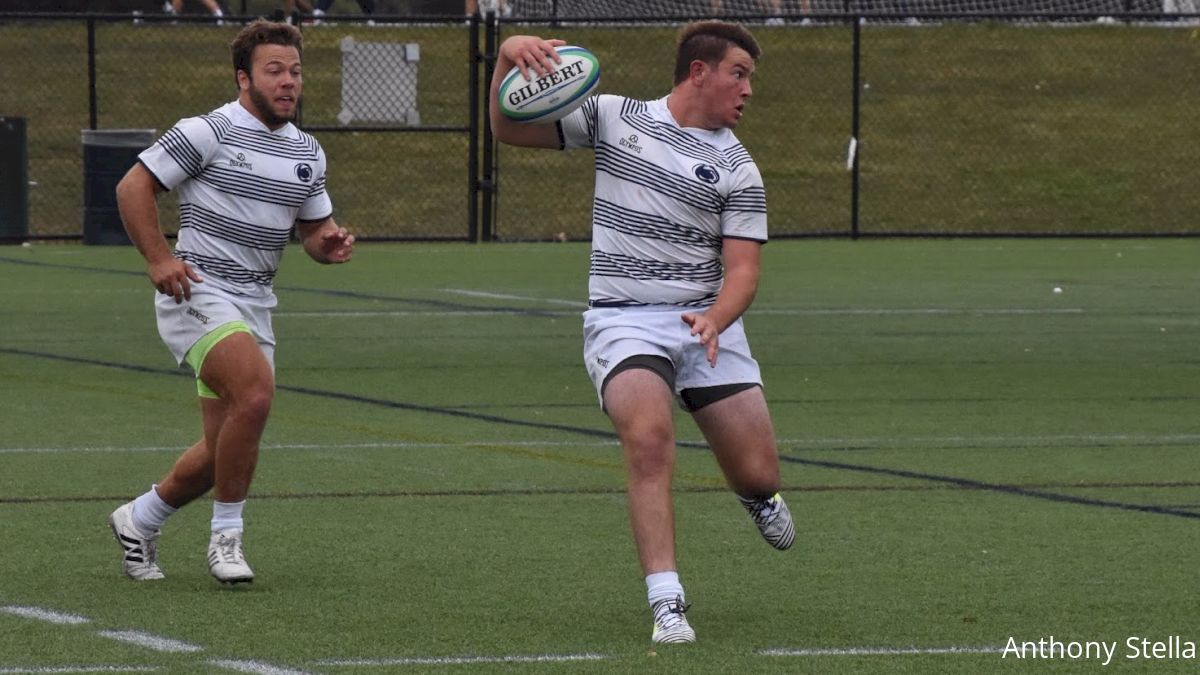 It wasn't easy for Penn State, but the Nittany Lions did manage to run the table in the Rugby East after getting a late try from Kiefer Kei-Boguinard to beat Army 22-21 on Saturday in State College, PA.
The Black Knights had a shot at finishing first in the Rugby East but needed to beat Penn State to do it. It almost happened.
Powering through the forwards, Army scored early and took a 7-0 lead. After that try, Penn State had the lion's share of territory and possession but struggled to finish off several promising attacks. The Nittany Lions finally broke through on a smart run by Kevin Trotter, whose chase after a box kick was followed by quick hands out to lock/flanker Ryan McNulty for the score, which tied the game 7-7 after Jimmy Ronan's conversion.
But several more attacking opportunities for Penn State died on the vine. Penalties inside the Army 22 and two five-meter lineouts that didn't result in tries all contributed to a frustrating first half for the Nittany Lions.
Finally, though, former West Point flyhalf Thomas del Pino went over to give Penn State a slim 12-7 at the break.
Early in the second half, PSU captain Malcolm May surged through traffic to make it 17-7. But Army rebounded, and those missed scoring opportunities looked to haunt Penn State. The Black Knights scored off an eight-man pick and took another in to lead 21-17 with time winding down.
Army's defense held on under intense pressure for several minutes, but as the game came to a close, Penn State got a scrum five meters from the Black Knights' line. Several of the Nittany Lions' runs in tight by the forwards went nowhere but did keep the Army defenders close to the breakdown. Then Penn State quickly sent the ball wide, where Kei-Boguinard bounced off one tackler, burst through the arms of another, and took two defenders over the line with him. It was enough — Penn State took the lead 22-21.
However, the game wasn't over. The Nittany Lions tried to run out the clock but ended up having to kick to touch. Army wasn't able to go anywhere against the PSU defense and gave up possession, but with no time left Penn State was penalized for holding onto the ball in the tackle. Jon Kim lined up the difficult, 40-meter penalty attempt and missed. That ended the game, and Penn State, which likely would have won the conference even if the kick was good, it Rugby East champion.
Also in the Rugby East, Notre Dame College improved to 3-2 with a 34-24 win over St. Bonaventure, and Kutztown improved to 3-2 with a 66-10 victory over Wheeling Jesuit.
| | | | | | | | | | |
| --- | --- | --- | --- | --- | --- | --- | --- | --- | --- |
| Rugby East | W | L | T | PF | PA | PD | BT | BL | PTS |
| Penn State | 6 | 0 | 0 | 353 | 147 | 206 | 6 | 0 | 30 |
| Army | 4 | 2 | 0 | 272 | 119 | 153 | 5 | 2 | 23 |
| Notre Dame College | 3 | 2 | 0 | 198 | 144 | 54 | 4 | 1 | 17 |
| Kutztown | 3 | 2 | 0 | 239 | 149 | 90 | 5 | 0 | 17 |
| Wheeling Jesuit | 2 | 4 | 0 | 211 | 275 | -64 | 4 | 1 | 13 |
| St. Bonaventure | 2 | 4 | 0 | 132 | 258 | -126 | 3 | 0 | 11 |
| Buffalo | 0 | 6 | 0 | 66 | 382 | -316 | 0 | 0 | 0 |