Mount St. Mary's Players Embark On Turks & Caicos Relief Effort
Mount St. Mary's Players Embark On Turks & Caicos Relief Effort
Mount St. Mary's player Luis Turbeyfield is getting help for Turks and Caicos.
Oct 19, 2017
by Alex Goff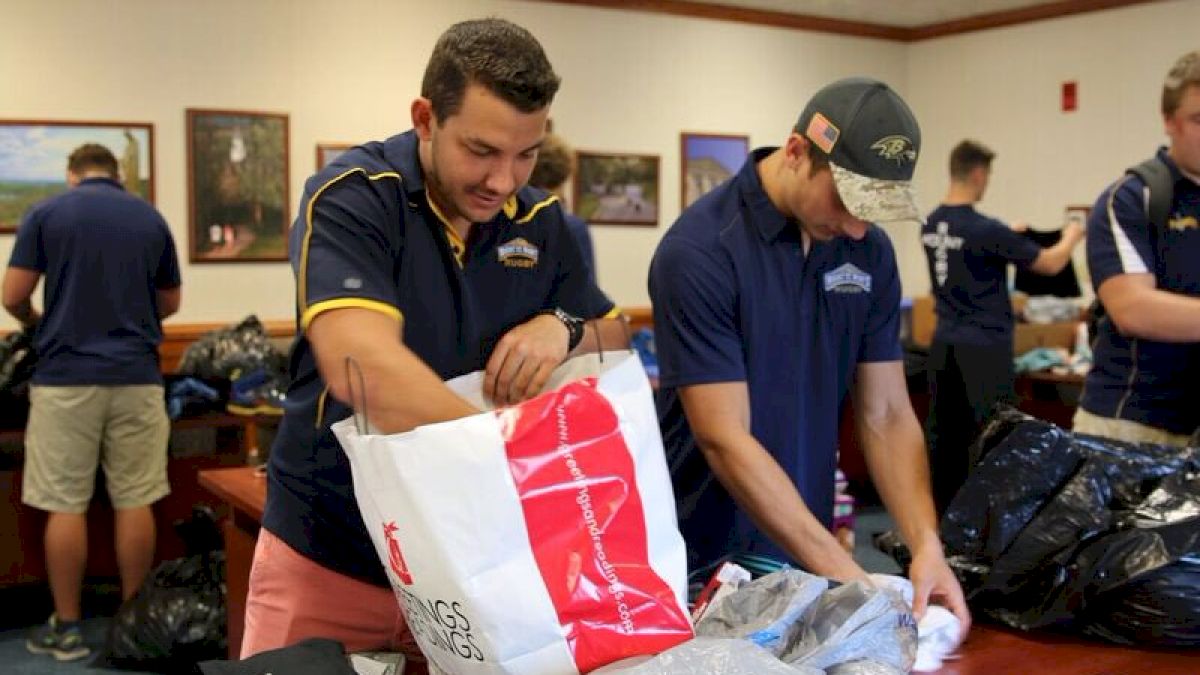 Courtesy of Mount St. Mary's Rugby
Although Luis Turbyfield's fall semester is filled with demanding classes and intense rugby practice and games, he felt a strong need to help his home community of Providenciales, Turks and Caicos Islands, after Category 5 Hurricane Irma destroyed houses and businesses on the island chain.
Turbyfield turned to the university's administration and his rugby team to transform his desire to provide assistance into reality.
MSM men's rugby head coach Jay Myles asked families signed up to attend the school's annual Family Fest event on Sept. 16 to donate to a collection drive. The impressive result: more than 650 pounds of clothing, diapers, work gloves, dust masks, and toiletries collected by the men's rugby team, which then sorted, inventoried, and prepared the donations for shipment.
Luis, his brother Sebastian, and his parents, Carmen Fabara and Harry Turbyfield, personally delivered the donations to Turks and Caicos Islands during the Mount's fall break the week of Oct. 9.
Captain Derick Miller of Salvation Army Turks and Caicos Islands, along with Todd Foss, a Salvation Army board member, and Turbyfield distributed individual bags with correctly sized clothing and other needed goods to people in the hardest-hit areas where homes were destroyed and cars were completely buried in mud and debris. The islands continue to rebuild after being hit by a second hurricane, Maria, on Sept. 22. Turbyfield expects to travel with more needed items in December.
"I'm thankful to everyone for their help. The Mount family who came and donated were great, and the guys on the team were awesome," said Turbyfield, an All-American in rugby and graduate of Archbishop Curly High School in Baltimore. "I didn't see myself organizing something like this, but I felt a strong need to help the people of Turks and Caicos. It felt really good to provide for people in great need, and I plan to do more."
Turbyfield's service ethic is in keeping with Mount St. Mary's tradition of serving those in distress and of making a positive impact on the world. As part of a day of community service on October 10, 34 of the university's support staff created 75 personal hygiene kits for victims of Hurricane Maria in Puerto Rico as well as 75 military snack care kits and 100 letters of support to troops and six handmade blankets donated to the Frederick Rescue Mission. Mount St. Mary's also responded to a call for help from the Federal Emergency Management Agency (FEMA) in the wake of Hurricanes Harvey, Irma, and Maria.
"Luis saw a need, understood what he could do to help and organized a solution," said Maureen C. Plant, Mount St. Mary's director of parent and family engagement. "I am very proud of the work Luis and his teammates did to make this happen."
Along with Plant, vice president for university advancement Bob Brennan, and assistant director of alumni engagement Caitlin Eby advised Turbyfield and his teammates on the collection, organization, and distribution of the donations.
The university provided classroom space at the Frederick campus for FEMA to hold emergency management training classes for representatives from state, local, tribal, and territorial governments across the country.