D1A Key Matchups And Our Picks
D1A Key Matchups And Our Picks
A look at this week's D1A games
Sep 22, 2017
by Alex Goff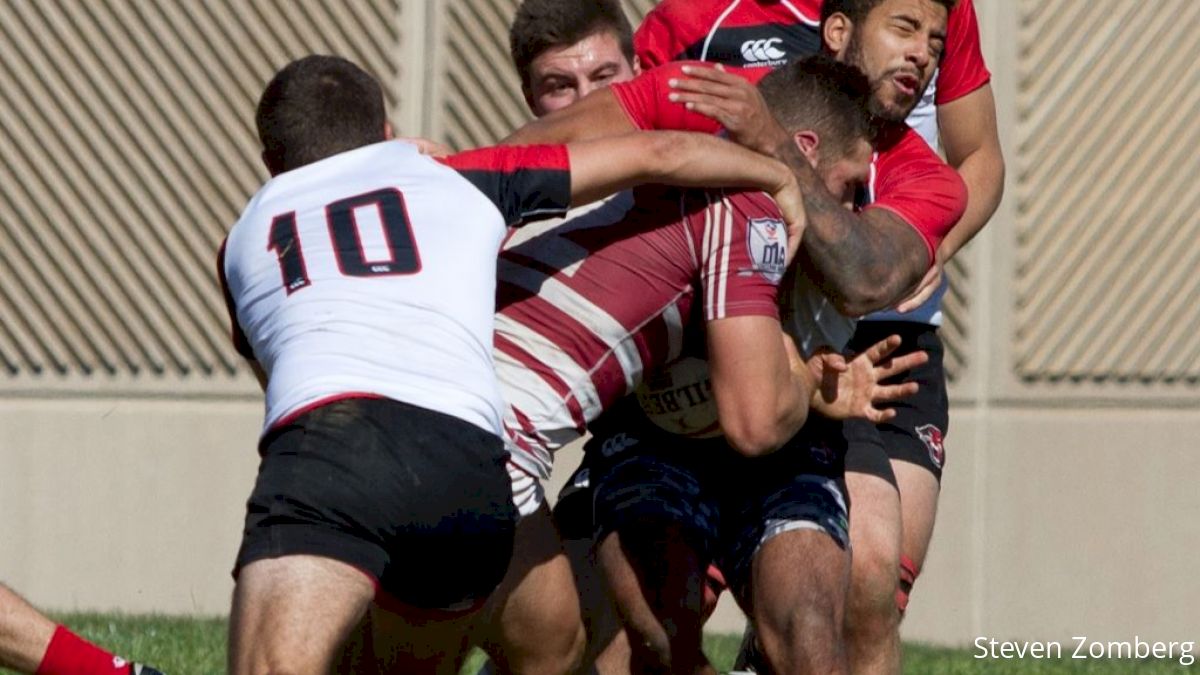 Indiana has dominated the Big Ten for years now, and if the Hoosiers are to continue doing so this season, then this Saturday's game at Wisconsin is a big one.

Until someone beats Indiana, the Hoosiers have to be considered the favorite in every game. Among their early standouts, former USA U20 Tyler Sousley is coming into his own as he replaces Bryce Campbell as the team's No. 1 threat in the midfield. Sousley scored four tries this past weekend in a win over Purdue.

Indiana's backs keep rolling, but it's their forwards that need to get them the ball. Against the Boilermakers, prop Josh Akers helped do that and kept it long enough to score two on his own.

Two weeks ago, Indiana played Lindenwood-Belleville and won by 23. A week later, Wisconsin played the Lynx and lost by 24. The math then says it's a 47-point win for IU. Maybe not, as Lindenwood-Belleville played better the second week, but Indiana looks to be the stronger team.

[tweet url="https://twitter.com/IURugby/status/909782746037460992" hide_media="0" hide_thread="1"]

Liberty Conference
In the Liberty, there are still a bunch of questions as teams have hardly started. We know Iona is solid ahead of its road trip to Stony Brook this weekend. Delaware needs to right the ship and could do so at home against a very big and powerful Rutgers team. The Scarlet Knights versus the Blue Hens will be power and size over scrappiness and guile or the other way around.


West
The western teams get going, with Colorado State hosting Utah State and eager to put that one unfortunate forfeit from last season behind them. That forfeit cost the Rams a conference title, and they want to win it badly not only for themselves but also for head coach Rod Hartley, who was diagnosed with ALS last year.




Rugby East
In the Rugby East, Notre Dame College is the defending D1AA champion. Many say that D1A is a way, way tougher prospect week-in, week-out, and so it is always a challenging proposition for a team moving up. This has generally been borne out. Since 2011 when D1 split into D1AA and D1A, seven teams have finished in the top four of D1AA and then moved on to D1A (not counting NDC and UC Davis for this year).

Those teams have all fared relatively well to very well, but none has ever won its conference. Lindenwood made the D1A semis. Arizona won a playoff game in 2017, and San Diego State was very good last season as well. But it's not like these D1AA top dogs just run the table when they move up.

So now Notre Dame College picks itself up to host Army after losing 43-17 to Penn State last weekend. That won't be easy, but NDC should have more of its top players on the field.

As for PSU, beating Notre Dame College was a nice confidence boost.

"We put together some nice phases and played some really nice defense," Penn State coach Justin Hundley said. "Our forwards were really good, and it was good to see them playing at that level. Hats off to Malcolm May and Zach Barnes for running the shop up there."

This time around, the Nittany Lions are traveling to St. Bonaventure for a clash of former teammates, as Hundley and SBU coach Tui Osborne played together for the USA 7s team. The host Bonnies are improving, but this will be a tough clash for them.


Red River
In Texas, Red River teams get some warmup games before their 7s series. These aren't conference games, so we'll see how Arkansas, Texas A&M, LSU, and Baylor address them.



The D1A games for the weekend (including crossovers with D1AA teams) and our picks:

Rutgers at Delaware -- Delaware by 5
Iona at Stony Brook -- Iona by 30
Lindenwood-Belleville at Davenport -- Davenport by 3
Minnesota at Michigan State -- Minnesota by 5
Indiana at Wisconsin -- Indiana by 10
Fairfield at Tufts -- Pick 'em
Northeastern at UMass -- Northeastern by 6
Brockport at Colgate -- Colgate by 3
Binghamton at Cortland -- Binghamton by 20
Albany at Syracuse -- Syracuse by 2
Ohio State at Cincinnati -- Ohio State by 20
Utah Valley at Air Force -- Air Force by 15
Utah State at Colorado State -- Colorado State by 20
Colorado at Wyoming -- Colorado by 5
Army at Notre Dame College -- Army by 24
Kutztown at Buffalo -- Kutztown by 38
Penn State at St. Bonaventure -- Penn State by 21
Rhode Island at Boston College -- Boston College by 14
Arkansas vs. Texas A&M -- Arkansas by 7
LSU Alexandria at LSU -- LSU by 15
Texas State at Baylor -- Baylor by 20