Create a free account to unlock this article!
Get Started
Already a subscriber? Log In
It's been 13 years since Cal Poly last played in a national DI college final, but the Mustangs want to put their name back into the conversation.
While its place among the top three or four teams in the country might be a stretch right now, Cal Poly could well be running out its strongest squad in quite some time. And it's a young group that should be solid for a while.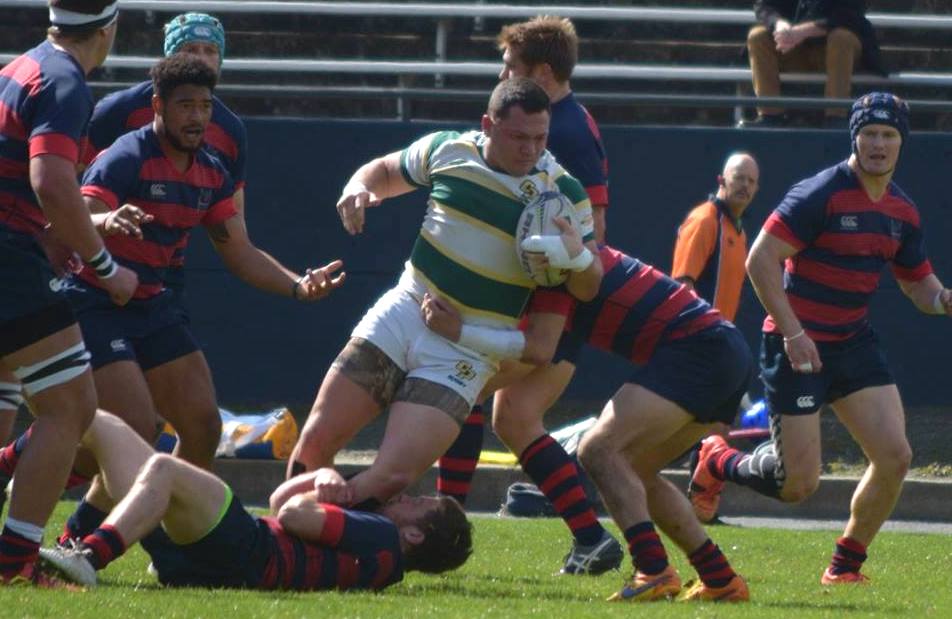 "We have some players, several freshmen from last season, who were on the verge of playing for the A-side, and they are back and we're excited about them," Cal Poly head coach James Tesoriero said. "And we've got a very strong freshman class coming in, too."
Four players, including back Connor Miller and flanker and captain Salvador Guevara, spent their summer playing with the Palm Beach Currumbin Alleygators. Miller, who was a B-side player for Cal Poly, worked his way up to the 'Gators first-grade side.
Add to that the fact that All-American prop Conor Cudeback is returning after a
summer training with Easts club in Canberra, Australia
, and working under the Brumbies coaching staff, and you've got the makings of something special.
"I felt we had one of the best scrums in the country last year, and with the work Conor has been doing with the Brumbies' strength and conditioning program, I think we'll be stronger this year," Tesoriero said.
Cal Poly's freshman class also has some potential.
High School All-American Patrick Madden, who is also an Eagle Impact Rugby Academy and San Diego Aztec Warriors standout, brings a ton of skill to San Luis Obispo.
And check out the final try in the sequence below -- that's Malvern Prep and Atlantis forward Kyle Hegarty scoring the try. He's going to Cal Poly, too.
"We've become a bit smarter in our recruiting," Tesoriero said. "The average grade-point average for a high schooler coming to Cal Poly is 4.08. They have a high workload, and the school has strict standards on academic probation. So we have find the right kids who are strong academically and to work hard and are also good rugby players."
That combination has produced some special rugby players in the past, and should do so again. Cal Poly was 2-3 in the California Conference last year but will certainly be targeting more wins this coming spring.
That journey starts with a 10-day tour of Scotland, beginning September 1. The Mustangs will run their first side against Edinburgh University and Glasgow University and run a second side against Oban Lorne RFC.
The trip is well before Cal Poly's regular season, but Tesoriero said it will serve well as a team-building exercise. The Mustangs will also visit several Scottish historical sites.
"We try to tour every couple of years, and we've got a really busy fall," Tesoriero said. "This is an excellent start to it."
The Cal Poly touring team will include some just-graduated seniors, and not every member of the 2017-18 roster will travel.
"There is nothing comparable to touring overseas in terms of team-building," Tesoriero said. "It is very exciting to be leading this group of young men on a rugby trip abroad. Beyond rugby, a considerable number of our guys have never been overseas before, so I expect this tour to provide great personal growth for the guys, a valuable educational experience, and a greater understanding of a foreign culture. Our itinerary includes equal parts rugby and cultural content."
All of that is part of the puzzle of putting together a championship team, and Cal Poly is making a move.
| Cal Poly Freshman Recruits | | | |
| --- | --- | --- | --- |
| Name | Club | Representative | Position |
| Kyle Fenstermacher | Staples HS RC (CT) | Regional All-Star | Openside Flanker |
| Ryan Dowgiewicz | Belmont Shore (CA) | | Flyhalf/Center |
| Patrick Madden | Young Aztecs (CA) | High School AA | Utility Back |
| Caleb Armendariz | Coastal Dragons (CA) | | Hooker/Flanker |
| Satchel Collins | Young Aztecs (CA) | | Halfback |
| Arjun Urbonas | Young Aztecs (CA) | | Lock/Flanker |
| Kyle Hegarty | Malvern Prep (PA) | Penn. 7s, NAI 7s | Flanker |
| Kirt Achterman | Central Catholic (OR) | | Flyhalf / Fullback |
| Spencer Bazer | Back Bay Sharks (CA) | Regional All-Star | |
| Garrison O'Marr | Arroyo Grande (CA) | | Flanker/No.8 |
| Travis Getty | Vacaville Black Dogs (CA) | | Prop |
| Carson Pepe | Lake Travis HS (TX) | Rep Football | Fullback/Wing |
| Ander Subiron Cedarry | Paris, France | French Club | Back |
| Justin Lego | Danville Oaks (CA) | NorCal All-star | Outside Back |