The top eight at the USA Rugby Men's Club 7s Championships are set as several of the pools came down to the final round and sometimes the final minutes on Saturday in Blaine, MN.

Life West needed a late try from Andrae Asuega and a crucial conversion from Zach Bonte to beat the Chicago Lions and thus force a three-way tie between the Gladiators, Lions, and Santa Monica Dolphins. Santa Monica, so close to making the Cup Quarterfinals, were eliminated on points difference as a result.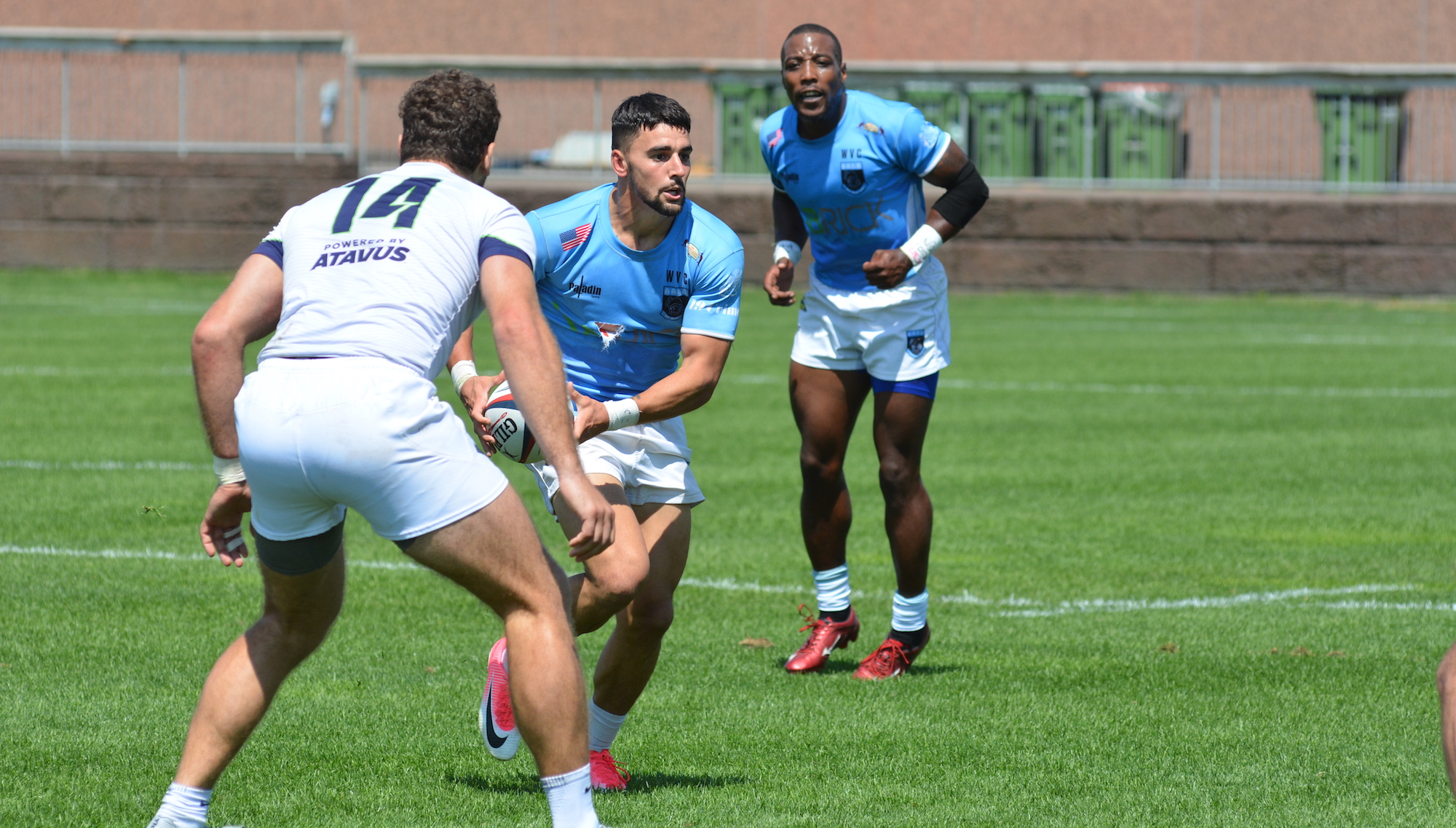 The Denver Barbarians were in control of Pool C, and in fact that pool had a three-way tie for second at 1-2. Belmont Shore did enough with the team's opening win to hold on to second. Washington Athletic Club, with Kevin Swiryn finding his scoring touch and Sequoyah Burke-Combs logging some tries, too, won well over Old Blue to claim Pool B.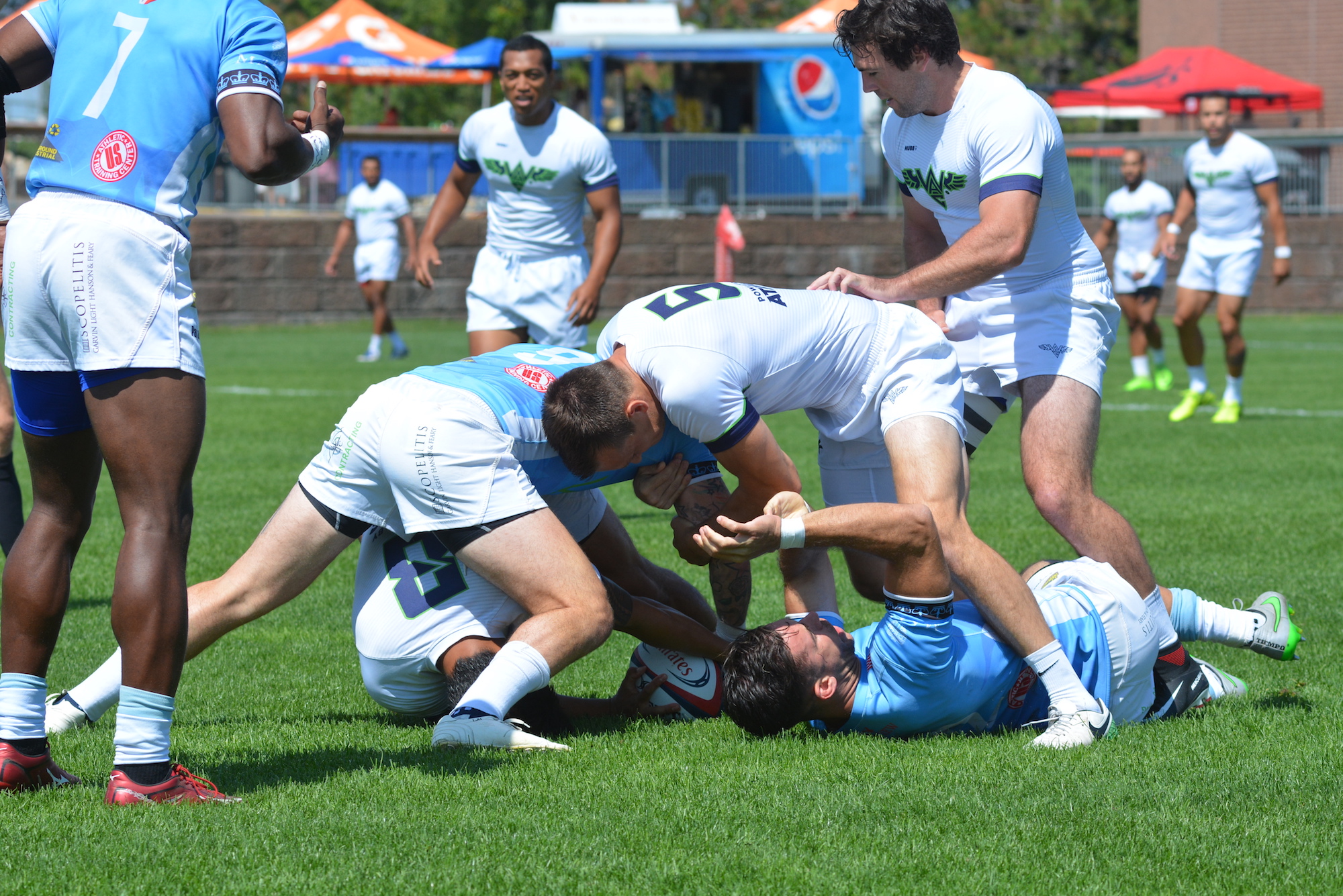 Rugby Utah clinched Pool A with their final round win over Bulldog, and in the end it wasn't that close, as the defending national champs led by 23 at the break and cruised home.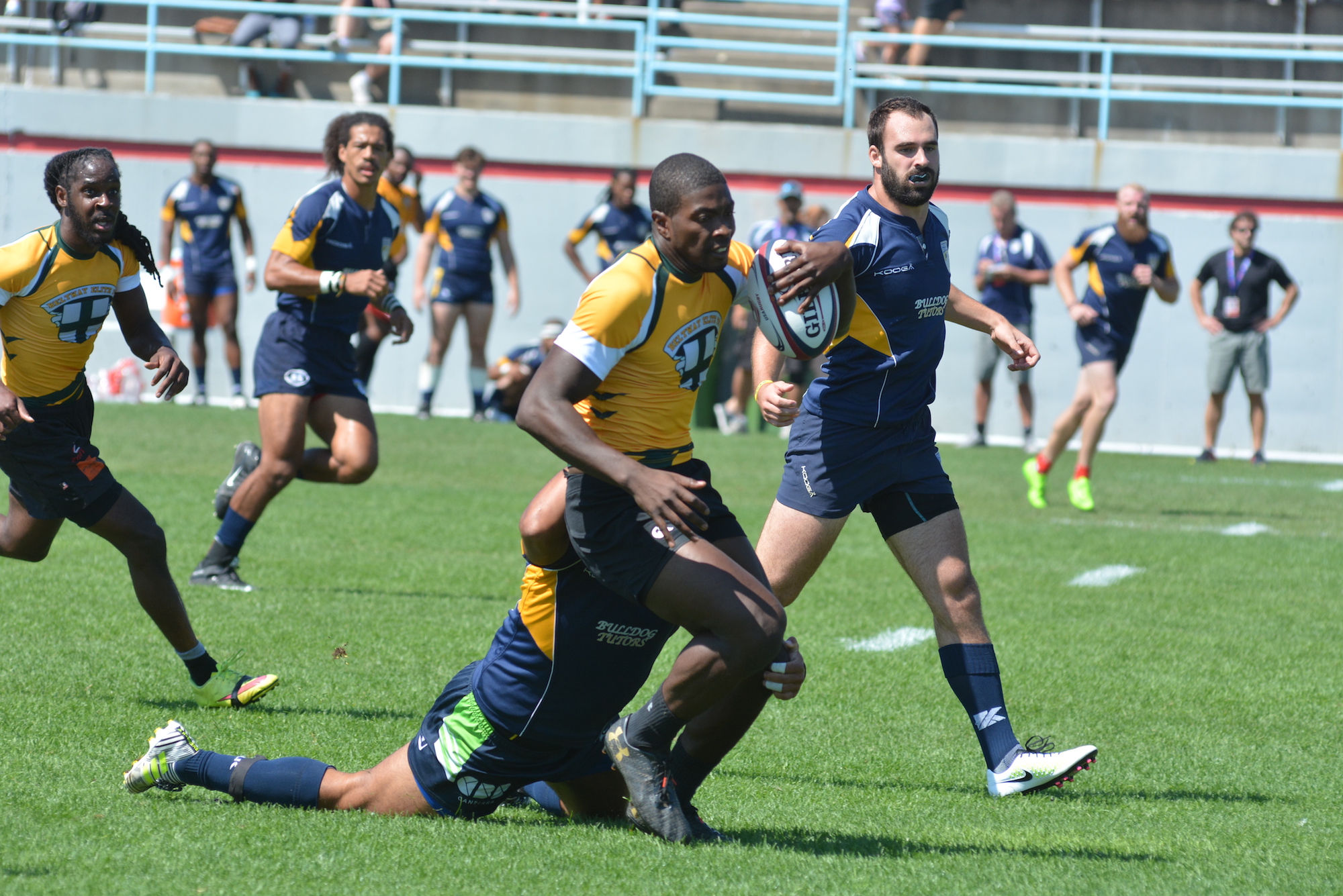 | Men's Pool Standings | | | | | | | |
| --- | --- | --- | --- | --- | --- | --- | --- |
| Pool A | W | L | T | PF | PA | PD | PTS |
| Rugby Utah Selects | 3 | 0 | 0 | 88 | 29 | 59 | 9 |
| Bulldog Rugby | 2 | 1 | 0 | 75 | 54 | 21 | 7 |
| Austin Huns | 1 | 2 | 0 | 43 | 50 | -7 | 5 |
| Beltway Elite | 0 | 3 | 0 | 17 | 90 | -73 | 3 |
| | | | | | | | |
| Pool B | W | L | T | PF | PA | PD | PTS |
| Washington Athletic Club | 3 | 0 | 0 | 100 | 50 | 50 | 9 |
| Old Blue of New York | 2 | 1 | 0 | 98 | 39 | 59 | 7 |
| Dallas Rugby | 1 | 2 | 0 | 45 | 70 | -25 | 5 |
| Metropolis Rugby | 0 | 3 | 0 | 29 | 113 | -84 | 3 |
| | | | | | | | |
| Pool C | W | L | T | PF | PA | PD | PTS |
| Denver Barbarians | 3 | 0 | 0 | 96 | 26 | 70 | 9 |
| Belmont Shore Rugby | 1 | 2 | 0 | 43 | 50 | -7 | 5 |
| Schuylkill River Exiles | 1 | 2 | 0 | 43 | 60 | -17 | 5 |
| Charlotte Rugby | 1 | 2 | 0 | 33 | 79 | -46 | 5 |
| | | | | | | | |
| Pool D | W | L | T | PF | PA | PD | PTS |
| Chicago Lions | 2 | 1 | 0 | 56 | 29 | 27 | 7 |
| Life West Gladiators | 2 | 1 | 0 | 62 | 50 | 12 | 7 |
| Santa Monica Dolphins | 2 | 1 | 0 | 55 | 44 | 11 | 7 |
| Optimus Rugby | 0 | 3 | 0 | 24 | 74 | -50 | 3 |
So the quarterfinal matchups are set:
| Quarterfinal Matchups | | | |
| --- | --- | --- | --- |
| Austin Huns | v | Metropolis Rugby | Bowl QF |
| Dallas Rugby | v | Charlotte Rugby | Bowl QF |
| Schuylkill River Exiles | v | Optimus Rugby | Bowl QF |
| Santa Monica | v | Beltway Elite | Bowl QF |
| Rugby Utah Selects | v | Old Blue of New York | Cup QF |
| Chicago Lions | v | Belmont Shore | Cup QF |
| Washington Athletic | v | Bulldog Rugby | Cup QF |
| Denver Barbarians | v | Life West | Cup QF |