After a rough and physical meeting with Leinster Academy earlier this week, the Eagle Impact Rugby Academy team is looking to end its Ireland tour on a high note in a rematch against Ulster Academy on Friday.
Tuesday's Leinster game in Dublin was difficult because of its physicality, and the penalty trouble the tourists encountered. But more than that, the hosts actually played three separate squads in three separate periods. Each group was fresh, and while the EIRA team had subs, it didn't have completely new lineups. The EIRA coaches had earlier said they had been expecting a regulation game in Dublin. Whether that was the case or an example of miscommunication, it ended up being a rough go for the Americans.
"We still felt we should have had that game," said Clayton Copperheads prop Larry Williams, who has enjoyed a massive summer. "We started committing penalties in that third period and that messed us up. We had a couple of guys out with yellow cards and our defensive structure didn't hold up like it should."
Inoke Waqavesi praised flyhalf Mike Weir for his calm direction of play and his kicking, "which kept us in the game."
Eagle Impact now turns its attention to a second matchup with Ulster Academy in Belfast, Northern Ireland. In a three-period game last weekend, the Americans opened their tour with a 12-7 win over the Ulster U17s.

Jersey Presentation Time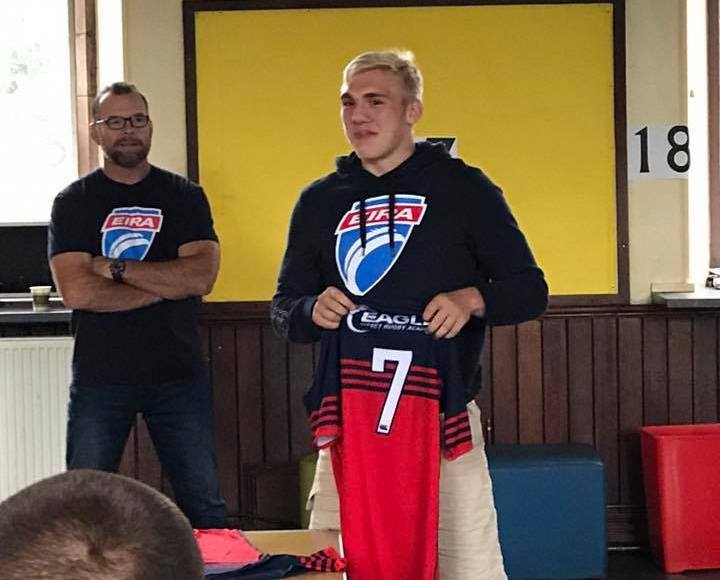 Certainly, Leinster was better than Ulster on attack, and EIRA coach John Banarhall said that, along with some mental fatigue near the end of the game, contributed to a run of tries late.
But immediately after, the EIRA squad was talking about regrouping and bouncing back.
"We know we have the talent," said Waqavesi, who is a standout back for CK McClatchy in Northern California. "We have a ton of speed out wide with Mateo Gadsden and and Tyren Al-Jiboori."
Banarhall added that EIRA's forwards will "have to earn the right to go wide" in the team's final game.
Williams has been a force and said maybe the EIRA's pack ran into tree trunks too much rather than targeting the branches against Leinster, but it's all been a learning experience as they face Ulster once more.
"We made sure we didn't get down on ourselves, and that was important," Williams said. "We have to be smarter. On defense we had the line speed, but everyone would group around the ball, so we've been working on staying in our channels. Then we'll just go to work."
Join The Conversation On Social
FloRugby's hottest content, delivered to your inbox
Don't miss breaking news, feature stories, event updates, and more. Sign up for the FloRugby mailing list today.