Eagle Impact Ontario Tour Starts With 1-1 Day
Eagle Impact Ontario Tour Starts With 1-1 Day
Eagle Impact Rugby Academy teams start their Ontario tour.
Jul 25, 2017
by Alex Goff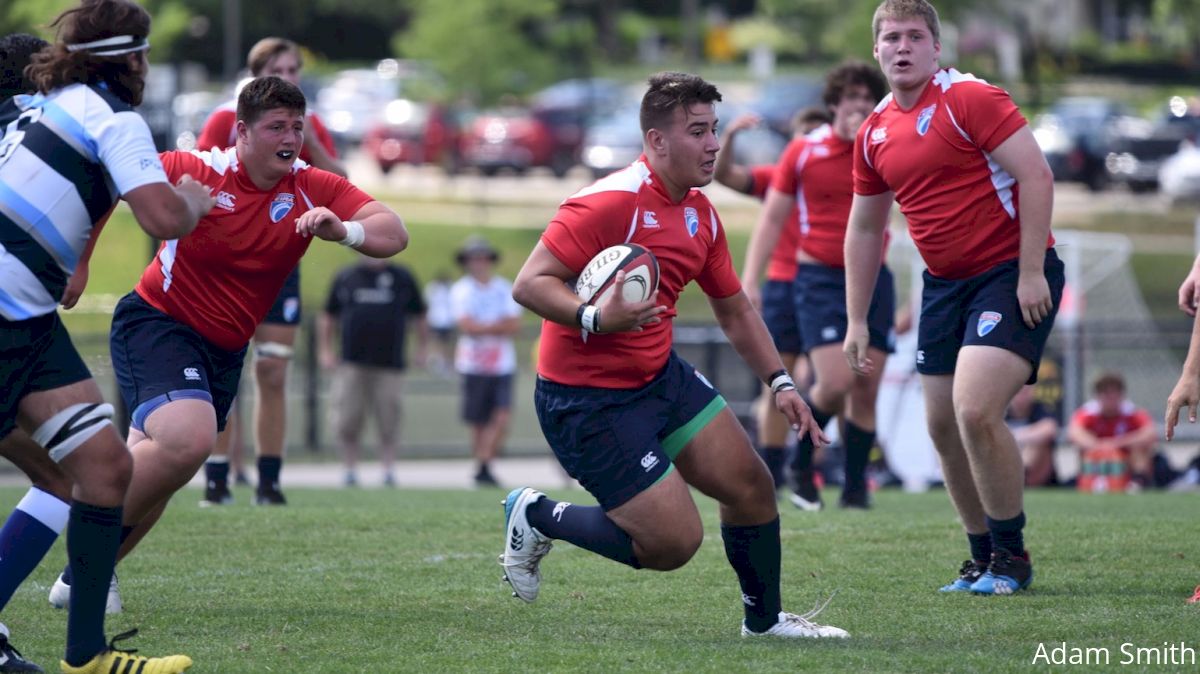 The Eagle Impact Rugby Academy teams touring Ontario went 1-1 in their opening games on Tuesday at the University of Guelph.

The EIRA U17/U18 group lost 32-27 to Ontario U18s, while the U16s defeated Ontario U16s 27-21.

"It is a massive challenge to bring in 29 athletes and four coaches and play a game with one day of prep," said Brendan Keane, who is coaching the older kids while Jeff Bonnett handles the younger squad. "The athletes, however, have taken that challenge on board fully, have come together quickly, and bought into the team culture and playing philosophy."

The match started with good pressure from EIRA, resulting in a penalty goal from the boot of fullback Aidan Gallagher.

Ontario hit back almost immediately after an offside penalty from a knock-on was taken quickly, and resulted in a series of penalties which allowed them to build pressure and take the game's first try.

The match them became a seesaw affair, with EIRA scoring, then Ontario, then EIRA again. The teams entered the break with EIRA ahead 20-17.

The second half saw wholesale substitutions from both teams, but the level of play remained solid, as did the seesaw scoring. Ontario scored first, and EIRA replied to lead 27-25. But Ontario managed to score one more and won 32-27.

Doug Mitchell, Matthew Start, Liam Andersen, and Matt Gelhaus all showed well for EIRA, which handled Ontario nicely in the set piece but struggled to maintain continuity in attack.

Gallagher logged a penalty and two conversions for seven points, while Ultan Horrigan, Sam Fisher, Hugo Meyjonade, and Doug Mitchell all scored tries.


EIRA U17s/U18s Lineup to face Ontario

1- Trey Reed
2- Eshaun Kaul
3- Doug Mitchell
4- Matt Gelhaus
5- Charlie Overton
6- Liam Andersen
7- Tyler Heer
8- Sam Fisher
9- Travis Preston
10- Cian Messner
11- Ultan Horrigan
12- Adam Taylor
13- Matthew Start (Captain)
14- Francisco Morano-Peccoud
15- Aidan Gallagher

Reserves:
Tomas Alsenas
Max Clark
Jared Cordova
Andrei Golding
Lewis Gray
George Heard
Zach Hylton
Hugo Meyjonade
Max Palmer
Braden Ramsey
Tarshawn Reed
Iason Terezis
Chad Tiernan
Adam Zareb

For the U16s, Ontario led 14-12 at halftime, but three tries by the EIRA team in the second half saw them through 27-21.


EIRA U16s Lineup to face Ontario U16s
1. David Afaese
2. Michael Wilder
3. Blake Ecklund
4. Collin Willsey
5. David Boatwright
6. Charles Martel
7. Dominic Tianga
8. Alex Kennach
9. Damian Morley
10. Jacob Line
11. Aidan Smith
12. Matthew Zaudtke
13. Peyton Wall
14. Darius Law
15. Francisco Liguori

Reserves
16. Marco Caramanico
17. Dakota Duncan
18. Gavin Cunningham
19. Casey Burr
20. Philip Tracey
21. Elijah Valle
22. Juan Molinari
23. Donovan Law
24. Henri Ross-Pelat
25. Jake Pretorius
26. Gramoz Bici