When a coach makes a lineup change barely 10 minutes into a game, it's usually because something's gone wrong.
Almost invariably, an early sub-in is because of an injury, and on rare occasions a starter will have begun the game so poorly he needs to be lifted. But neither was the reason for High School All-American head coach Salty Thompson's decision to put flyhalf Mike Weir in 10 minutes into the team's 22-17 win over the Ontario U19s in Guelph, Ontario, on Saturday. It was simply tactics.
"We started Patrick Madden at flyhalf, and he's good kicker but much more of an attacking flyhalf," Thompson said. "He's an excellent running flyhalf. But it was raining and wet, and it became clear that we needed to use more of a kicking game."
And that's where the Doylestown impresario Weir came in to play. Weir is a talent in many ways, but it was his ability to put Ontario back on its heels with his kicking from hand that made the difference on Saturday.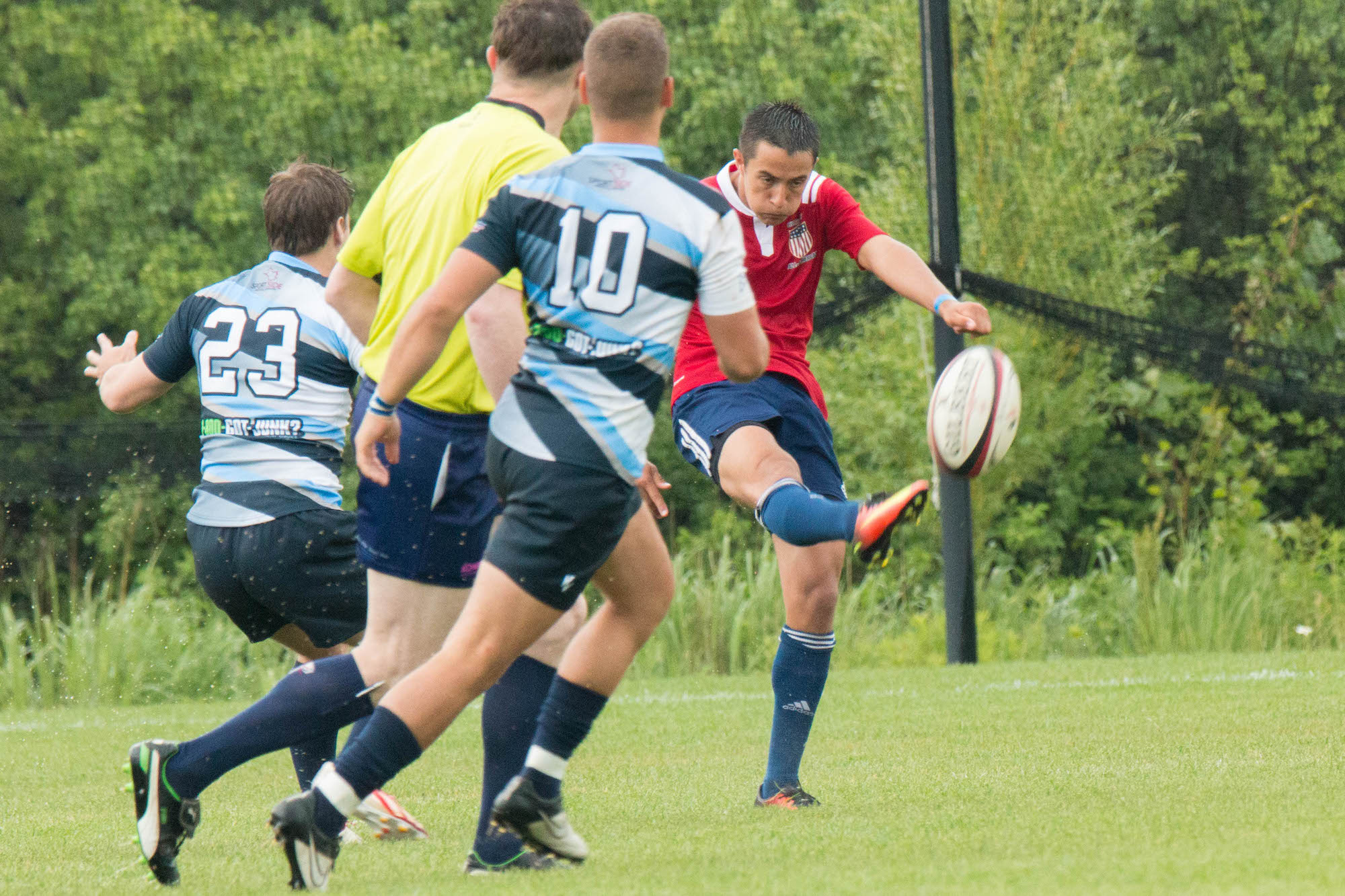 The tactics worked, and the HSAA team ran out to a 19-0 lead.
But the lead didn't last. As often happens with young teams, closing out a big lead falls victim to even the slightest feeling of complacency. After scoring their third try, the HSAA players didn't push hard on the chase when they kicked off. Ontario's big No. 8 burst right through a gap, and he was over.
Then a yellow card to Campbell Johnstone for not wrapping on a tackle gave Ontario one more attacking opportunity before halftime. The hosts took it, kicking to the corner, setting the maul, and taking the ball over the line.
Right after halftime, Breaden Looper --
who has had an excellent June
-- got a yellow card, and the Americans were down two players. Ontario scored again, and suddenly it was 19-17.
[album albumId="450704"]
But after that, the tourists settled down. They had to wait a long time to finish the game thanks to a lightning delay, but they did the job. Weir slotted a crucial penalty goal that forced Ontario to think try if it wanted to win.
"We had some trouble," said Thompson, who then compared the team's performance to the HSAA squad that struggled at the European U18 Championships. "But something we didn't do in Europe was close out tight games, and they did that."
While Weir and Madden have already made names for themselves, some other players took this tour as an opportunity to get noticed just a little bit more.
Joe Rusert-Cuddy has been playing some strong elite-level rugby but was thrown into playing No. 8 on this tour after Will Vakalahi had to pull out. Regardless, Rusert-Cuddy was on top of his game.
Fullback Eric Naposki-Abdalah showed himself to be an exciting fullback, while Cameron Tompkins, from relatively unknown Sumner High School in Tennessee, showed he has a nose for the ball and a big heart. Tompkins got on the scoresheet and seemed to be a constant threat
Johnstone was a big, powerful presence in the midfield, while Trent Rogers was another from a lesser-known program (Walnut Hills in Ohio) who showed he has high-level ability.
As for the better-known players, Conor Buckley was an effective leader at scrumhalf, and Jack Bradfield, thrust into a somewhat unfamiliar role at wing, continued to show his class. Ian Kilcullen was another who had a knack for finding the tryline, and Ryan James played about as well as he's played this year.
Following a 2-0 run in Ontario, the High School All-American are now preparing for a new trip to British Columbia. Most of the BC-bound group will be from the western half of the country (Madden and Rusert-Cuddy went to Ontario because of scheduling issues). There will also be two Eagle Impact Rugby Academy teams, U17 and U16, in Vancouver at the campus of the University of British Columbia. Two EIRA teams will tour Ontario later this month as well.
It will be a challenge to come together, and that, Thompson said, is a crucial piece of any tour puzzle.
"These guys were mostly new to the program but had really good chemistry," Thompson said. "We were hosted really well at Guelph University, with good dormitories and good food. We had ice baths and a convenient laundry. All of that was great, but it was important to me to hear the ladies at the cafeteria compliment our boys on how polite they were. They were very coachable and a lot of fun to work with."
The bar, then, has been set for the HSAA team going to BC.