West Valley Dance Party As Warriors Win RMC
West Valley Dance Party As Warriors Win RMC
West Valley captured the boys varsity title with a 17-3 win over a superb EIRA Midwest team at the Rocky Mountain Challenge in Aurora, CO, on Sunday.
Jun 19, 2017
by Alex Goff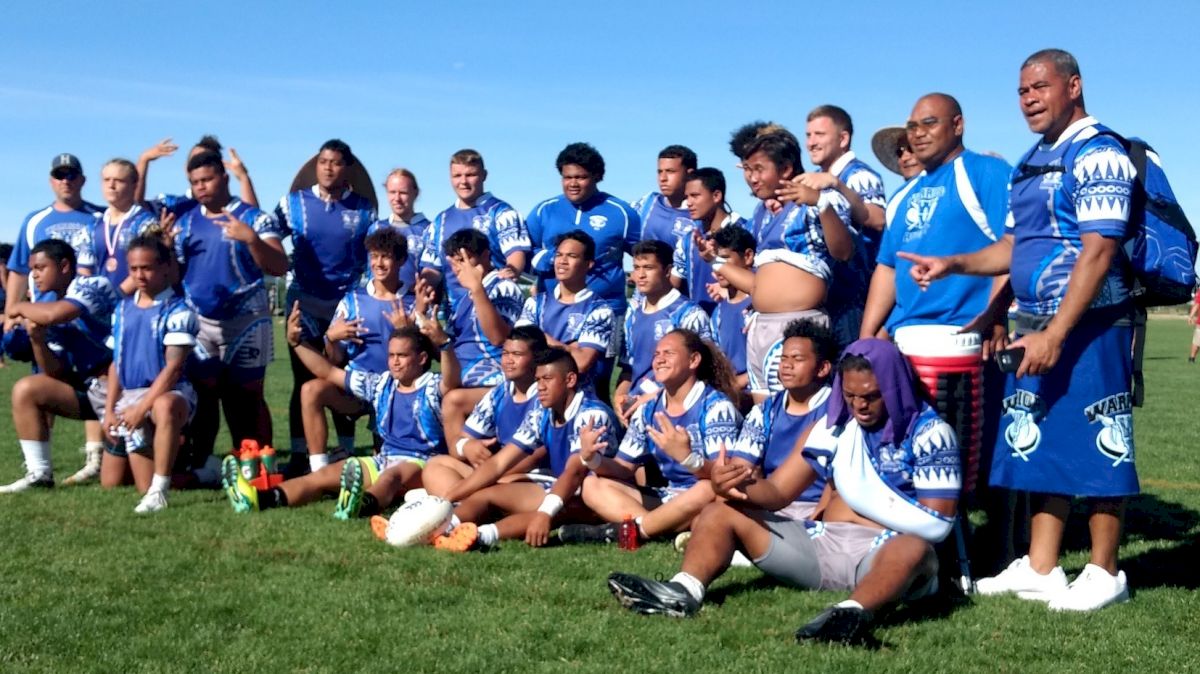 A couple of hours before they played in the boys varsity final, the West Valley Warriors and Eagle Impact Rugby Academy Midwest challenged each other to an impromptu dance-off at the Rocky Mountain Challenge in Aurora, CO, on Sunday. Then, just prior to kickoff, West Valley received a penalty while presenting its haka for advancing past midfield, setting the tone for a hugely physical and emotional RMC final.
Once the game ended, words and stares were still being exchanged, but it was West Valley that had captured the title with a 17-3 win over a superb EIRA Midwest team. EIRA MW got a double dose of heartbreak as it was defeated by EIRA Southern California 27-12 in the boys JV final.

In the girls brackets, Atavus Academy Utah won the girls varsity title despite having to play Sunday with only 13 players. The Utah team still managed to edge Wisconsin 15-12 and then ran away from Colorado. In the girls JV bracket, Wisconsin defeated Texoma in the final.
But pretty much everyone had stopped what they were doing when West Valley took on EIRA Midwest. The Warriors had the toughest game to start the weekend, playing defending champ EIRA SoCal with the knowledge that the loser had no chance of winning the championship. EIRA Midwest responded with a 15-10 win and then put 53 on Missouri to win the pool.
The Warriors showcased a smart and disciplined approach and looked very comfortable going into Sunday's semifinals. There, Midwest took apart Texas in impressive fashion with a 38-24 win and only some late tries made it close. Meanwhile, West Valley exploded to a 46-7 victory over Wisconsin after leading just 12-7 at halftime.
In the final, the two teams could not break through against each other. An early penalty goal put EIRA Midwest ahead 3-0, and it seemed like that was how the half would end. But then, late in the first half, the Warriors, who had camped out in the EIRA 22 for much of the time, put the pressure on again. Scrumhalf Tye Carlson blocked a clearance kick, and flanker Jordan King was there to dive on it for the try.
Just like that, it was 5-3 West Valley at halftime.
"That was a momentum changer," West Valley captain Tevita Tauvao said. "We suddenly had the lead, and that was huge for us."
Early in the second half, West Valley had a scrum at the middle of the field. Tauvao, who plays No. 8 and was a powerful presence for the Warriors, faked an eightman pick while Carlson took the ball weak, setting up Maafu Mahina with a brilliant long-range try and catching EIRA Midwest off guard.
"We basically made that play up on the spot, and it worked," Tauvao said.
Eventually, the Warriors would get over the line -- Tauvao this time -- only to have it called back, and then finally prop Tye Tauvao surged over. West Valley played a smart, varied game and put EIRA Midwest under a ton of pressure. It was an impressive victory, although it boiled over late as players got angry with each other, and some Warriors players did themselves no favors with trash-talking as the final whistle blew.
But from a rugby standpoint, West Valley proved a lot, not least of which that unity, family, and maybe the odd mid-tournament dance party, can make winners.
In the JV boys final, EIRA SoCal flyhalf Sean Nolan showed himself to be a special talent as he kicked, ran, tackled, and led his team to a title over EIRA Midwest. He wasn't the only standout, but he was a very obvious one.
Atavus Academy Utah Girls were brilliant and intelligent in how they used space and moved the ball. Too often girls teams, even good ones, can get bogged down in contact. Utah rose above it.
Final RMC Orders of Finish
Boys Varsity
1. West Valley Warriors
2. EIRA Midwest
3. Wisconsin
4. Rugby Texas
5. Rugby Arizona Bobcats - Won Consolation 1 Round Robin
6. Team 5785
7. EIRA So Cal
8. OK Selects - Won Consolation 2 Round Robin
9. Nebraska
10. Missouri Youth All Stars
11. Rugby Colorado - Won Consolation 3 Round Robin
12. Heart of America
13. Atavus Academy Utah
Girls Varsity
1. Atavus Rugby Utah - 4-0
2. Wisconsin - 2-2, 7 tries allowed
3. Indianapolis - 2-2, 16 tries allowed
4. Rugby Colorado - 2-2, 18 tries allowed
5. OK Selects - 0-4
Boys JV
1. EIRA So Cal
2. EIRA Midwest
3. Rugby Texas
4. Rugby Colorado
5. Rugby Arizona Bobcats - Won Consolation 1 Round Robin
6. Wisconsin
7. Nebraska
8. Team 5785 - Won Consolation 2 Round Robin
9. Heart of America
10. Missouri Youth All Stars
Girls JV
1. Wisconsin
2. Texoma
3. Colorado
4. Indianapolis
Middle School
1. EIRA Midwest Red
2. EIRA Midwest Blue
3. 5785