Ireland and Georgia serve as the warmup opponents for the Eagles as they look to win the Rugby World Cup qualifier series against Canada, and the first warmup was shaky at best on Saturday in Harrison, NJ.

The USA lost 55-19 to Ireland, and perhaps that was to be expected. But the Irish held a 36-19 lead about midway through the second half, and it was disappointing to see the Eagles leak some soft tries late.




The main issue for the USA team was missed tackles. Head coach John Mitchell wanted his squad to put Ireland under pressure. Whether you use the term line speed or blitz or rush, it's about taking away space and time, forcing the opposition into mistakes, or meeting the ball carrier well behind the gain line.

Except... you've got to make your tackles when you do that. Either you rush up and reduce your speed before you engage because you want to contain, or you fly in to make the tackle. The Eagles took the second option and missed way too many times.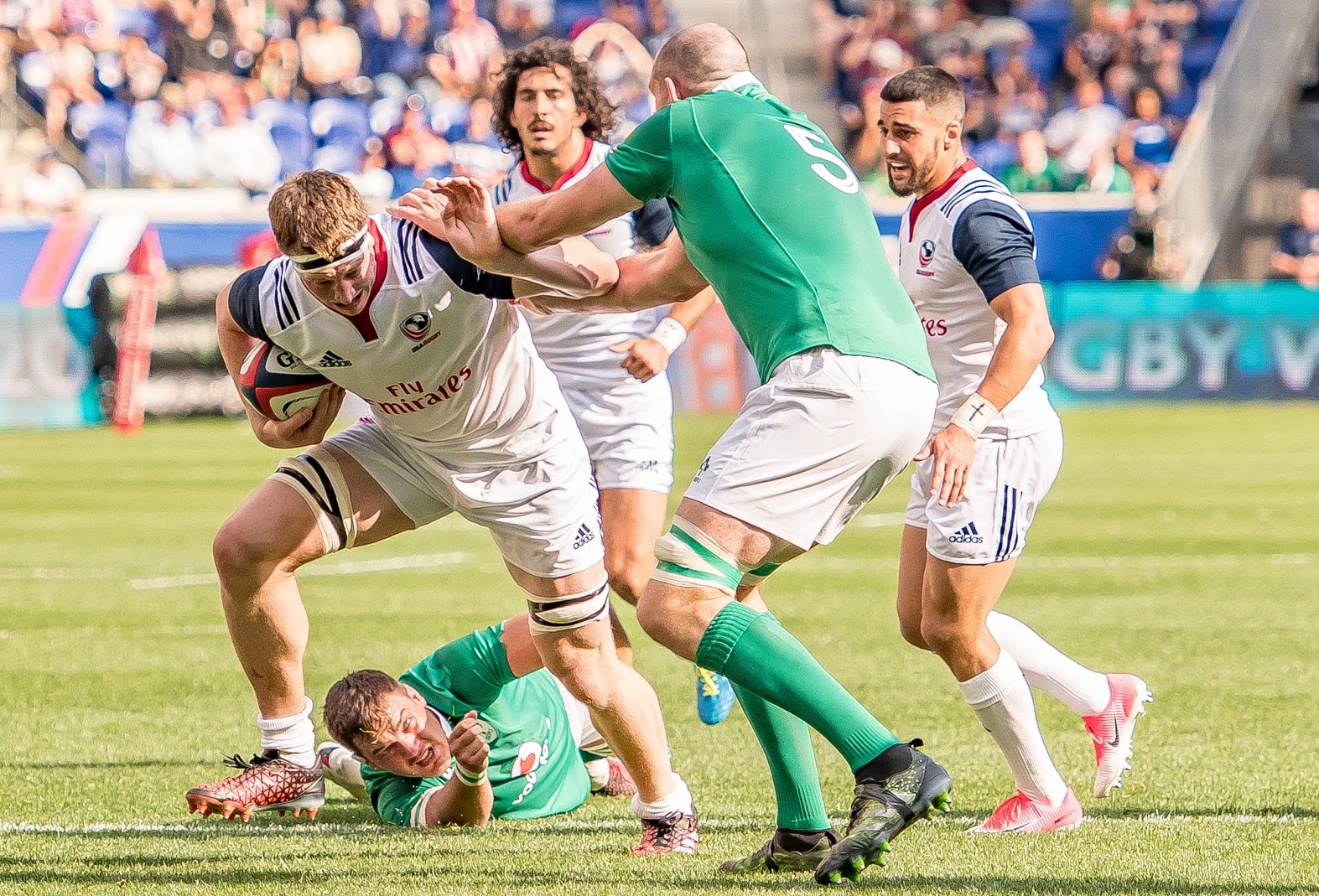 The opening try for Ireland came when the Eagles were on the front foot. The USA team was working the phases and looked really good. Then, flyhalf AJ MacGinty opted for a grubber through the line. It was a somewhat pointless decision, as it served mostly to give up possession, and no one else was thinking chase. MacGinty would have done much better to keep the phases going. Instead, it turned into a scrum for Ireland, a kick free, and a penalty against Mike Te'o for holding onto the ball after he was tackled.

That all served to set up a nice long-range try for Ireland, served up in part by a missed tackle by David Tameilau.

Back the Eagles came and again looked like they would construct a try. But when a high-tackle penalty went the USA's way someone (MacGinty? Captain Nate Augspurger?) opted to take the lineout. MacGinty had a decent day kicking from the hand, but that particular kick was not good -- the lineout was only at the Irish 22. Still, the Eagles looked effective again and worked their way back within 10 meters, only to have Marcel Brache be stripped of the ball and Ireland take it 70 meters the other way.

And back they came... MacGinty set Tameilau free and had support, but he didn't use it -- a classic misconnection for a team that hasn't been together much.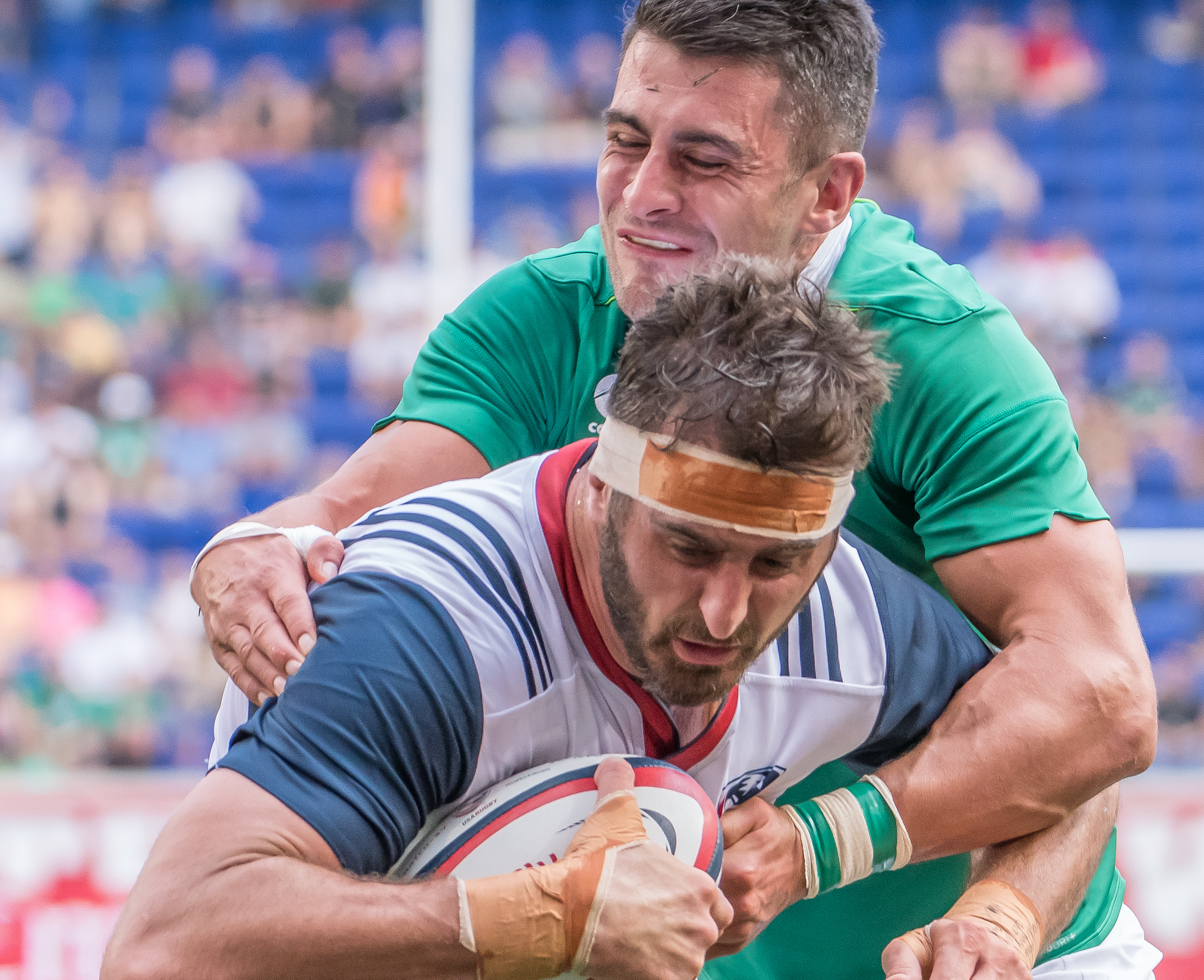 Ireland scored soon after that thanks in large part to an uncalled obstruction and a missed tackle from Chris Baumann. Then the Irish scored when no one chased on a clearance kick. Quill missed a tackle in part because there was too much of a gap either side of him. That was an ugly one. After that, the pressure defense paid off, with Nic Civetta blocking a kick and gathering, fending off a tackler, and getting the try.

For much of the rest of the first half, it was an event contest. The USA defenders were a little bit more under control, and despite some weird calls against them, they held on until halftime. One side entry call against Tony Lamborn was clearly wrong and should have been called, and after another penalty and a silly warning from referee Luke Pearce, Ireland scored off a maul.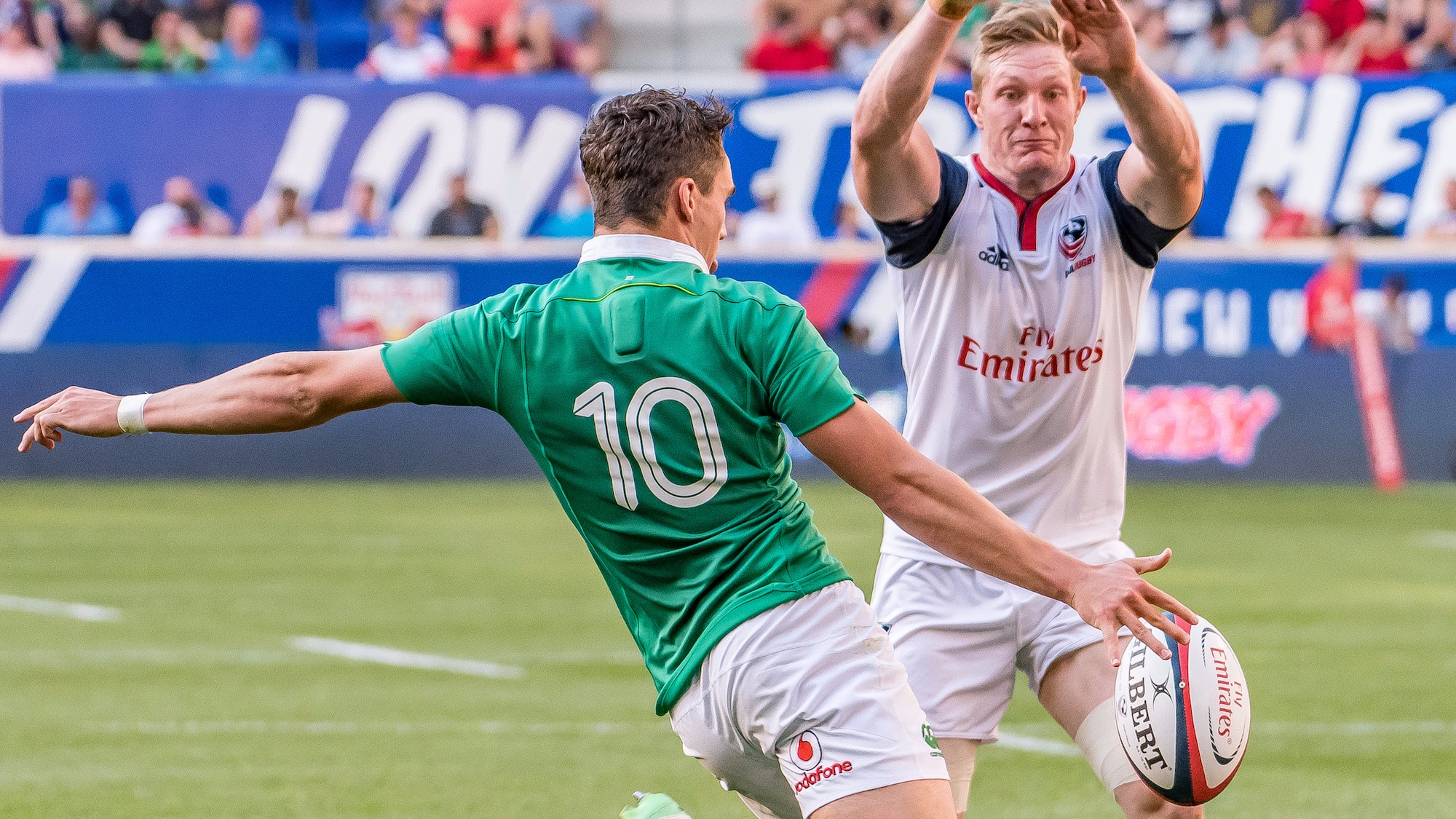 Still the Eagles could have scored another try but for a poor pass from Brache to Ben Cima. And in fact Ireland's last try of the first half came from a mistake by the USA while the Eagles were on the attack. Tony Lamborn broke through and tried to offload to Augspuger. The ball bounced off the scrumhalf's leg and Pearce called it a knock-on. And from the scrum, Ireland scrumhalf Kieran Marmion zipped weak, and the guy whose job it was to catch him, John Quill, was held in by Irish hooker Niall Scannell. Wing Martin Iosefo, who earlier had made an impressive try-saving tackle, tried to cover two guys and needed to cover one. He was beaten, and then Marmion and Earls combined to put Marmion over despite a nice cover tackle from Cima.

But, on the positive side, in the middle 40 minutes of the game, the two teams were tied 19-19. The Eagles would give up a try early in the second half thanks to penalties and mistakes (even so, Andrew Durutalo almost saved the day). But then Quill pulled a Civetta and blocked a kick to score. In their best sequence, the Eagles quick-tapped a penalty and worked the phases nicely. Shaun Davies, now in at scrumhalf, used his big men and then out it went to Ryan Matyas, who dummied and fought his way over.

Then the Irish closed with three soft tries, including one in which new cap Paddy Ryan left his position and watched as sub scrumhalf Luke McGrath waltzed right through.


On The Positives
The effort was there. The commitment to exerting defensive pressure was there. And there were periods, more than moments, when the USA looked able to score tries. In at least six occasions, the USA team looked poised to score, and the Eagles scored on one. Two other tries came from defensive pressure. One more piece of execution and they have Ireland in trouble.
Matyas put in a full day's work and was all over the place (in a good way). Lamborn made 13 tackles and missed only one. MacGinty made 15 tackles. John Quill and James Hilterbrand had nine.
The rush defense produced two tries, the USA lineout was superior to that of Ireland, and the scrum, for the most part, was OK.
The Negatives
While Nate Augspurger has come under a bit too much criticism for producing slow ball, part of that is up to the forwards, and part of that is up to the referee. But... Shaun Davies does seem to make the offense move faster.
Rush defense is nice, but you can't miss so many tackles. The USA missed 30; Ireland missed 12. Jacob Stockdale beat 10 defenders for Ireland, while the Eagles as a team beat seven.
The USA needs to keep the ball in hand more and has to avoid being stuffed into touch when it's on the attack. In the second half, Augspurger (moved to the wing) was taken into touch on one run. Bryce Campbell, in a similar situation, did everything he could to keep the ball in play. It was a stark contrast.
AJ MacGinty made some weird decisions and was unaware of the rules trial in operation when he kicked a penalty directly into touch at the end of the first half -- the new law says you have to take the lineout. Had MacGinty tapped the ball first, the half would have been over. That kind of mental mistake can be costly.
The Referee
The USA gave up three penalties in the ruck, two of them very dubious, and Luke Pearce gave Augspurger a warning. Later in the game, as Ireland started to kill the ball, and Pearce was forced to call penalties, there was no warning. When the scrum went down and he thought it was likely the USA's fault, the Americans received a lecture. When it went down and it was likely Ireland's fault, he just politely asked everyone for a do-over. It's these little, subtle things that refs do, following their assumption that the more established team knows more and might get a little more slack, that can affect a game.
Players
This writer has a bias. If you are an overseas-trained pro and you come into the USA team basically sight unseen, then there are certain expectations. Missing tackles. Missing basic assignments. Looking tired after only five minutes of work. Throwing obvious forward passes. Being unable to connect with a basic pass when not under pressure. It's not unreasonable to expect these things. It's just really frustrating to see caps handed to players who might be a pro overseas, but who can't tackle or don't pay attention.
On To Georgia
You might have missed it, but Georgia beat Canada 13-0 on Saturday. The Georgians are very physical, fit, and have played six test matches so far this year. The Lelos aren't flashy, but they don't back down from anyone. While Canada isn't playing especially well these days, shutting out the Canadians on Canadian soil is a message the USA must heed.
Ireland won the battle at the point of contact Saturday against the USA, and Georgia won the contact battle against Canada. This is not a gimme game, especially if you miss 25 percent of your tackles.