Quinnipiac's Ilona Maher received her MA Sorensen Award on Saturday at a gala event hosted by the Washington Athletic Club in Seattle, and Indiana's Bryce Campbell had his brother pick up his Rudy Scholz Award the same night.
Well over 150 guests were in attendance, including current and former national team players and World Cup winners, as the second-annual awards for the best men's and women's college players of the season were handed out. Maher was chosen as the recipient of the MA Sorensen Award with the help of a national vote and the work of a panel of experts, chaired by FloRugby Editor Alex Goff. A junior center and No. 8, Maher powered over her opposition as she led the Bobcats to a National Intercollegiate Rugby Association 15s title (NIRA is the competition for NCAA varsity women's teams). She also helped Quinnipiac to a NIRA 7s championship.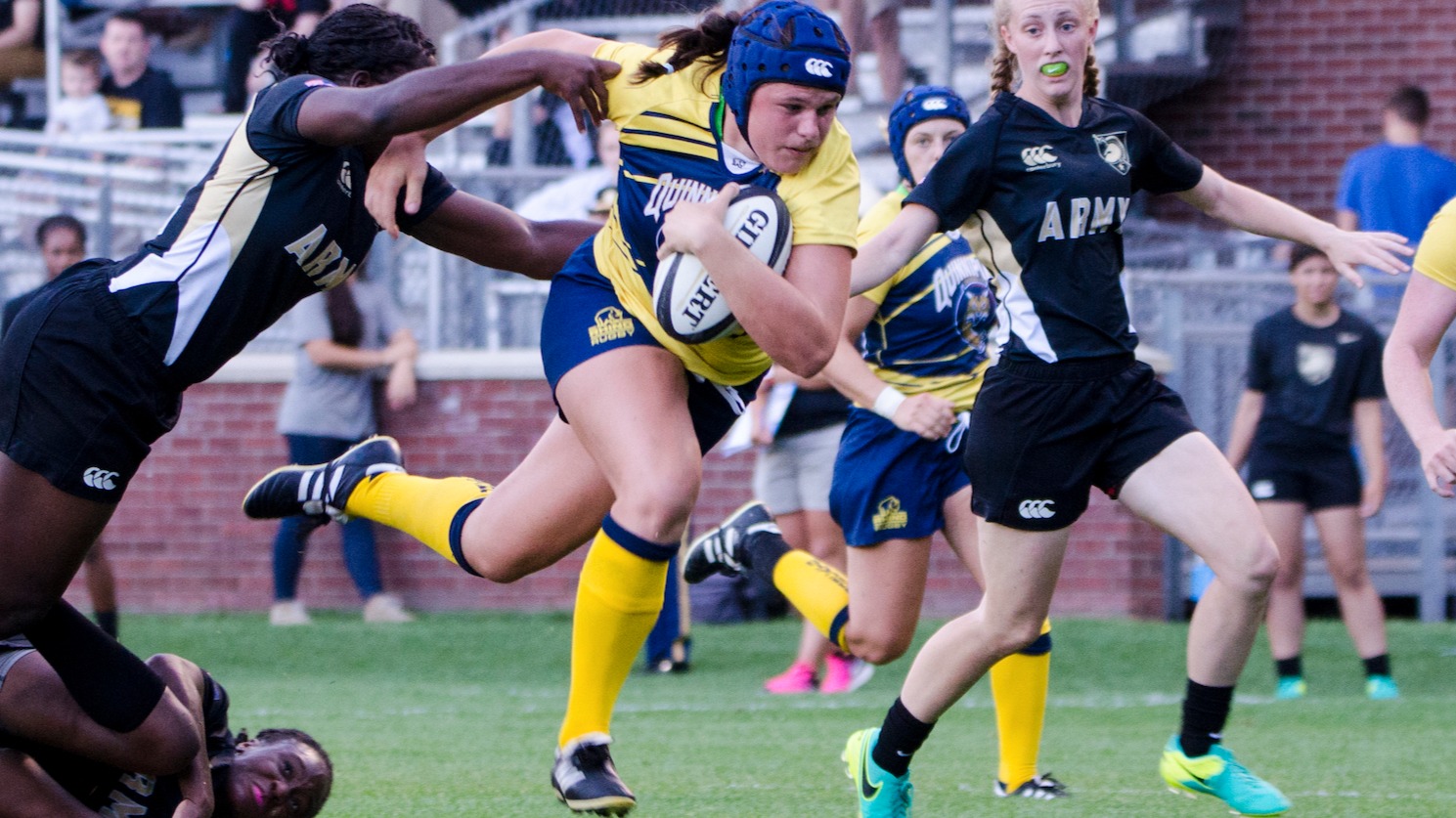 "I'm just so honored," she said earlier in the evening. "I still really can't believe it. I know there are a lot of great players out there, and I think any one of a number of them could have won."
Maher, an imposing and intelligent athlete who said she is working toward her nursing degree in part because she wants to be like her mother, Meineke Maher, received a standing ovation from those at the dinner. Among those standing was MA Sorensen herself. The former USA star prop had the award named after her because of her trailblazing as a college rugby player and women's player and coach and also for her success in the professional world.
[instagram url="https://www.instagram.com/p/BVLYzN_BNtf/" hide_caption="0"]
Meanwhile, the Rudy Scholz Award for the top men's college player was also selected by a combination national vote and panel. Campbell was unable to attend the dinner because he was playing for the USA against Ireland, earning his sixth cap for the Eagles. The IU senior was represented by his older brother, Jacob, who also played rugby at Royal Irish as a high schooler and at Indiana. Jacob is a coach with the Carlsbad High School program in Southern California.
The Scholz Award is named after Rudy Scholz, who fought in two World Wars and won two Olympic gold medals for the USA in rugby. He was a rugby player and coach into his 80s and a successful attorney. Much of his extended family, including his youngest son, David, were in attendance, and David spoke lovingly of his father, who loved rugby, competition, his faith, and the law.
The keynote speaker was Ines Rodriguez, the former captain of the USA women's sevens team who led the USA in the historic 2009 Rugby World Cup Sevens. Rodriguez gave a passionate speech about what the game has meant to her and how far it has come.
"We're here today to honor the young man and young woman who most skillfully demonstrate these qualities on the rugby pitch. But 23 years out from discovering rugby, I know that this award will just be the beginning for these athletes," she said. "The expansion of high-level play in our country has opened up opportunities for them to take the field anywhere on the globe, but the ways rugby will forge their character means there is no limit to what they might achieve."
Last year, Penn State prop forward Hope Rogers received the first-ever MA Sorensen Award, and Saint Mary's center Dylan Audsley received the inaugural Rudy Scholz Award. The awards are given with the blessing of USA Rugby, which was represented in the awards process by panelists Kevin Battle, Alex Solomon, Gavin Hickie, and Tam Breckenridge. Along with Breckenridge, USA Rugby Collegiate Director Rich Cotez was in attendance on Saturday.