Royal Irish Comeback Kings And National Champs
Royal Irish Comeback Kings And National Champs
Recap of the 2017 Boys HS Club rugby final between Royal Irish and Fort Hunt.
May 21, 2017
by Alex Goff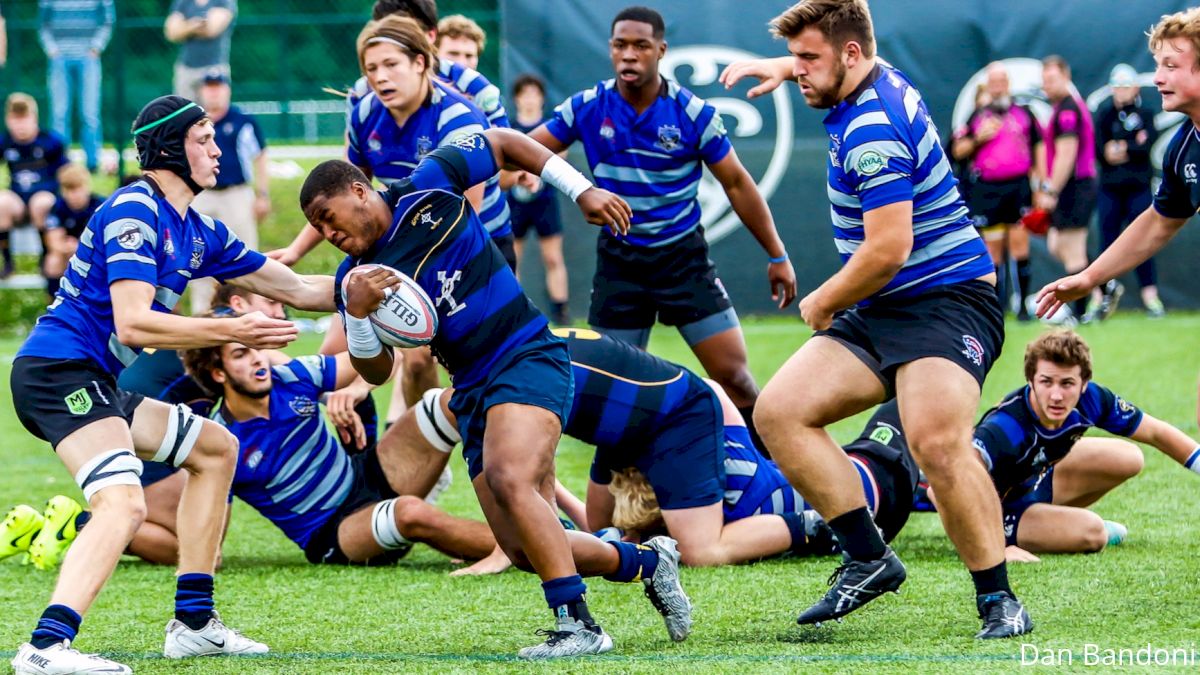 Royal Irish defeated No. 1-ranked Fort Hunt in dramatic fashion Saturday, winning the Boys National High School Club Championship in Kansas City, MO, with a late try and conversion.
Fort Hunt, which was was led by lock/flanker Zack Monson along with an impressive back row of Jack McCrossin, Gabe Rudasill, and Daniel Trump, seemed in tenuous control over Royal Irish, but the Indiana team turned the tables on the Virginia state champions in the second half for an 18-16 win.
The Warriors opened up the score in the first few minutes. A penalty set up a lineout near the Royal Irish line, and prop Bailey Iboleon peeled around the back, took a pass off the top of the lineout, and powered over almost untouched.
Royal Irish came back behind some strong running from No. 8 Russell Lemaster and centers Nick Frederick and Jarron Pedtke, and scrumhalf Jake Christmann slotted a penalty. But Christmann missed another one later, and then Royal Irish tried a trick play off an attempt at goal -- missing the fact that once you announce you're kicking for goal, you can't do something else -- which resulted in a penalty for Fort Hunt.
The Warriors used that penalty to get out of trouble, and eventually they worked their way into the Royal Irish end, where Robert Figley kicked a penalty to make it 8-3. Figley did it again moments later. Fort Hunt tried to set free Daiimon Cleveland, and the speedy fullback had his moments. But the Royal Irish defense did enough to make sure he didn't break open a big run.
Royal Irish, for their part, squandered a couple of good scoring chances and were hindered by an aggressive Fort Hunt defense that rushed up quickly to stop them from spreading the ball wide.
But in the second half the Indianapolis team started to put together better sequences. The first was a snappy backline move with David Hannon and Gabe Coleman in the middle of it that finally sent Wyatt Schrader over in the corner. Then a kick from Christmann tied it up 11-11.
Fort Hunt replied, and the unselfish play by Adam Taylor and Erik Roach, along with power running from the forwards, set up Cleveland for a slicing run that put the Warriors up 16-11.
Aware that time was running out, Royal Irish started to tap and run penalties, with Jonas Petrakopoulos, Angelo Deluca, and Max Ney raising their game. Finally, a nice give-and-go between Coleman and Ney got the ball down to the line, and Christmann picked up and scored.
With the wind behind him, Christmann was able to kick the touchline conversion, and out of almost nowhere Royal Irish led 18-16.
Fort Hunt had on more shot, but Royal Irish secured possession and kicked to touch to end the game.
It was a supremely well-played game, with most players putting in championship performances. The Warriors, not well known among some circles, showed they are worthy of national respect. While Royal Irish might not have had perfect performances this spring, they brought it at the right time.
"I think this is just part of our journey," Ney said.
Royal Irish 18
Tries:
Schrader, Christmann
Convs:
Christmann
Pens:
Christmann 2
Fort Hunt 16
Tries:
Iboleon
Penns:
Figley 2