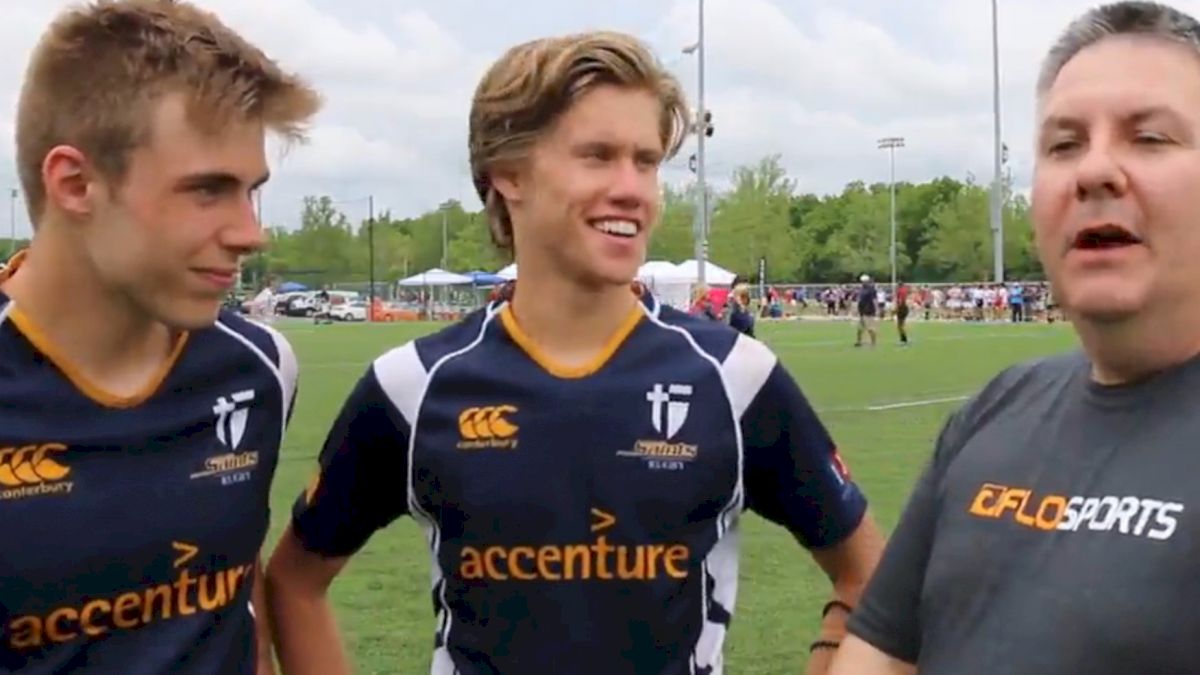 In a back-and-forth game for the ages, St. Thomas Aquinas booked its spot in the Tier II finals of the Boys High School Rugby Nationals by converting a penalty goal as time expired to beat Brownsburg 27-26 on Friday in Kansas City, MO.
The game started on a weird note. Aquinas got into the Brownsburg 22 thanks to a penalty and won the lineout to start up the maul. When Brownsburg opted not to engage the maul, the Aquinas pack went right through and over the tryline. However, since Brownsburg had not engaged, there was no maul, and Brownsburg was hit with an obstruction penalty for running as a pile of players -- negating the try.
Eventually, it was the Indiana team that opened the scoring when Brownsburg flyhalf Isaac Good cut through to score and converted to make it 7-0, following a series of phases and powerful offensive moves. With Zach Marsh making key tackles and some big carries and fullback Cooper Mroz covering on kicks and countering effectively, Brownsburg played a varied game.
Aquinas replied with front-rowers Xavier Doering and Clayton Ginter powering ahead for a long series. Sam Gasparovich directed things nicely, and then, once they were down to the line, prop Colin Connor picked up and galloped over. Gasparovich converted to tie the game 7-7. But Good made it 14-7 with another impressive try and conversion.
In the second half, Mroz countered and dished to Good, who outstripped two defenders and then sold a nifty dummy to go in from 50 meters out. That made it 19-7.
But Aquinas started to piece things together. Instead of seeing their movements fall apart due to ball-handling errors, the Saints started to be more careful with their passes. They adjusted to the no-maul tactic quickly, with No. 8 Ryan Jurczak catching lineout balls and just driving ahead on his own. Soon the no-contest from Brownsburg became a liability, and they were forced to stop Jurczak.
Aquinas used its forwards more, and as Brownsburg was forced to respect that, lock Drake Staudenmeyer went in from short range. Then a big break from flanker Conrad Diebold almost got him to the line. He was thrown to the ground, and Brownsburg got a scrum. But the Saints stole the put-in, and Jurczak picked up, went left, and was over. Jurczak was automatic in the lineout all day, and his alertness in handling the maul tactics was crucial.
Now it was 19-19, but Good had one more move and raced in for his fourth try, which he converted to put Brownsburg up 24-19.
Back came the Aquinas forwards, helped by some aggressive chase from scrumhalf Lee Davis and the backline of Shawn Doherty, Matt Peterson, and Mason Howard. Wyatt Keena made some key carries, and then, right at the line, Davis made his way over to give Brownsburg a 26-24 lead.
As time wound down, Aquinas had one more shot. And just inside the Brownsburg half, the Saints got a penalty. Gasparovich was given the call, knowing time was up. He lined up the kick from over 40 meters away and sent it through the uprights for an improbable victory.
"[At halftime,] we said focus up," Davis said. "We were making little mistakes and we just needed to clean it up."
When Gasparovich lined up the kick, Davis said he just told his teammate, "take a couple of deep breaths… you got it."
And he did.
Aquinas advanced to the Tier II final against Charlotte Catholic, which put together a really snappy performance against Jesuit II.
Jesuit II will play Brownsburg for third. South Bay won big over Winnetonka and will play Blue Valley for fifth. Winnetonka plays Greenville for seventh.
How To Watch
On TV:
Available on Roku and Apple TV 4 -- download the FloSports app now.
Streaming:
Only on FloRugby with a PRO subscription. A yearly PRO subscription provides access to ALL FloSports sites.
JOIN NOW