Shift At Top In Boys Single School Rankings
Shift At Top In Boys Single School Rankings
Rankings for May 9 of Boys Single-School High School rugby teams.
May 9, 2017
by Alex Goff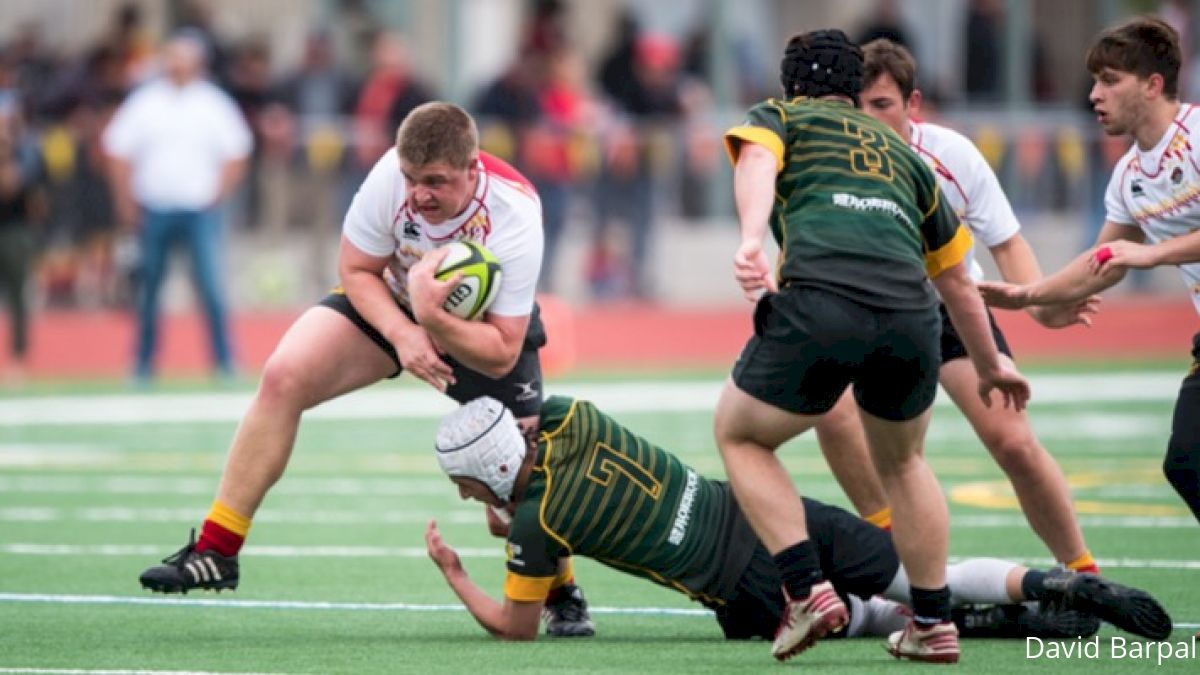 There's a new No. 1 among the single-school boys high school teams after the top-ranked squad for the last couple of weeks, Ohio's St. Ignatius, lost at the Midwest High School championships.
It's a testament to how close all of these teams are that St. Ignatius drops to No. 6. While the Wildcats' loss to Penn on Sunday wasn't that ignominious, St. Ignatius slid out of the top five after several of its key rivals near the top of the rankings notched wins.
Jesuit of Sacramento takes the No. 1 spot after winning the Northern California Premier League and remaining undefeated there. The Utah teams make a move just because we're getting the sense they are playing well. Fishers, who didn't play in the Midwest Championships, moves up thanks to how its recent results fit in with the scores from Midwests.
Winning is always a great tonic to a team's rankings. Olympus, De La Salle, and Rocky Mountain all move up.
Goff Rugby Report/FloRugby Boys HS Single-School Rankings 2017 Week #16
Rank
Prev
Team
Notes
1
2
Sacramento Jesuit (CA)
Bt. Danville
2
6
Penn (IN)
Bt. Pulaski, St. Edward (10), St. Ignatius (1)
3
3
Gonzaga (DC)
4
4
Xavier (NY)
Bt. Fordham Prep (41)
5
5
Kahuku (Hawaii)
6
1
St. Ignatius (Ohio)
Bt. Dwenger, La Salette (37), Lost to Penn (6)
7
7
Greenwich (CN)
Bt. Staples
8
12
Highland HS (Utah)
Bt. Westlake
9
13
Herriman (Utah)
10
11
Snow Canyon (Utah)
11
9
St. Thomas Aquinas (KA)
Bt. Milliard Utd.
12
8
Westlake (Texas)
Bt. to Cy Fair (MS9), Lost to Quins Colts (MS23)
13
14
East HS (CO)
Bt. Chaparral
14
20
Fishers (IN)
15
15
Torrey Pines (CA)
16
16
Monarch (CO)
Bt. PAC
17
17
La Costa Canyon (CA)
18
18
Palmer HS (CO)
Bt. Aurora
19
19
Charlotte Catholic (NC)
Bt. Charlotte Tigers (MS38)
20
10
St. Edward (Ohio)
Bt. Brownsburg (38), La Salette (37), Lost to Penn (6)
21
21
Lake Travis (Texas)
22
22
Wando (SC)
Bt. East Cobb
23
23
Mira Costa (CA)
24
24
Myers Park (NC)
Bt Hough (45)
25
25
Cumberland Valley (PA)
Bt. State College
26
26
Jesuit New Orleans (LA)
27
27
Good Counsel (MD)
Bt. Georgetown Prep (48)
28
28
Los Alamitos (CA)
29
29
University City (CA)
30
31
Wilson HS (CA)
31
Unr
Olympus (Utah)
Bt. East (30)
32
32
West Allegheny (PA)
33
33
Brother Rice (IL)
Fenwick
34
42
De La Salle (CA)
Bt. Central Parkway
35
34
Neuqua (IL)
Arlington
36
35
Portland Pumas (OR)
Bt. Prairie
37
36
Union HS (OR)
Bt. Reynolds
38
37
ND de la Salette (IL)
Bt. St. Xavier, lost to St. Ignatius (1), St. Edward (10)
39
38
Brownsburg (IN)
Bt. Pulaski, St. Xavier, lost to St. Edward (10)
40
39
Union (OK)
Bt. Jenks
41
30
East HS (Utah)
Lost to Olympus
42
40
Newberg (OR)
43
50
Rocky Mountain (Idaho)
Bt. Mountain View (50)
44
44
BC High (MA)
45
41
Fordham Prep (NY)
Lost to Xavier (4)
46
45
Hough (NC)
Lost to Myers Park (24)
47
47
Gregory the Great (PA)
48
48
Georgetown Prep (MD)
Lost to Good Counsel (27)
49
43
Christian Brothers (TN)
Lost to Ravenwood (MS40)
50
49
Pelham (NY)
Bt. Play Rugby USA