Another Classic As Gaels Beat Life For D1A Title
Another Classic As Gaels Beat Life For D1A Title
Saint Mary's College of California beats Life University in the 2017 D1A college rugby final.
May 7, 2017
by Alex Goff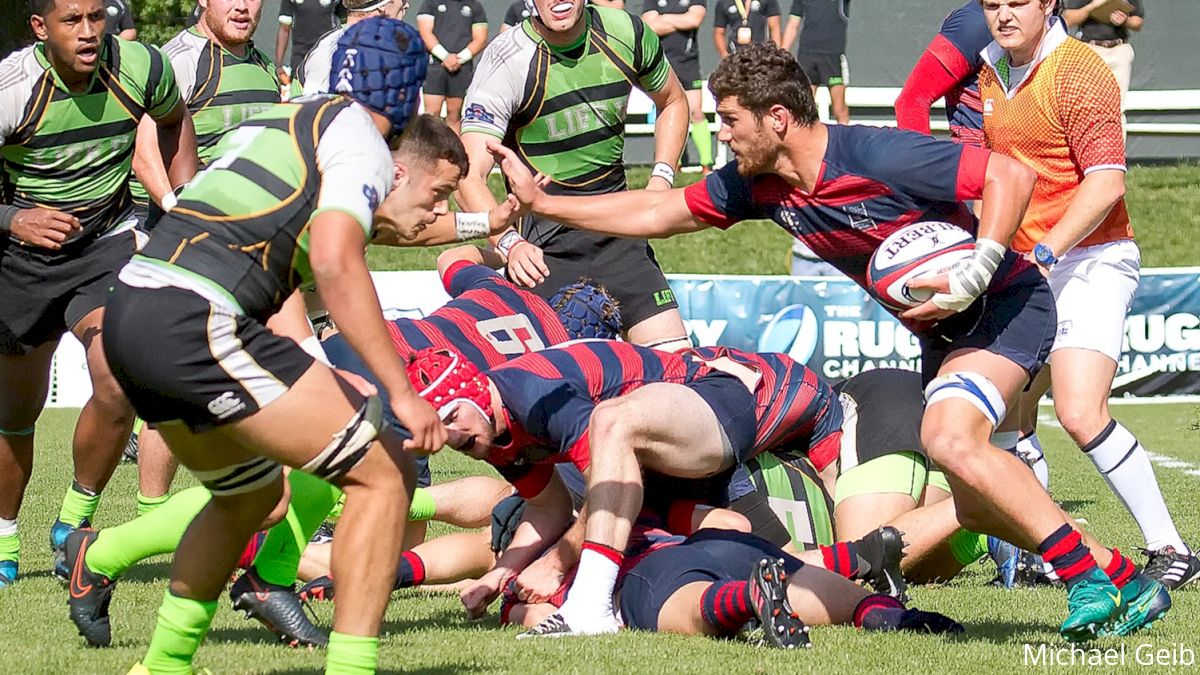 In yet another classic D1A final, Saint Mary's somehow held off Life University in a physical and emotional match to win the 2017 D1A title on Saturday in Moraga, CA.
The game saw six lead changes, with the Gaels holding the lead for the final few minutes to win 30-24. And it was closer than that.
Life had much the run of play in the first 10 minutes as the Running Eagles looked to play wide. But they did just as well running it up the gut. Meanwhile, the Life defense, which swarmed BYU so well a week ago in the semis, did the same against the Gaels.
An aggressive defensive line forced Saint Mary's to send a forward pass inside their own 22, and from that scrum the Running Eagles ran a switch move with their backs, won quick ball, and lock Mike Islava was there to take the pass and go over.
Down 7-0 the Gaels came right back, and captain Kevin O'Connor almost made it to the line. Life defended desperately, and well, but was eventually penalized, and fullback Dylan Audsley, the 2016 Scholz Award winner as the top college player in the country, easily slotted the kick.
Saint Mary's had difficulty winning restarts all day, but the Gaels were aggressive in the breakdown and were penalized for a high tackle. It was from about 35 meters out and right near the sideline, but Audsley did not hesitate and put it through the uprights. So that made it 7-6, Life now clinging to a one-point lead.
The Gaels came right back to attack again, but they got into a weird habit of having their kicks charged down, which had them scrambling to start over. Still, they managed to work their way down the field, and after a little half-break from Aaron Matthews, Audsley had a gap and the ball and the pace to scamper through. The fullback converted, and it was 13-7 for Saint Mary's.
Right after that, Life started to string some plays together. The Running Eagles kept it a little tighter and forced Saint Mary's into some penalties -- an issue for the Gaels all season.
Penalties also hurt Life, as flyhalf Duncan van Schalkwyk was yellow-carded for needlessly (and blatantly) coming in from the side at a ruck. Saint Mary's opted for a kick at the posts, and Audsley curved the kick through for a 16-7 lead.
But up a man and leading by nine points, Saint Mary's started to get into penalty trouble. The Gaels don't like to just kill time, and they pushed the limits a bit too much as they went for turnovers. One such penalty led to a Life lineout, and after about three minutes of back-and-forth play, the Running Eagles got a free kick from a scrum. After the tap, hooker Brian Muntanga took himself, the ball, and several tacklers over for the try. That made it 16-14 with Sam Cowley's conversion. There was still plenty of time for more points, but a combination of little errors and aggressive defense on both sides left it 16-14 until late.
That's not to say there weren't chances, and Cowley had a big break late in the first half only to have his pass cut off by Jack Carso.
Saint Mary's spent a good portion of the last 10 minutes of the half inside its own 22 making tackles. The Gaels did well, but eventually something had to break as Cowley slotted a penalty to put Life back in front 17-16.
The second half ended with Saint Mary's almost scoring, and then Life broke out and seemed sure to score a brilliant long-range try. But a silly penalty for hitting Carso in the air as the Gaels wing jumped to catch a kick finished off the half.
The second half started as the first had ended, with desperate defense from one team and some moments of potential panic for the other.
Life pressured and almost broke through. Saint Mary's held, but from a scrum, 2017 Scholz Award finalist Cody Melphy burst onto a pass and was over. Cowley was good with the kick, and Life led 24-16 just eight minutes into the second period. Amazingly, the Running Eagles would not score again.
Slowly, Saint Mary's worked its way back into the game. The try by Melphy seemed to calm the Gaels, and they started to make plays.
Vili Helu, who had made some key plays in the rucks in the first half, broke through for a long run that just needed one teammate near him for the try to happen. He was tackled, but as the ball was passed from the ruck, Life captain Harley Davidson slapped the ball down for a penalty and a yellow card.
"I shouldn't have slapped it down," Davidson said after the game, and clearly he wasn't happy.
The penalty was in front of the posts and Audsley had no difficulty cutting Life's lead to 24-19.
Once again shorthanded, Life seemed to play a little better under that pressure. But Helu again turned it all around, breaking two tackles, running 30 meters, and finding some support. Somehow Life got out of it.
Unable to play its normal wide, space-exploitation game, Saint Mary's needed to work for every meter. It was tough going, but the Gaels were patient and worked their way down the field. Even when they got a penalty to the side and were close to the tryline -- a perfect time to think lineout and maul -- captain O'Connor looked at the clock and told Audsley to go for goal. That he did, and curved it in the make the score 24-22.
At that point, Saint Mary's had all the power in the scrum. The Gaels routinely pushed Life back and got a couple of penalties as a result. One such penalty afforded Audsley a chance for three more points, and that put Saint Mary's ahead 25-24. The game stayed on that knife edge until about seven minutes left. At that point, Saint Mary's got a scrum right in the middle of the field. Helu had left the field with a shoulder injury, which meant O'Connor was at the No. 8 position. The Gaels won the scrum, and O'Connor took off to the left. The powerful forward was almost untouched and had one man to beat. Behind him was scrumhalf Holden Yungert. O'Connor slowed down enough to let Youngert swerve to his right and popped a perfect pass. Yungert was in under the posts.
"I saw a gap and took it, and Holden was calling for it, thankfully," O'Connor said.
That was the potential game-sealer. Except, in a strange turn of events, Audsley took too long to kick the conversion, and his kick was blocked. Instead of being ahead eight points, the Gaels were ahead by six and had to survive five grueling minutes.
They did that, and when time was up, Audsley kicked the ball. However, he was unaware time was up and didn't kick to touch. Life had one more shot, and after a long period of defense, Saint Mary's forced a knock-on to close the game.
For the Gaels, their back row was again heroic. O'Connor was brilliant, Helu explosive, and Alec Barton did all the dirty work. The backs did enough in difficult circumstances, and prop Payton Telea was also a force. Yungert kept it all ticking over, even as the rucks became wild, and he was named the game MVP. He deserved it, although Audsley -- who scored 25 of his team's 30 points -- and certainly O'Connor, deserved it, too.
Saint Mary's is the D1A champion, and the best college rugby team in the country.
Saint Mary's 30
Tries:
Audsley, Yungert
Convs:
Audsley
Pens:
Audsley 6
Life 24
Tries:
Islava, Muntanga, Melphy
Convs:
Cowley 3
Pens:
Cowley