2017 Austin Huns vs. Utah Select XV
Top 5 Plays Of The Week
Top 5 Plays Of The Week
The top 5 plays from the Major Rugby Championship match of the Austin Huns vs Utah Select XV and the Red River Rugby Collegiate Championships.
Apr 6, 2017
by Michael Cramer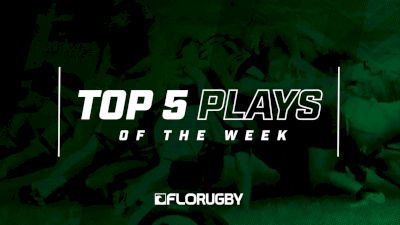 Note:
Every week we will be doing the top 5 plays from the previous week. If you think your play is top 5 worthy tag us on
Twitter
,
Facebook
,
Instagram
, use #FloRugby, and maybe you will see your play in the top 5.
Top 5 Plays Of The Week
#5
-
Abu Kamara fields the ball from the touch line
and goes untouched into the try-zone. There are questions of whether or not he was out when fielding the ball but the LSU players still should have played the whistle.
FULL MATCH
#4
-
Michael Reid with the pick & go try.
This is in our top five because it was a turning point for momentum in the match. Before this try there was a lot of defense being played by the Huns.
FULL MATCH
#3
- Saia Uhila with his try coming from the outside. The blindside flanker came in support of his teammate and using his size and speed with the depth that he was able to get running onto the ball made him unstoppable going into the try-zone.
FULL MATCH
#2
- Chris Greer, the hooker for Oklahoma, running with just pure determination. It took over four opposing players to eventually bring him down, and even then he wanted to get back up for more.
FULL MATCH
#1
- Timothee Guillimin with the grubber to Sani Taylor, our
man of the match this week.
A perfectly placed kick with a perfect bounce with perfect fielding of the ball led to this play being our top play of the week. The precision of the Huns' kicks against Utah Select XV were where they were supposed to be. On multiple occasions the downfield kicks were placed where only the Huns players could get them.
FULL MATCH


How To Watch
On TV: Available on Roku and Apple TV 4 -- download the FloSports app now.
Streaming: Only on FloRugby with a PRO subscription. A yearly PRO subscription provides access to ALL FloSports sites.
JOIN NOW
.